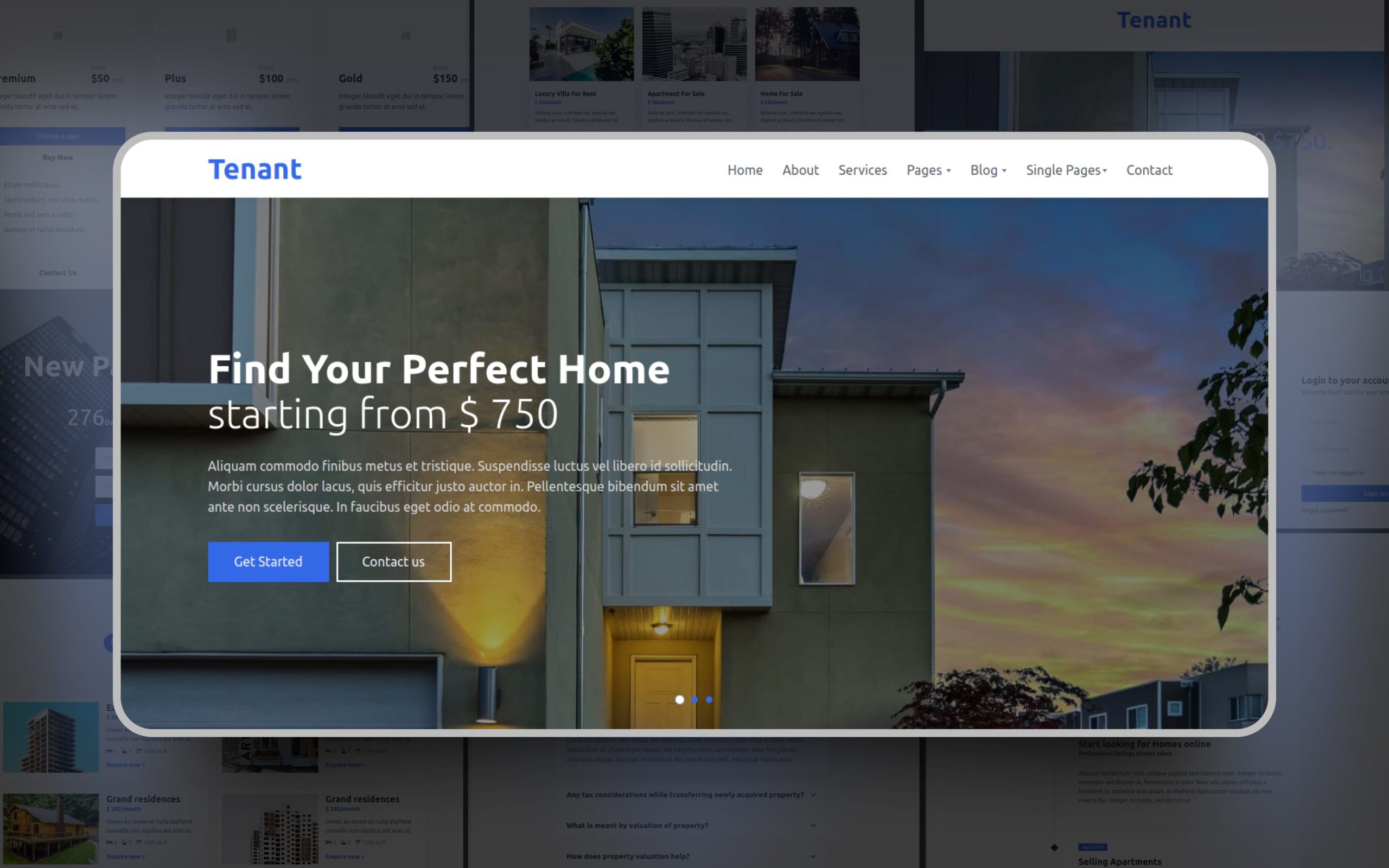 If you want to build a website for the real estate business, there are so many factors to be considered. You have to list the properties, give accurate details of the carpet area, the pictures displayed should be high quality (which means your website should not take ages to load them), organized presentation of prices to avoid confusion, and many other things.
Building a real estate website template considering these aspects is a challenge. But our developers have an innate quality in them. They never give up! And the outcome of this quality is Tenant – premium real estate website template.
Professional Color Combination
This real estate website template has a layout ornamented by square and rectangular cards with hovering animations. The color combination gives it a globally professional look. The premium website template is designed for real estate companies, a company of agents as well as independent agents and brokers.
Clear and Precise Property Listing
Specially dedicated property pages give detailed information which even includes a map to show the exact location. There is also a listings card where different types of properties like apartments, hotels, villas, offices, lands, etc, are arranged section-wise. For posting ads, there is a specific space allocated.
Informative Header
You will rarely come across a header like this one. All the top priority information is placed right here. Your contact details, office timings, and social media links. Everything has one-click access, making it as easy as possible to your prospective customers to come in touch with you. And that is the surest way to achieve success.
Apart from these, there are some more features and pages housed in this premium website template.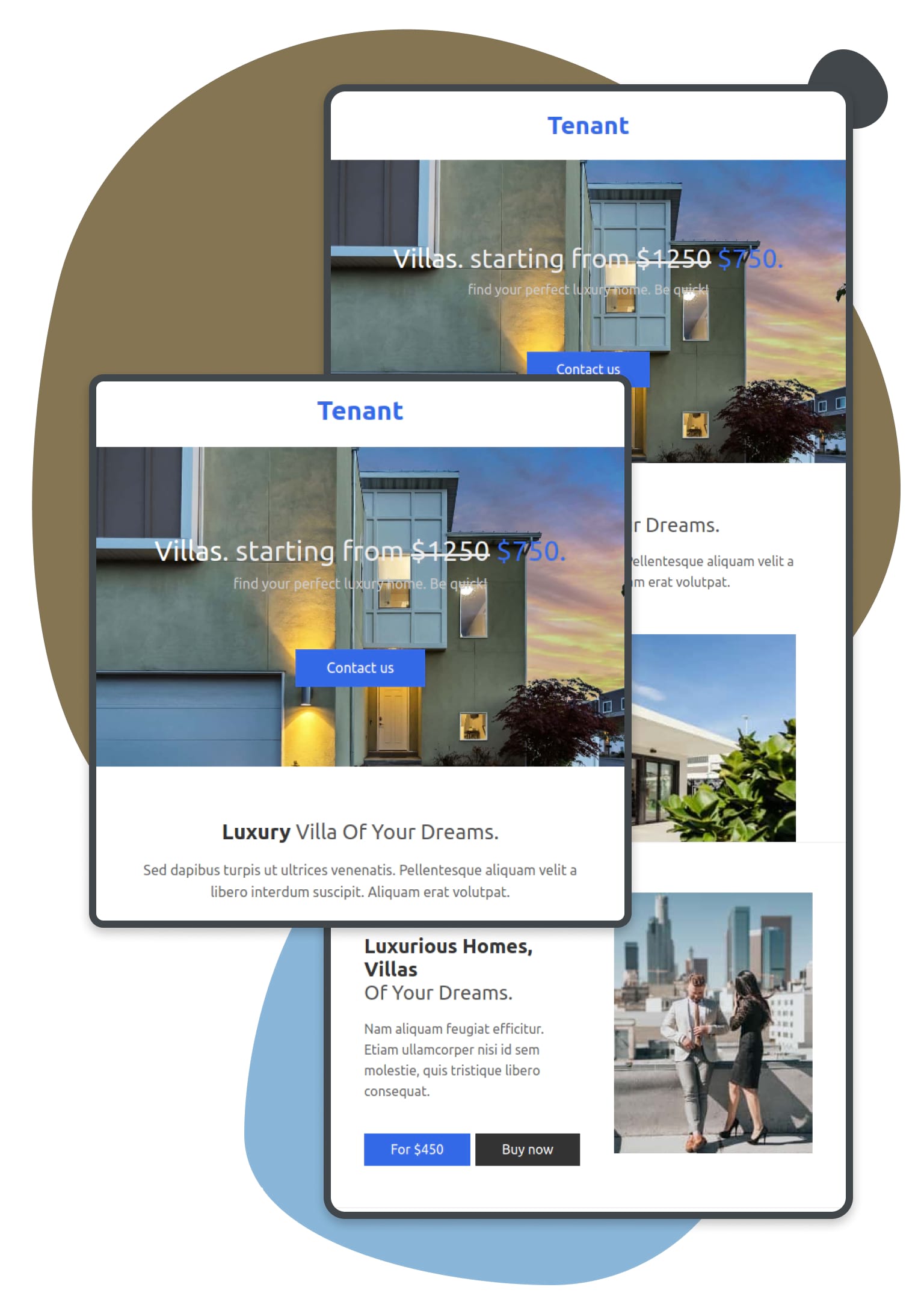 Email Template
A single page email template gives a clear idea about your business. The objective of email marketing is to increase your engagement with the audience. And enough CTA buttons placed at right spots assist your visitors. You can also list hot properties with attractive discounts. Basically, the email template is like a miniature of your whole website giving all the information in the crispest way possible.
Coming Soon Page
On the overlay of a rich picture keeps ticking days, hours, minutes and seconds for your next big launch. Instead of a static poster, a continuously changing counter gives it life. For new visitors, the page has a subscription form so that they get timely reminders about the launch. You can use this page to launch a new property, project or attractive sale or discount.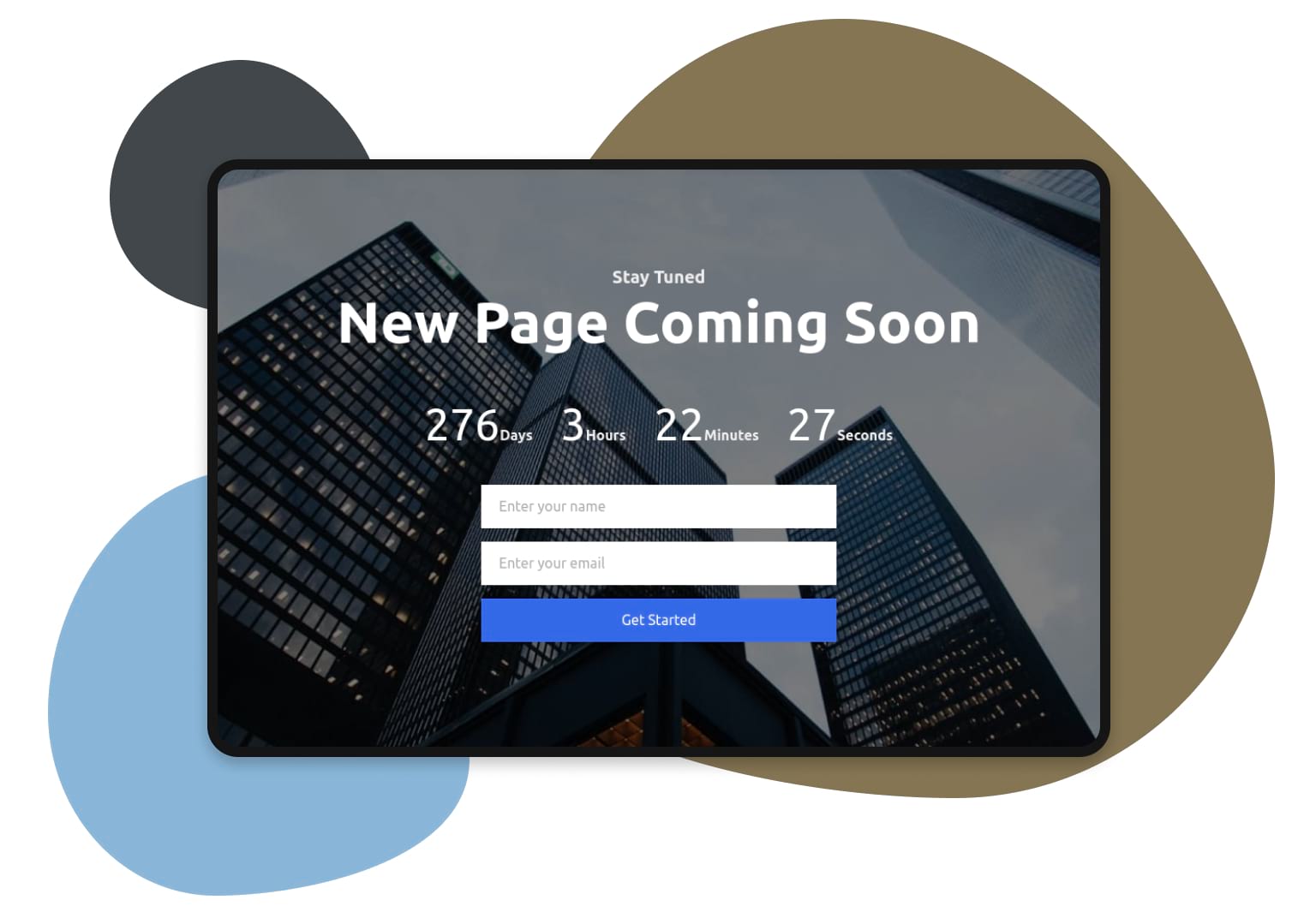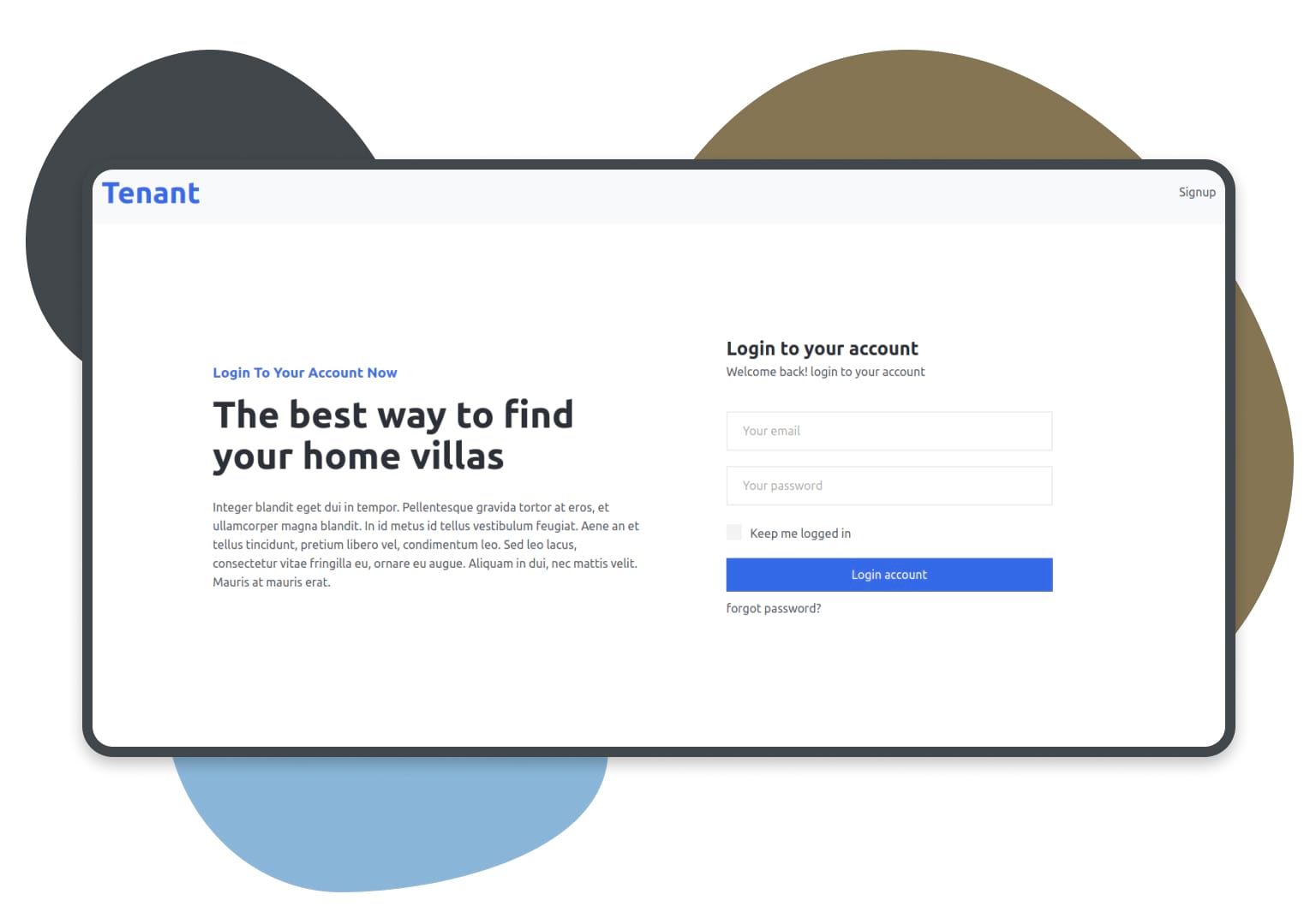 Login Page
Following the same color code as the template, the login form design is minimalistic. It is nothing different than a conventional design with boxes for email id and password. A subtle hover animation on the login button adds attractiveness. You cannot be out of box everywhere. If your customer finds the login process difficult, you may lose it.
Pricing Table
For those who wish to keep a subscription plan for their website, this pricing page is nothing less than perfection. It comes with three separate cards giving you the flexibility to keep three types of plans. Each card has CTA buttons followed by your offerings in bullet points. A unique feature of this which you will seldom find at other places in the 'Contact Us' button sitting below every card. Your customer has any doubts, he can click on the button right away.
Properties Page
List all your properties on a single page by dividing them into two categories. One for purchase and other for rentals. The details of each property are written in the cards in a short text and the facilities provided like wifi, carpet area, number of rooms, catering service are shown by using visually understandable icons. Concisely fitting all the information possible into one place without crowding it is the idea here.
Search Result
Every property listing website must have a search page. This is one feature that serves your visitors quickly in terms of finding the right property. With a plethora of options listed throughout the website, the visitor may get exhausted by searching the right one by merely browsing. He can instead make use of this search page, enter a few keywords, and quickly find the perfect choice.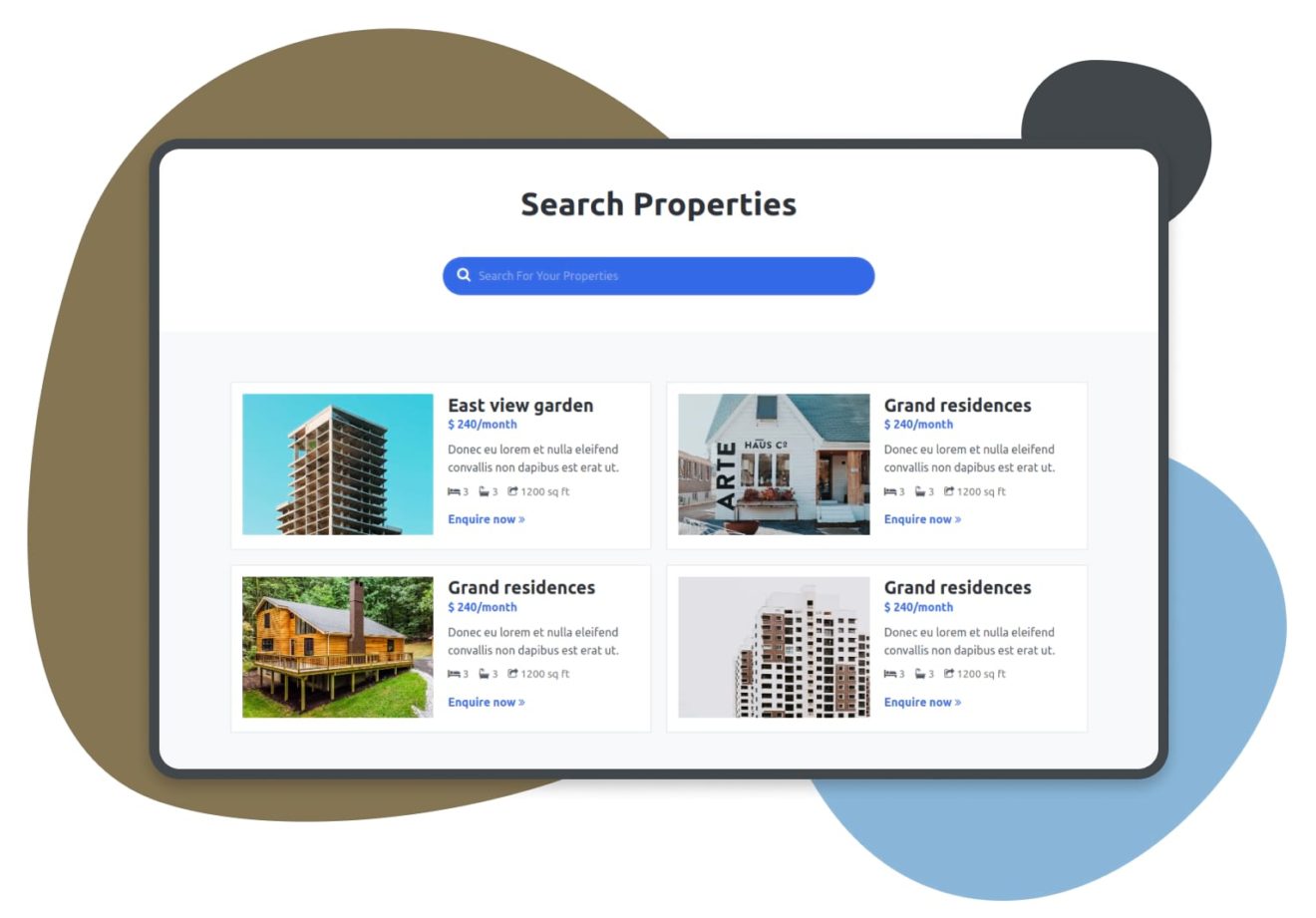 Timeline Page
All your prospective customers would want to be interested to know your story. The vertical timeline page is designed to help you show the crucial events in the growth journey of your company. The animated bullet points draw significant attention and add a sparkling effects to the page. You can also use this page to show the timeline of your next ambitious real estate project.
FAQ Page
The FAQ page has a clean layout without any distractions. Question are listed with a dropdown containing the answers which are precise and concise. Every customer will have some first-level doubts which are not needed to be addressed personally. A general set of instructions can solve the issues. Such questions are always kept in the FAQ section.
The complete package comes with more than 19 HTML pages. You can download them in two different plans. Freedom and Extended. Each plan comes with a specific set of pages.
Compare them, discuss with your teammates and make a smart choice.
Download our templates and have fun building your website.
Pages Available :
Home
About
Services
Team & Team single
Properties & Properties single
Pricing
404
Coming soon
login
Register
Search results
Timeline
Faq
Email template
Blog & Blog single
Contact
Template Information:
Template Name: Tenant a Real Estate Category Responsive Web Template.
License: Freedom Licence.
Compatible Browsers: Google Chrome, Firefox, Safari, IE 10, Opera, etc.
Source Files included: HTML files (.html), Style Sheets (.css), Images (.jpg/png/gif), JQuery plugins (.js), Fonts (.ttf).
High Resolution: Yes.