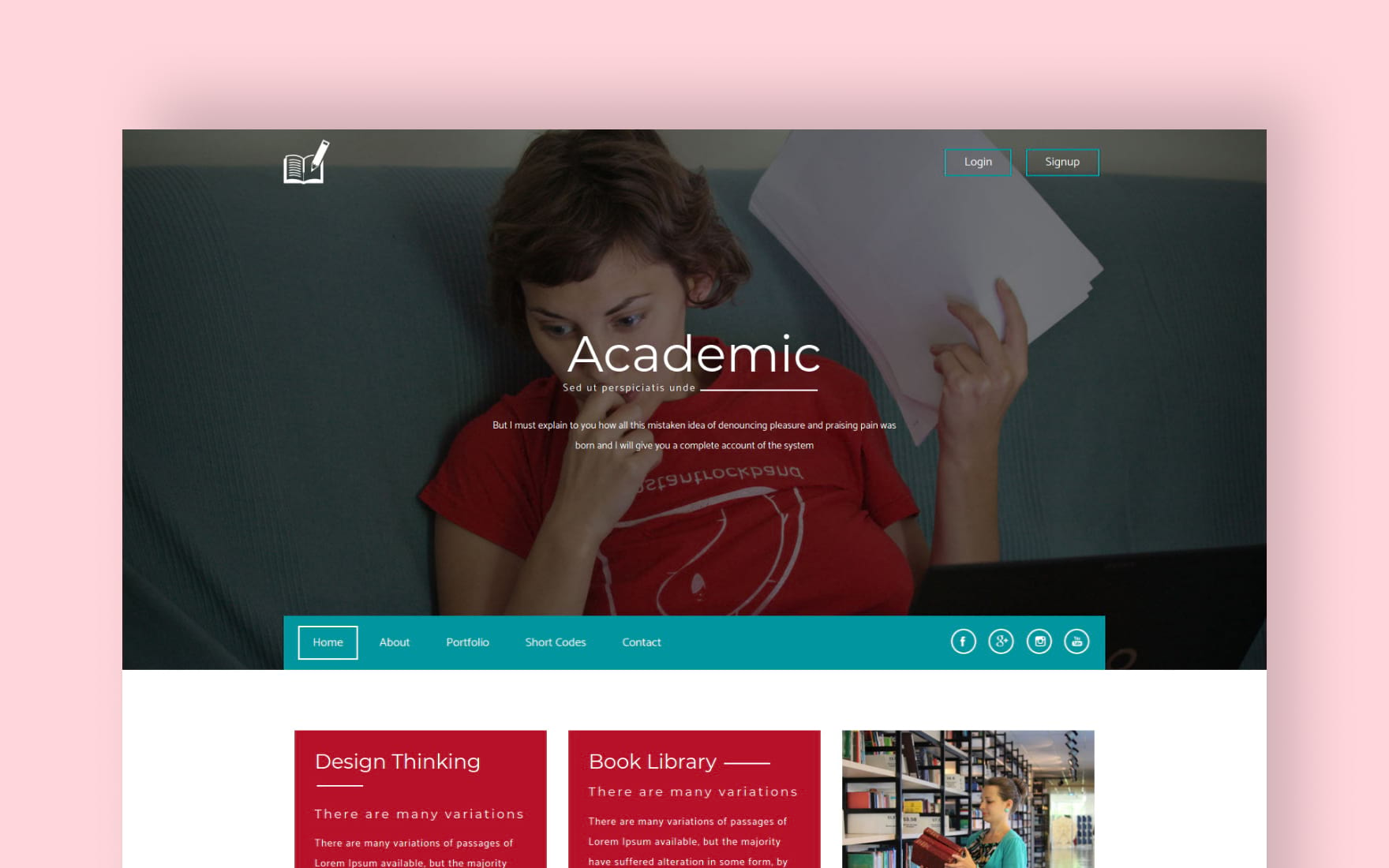 Features and widgets of our education website templates
Educational websites are a platform that provides a lot of academic information for students. These are several educational websites operated by both the government and the non-government sector. Due to the demand for education, the presence of educational websites on the web is increasing.
More than 70% of students go through the college website before they visit the college personally.
Reports show that by 2022, the global e-learning market is forecasted to go beyond 243 billion U.S dollars at a CAGR rate of 5.08 percent. These statistics and data clearly show the importance of an educational website.
We have a comprehensive collection of education website templates, which will help you to design a great website.
Let us check the features and widgets of education website templates:
Here, we will know about three aspects. First, the kind of technologies our templates are built on. Second, the types of layouts we have. And third, the interesting widgets our templates are installed with to support the website.
Our templates are built using the following technologies.
1.Bootstrap framework
A custom-designed website can bring a huge difference in your educational website. Many websites across the web are developed with the bootstrap framework. The features are limitless while designing through this framework.
Portable.
12 column grid system which divides the screen into 12 columns.
Mobile-friendly designs which bring more than 50% traffic.
Easy integration with frameworks and different platforms
Light-weighted customization according to your project specifications.
2.HTML5 – Hypertext Markup Language Revision 5
Our education website templates designed with HTML5 are compliant with web standards. They are also compatible with all mobile devices. They have numerous features, tools, add-ons, and plugins.
They have smartly designed headers and footers.
Impressive navbar and menu bar
Fast loading websites due to light-weighted coding
Excellent and responsive layouts
Enhance design productivity in less time
3.CSS3 – Cascading Style Sheet Level 3
These templates decide the appearance of your website. Our CSS3 designed education website templates have several interactive features like colorful gradients, shadow effects, and rounded corners. Your website can quickly go live with these templates. The appearance is made more stylish by using beautiful color combinations and bold fonts.
They are SEO optimized, made responsive with the use of media queries which runs smoothly. Our free education website templates are bold and impactful which can trigger your interest in these templates.
Our templates available in a different type of layouts
The customers do not have to move from one page to another to find all the desired information. You will find all the information in a single location. The single page websites have optimized performance and on-scroll ready content. One-page websites are the best strategy to showcase data to visitors.
Our online education template is available for free download which minimizes your over-all design costs. They are available in a free and paid version. With the premium templates, you can also remove the footer credit link.
The multi-page education website template consists of all the important pages for educational websites such as home, events, and courses. You can also include the faculty and students' details, important notices and contact information. They are designed to give a professional look and are ideal for government educational websites and e-learning platforms.
W3layouts free education website templates are eye-catchy and have a smartly designed interface.
These websites are ideal for multi categories like kids education, school and university education, and online academic courses websites. They are SEO friendly and have a pleasing appearance. The implementation of animations, sliders, and carousels, Google fonts and plugins are effortless and lucid.
The promotional banners and a stunning header can obtain the user's attention. The other features are a built-in search bar and CTA buttons.
Our templates have different widgets
Google map integrated templates
Embedding Google Maps into your website makes it easy for students to find your educational center. We have integrated Google Maps in our online education template available for free download so that the person interested in your website does not need to take extra efforts to search the address manually.
With such functionality, you are just one click away to contact us personally. A person with minimal or zero coding experience can integrate with Google's new API.
Contact Form is the main source of interaction between the students and your website. It reflects your website credibility and makes your website secure. The contact forms are designed to collect the information and data of your potential customers. You won't be available for your customer 24*7. Through these forms, visitors can reach you immediately.
The integration of these forms in an education website template makes it convenient for users as well as the website admin to get access to each other's information.
Video player and Image Gallery
Integrating video players provide support for multi-modal learning and allow students to learn complex things. It usually enhances the learning experience and promotes digital education.
Video learning is in demand for kids to university-level education.
Visual learning can also be promoted by adding image galleries in the education website templates. Learning through interactive images helps improve contextual outlook. The image layouts render well on desktops and mobile devices without any flaws.
These counters are added to track down the number of visitors, and download. We have simple and graphically designed counters on our website templates. They are developed with JavaScript plugins to get the visual output about the activities of the users on your website.
Admin can easily manage the content on the website and get the parameters about what age-group of students are interested in your services.
Our education website templates have a special section for student's testimonials. This is one of the most important aspects of an educational website. Students can share their experiences about enrolment in your academic courses and how your website helped them.
This will significantly improve your website's reputation on the web and make it authorized world-wide. You can also integrate the testimonials through video sessions, where the students are free to share their knowledge and experience.
Our templates come with predesigned pages
A home page is an essential tool for your website. The content on the first page presents your products and services to the users which generate their interest in your website. The important features of the home page are logo, header, impressive headline, navigation bar, text content, and social media share icons.
Engaging web design, color combination, layout, and quality content are the primary factors that catch the user's attention on your website.
The about us page is another way to seek the attention of students. Here you can add your website description, staff introduction, and your partners' information. This page represents the goal of your website and reveals everything about your brand.
You can also showcase the bio of your employees with their contact details which will help students to directly contact the desired faculty.
Each blog page template has its own style and layout. You will have the features to add thumbnails, videos, sidebars, page banners, popular posts, and featured posts in our education website templates.
The other features it has are author profiles, social media sharing buttons, and grid layout. These features are dynamic and can be easily customized.
The contact page is a call-to-action item that needs personal attention. It is an easy and quick way to get in touch with your customers. Our contact pages are highly responsive and adaptable. They have a simple interface and excellent layout which gets adjusted according to any screen size.
You can add your contact details such as phone numbers, address and link your google map location.
The team page in education website templates gives brief information about your team members and the project they are working on. You can also customize this page with animation or adding a carousel.
It is extremely important for educational websites, as the students will have access to segregated information about your different team members.
More Features of our education website templates
1.Cross-browser compatibility
Our templates are functional in multi-browsers which reduces the struggle of developers while customization. Our cross-browser compatible themes are available in both free and premium versions.
The templates have gone through several testing phases before presenting it to the user. In this competitive era, due to the increasing number of browser versions, we highly recommend using browser compatible website templates from W3layouts.
2.Responsiveness
The responsive templates adjust according to any platform or screen-size. The use of multiple devices has enabled this feature. This will eliminate the requirement to design different layouts for every device available in the market.
By enabling responsive features, the designers and users will have a different perspective while thinking about design.
3.Animations and slide effects
Learning through animation for kids or any age-group of students is an exciting process. Through animation and slide effects, you can add graphics and glossy presentations. They can grasp the user's attention more than static content.
Our w3layouts allow creating visually attractive features to have an overwhelming and unforgettable experience.
Please keep the backlink to w3layouts.com, if you are downloading the template for free. If you are using the website template for commercial purpose consider buying a Liberty License.
Design by <a href="http://w3layouts.com">w3layouts.com</a>
Template Name: Academic an Educational Category Responsive Web Template.
License: Starter License and Liberty License.
Compatible Browsers: Google Chrome, Firefox, Safari, IE 10, Opera, etc.
Source Files included: HTML files (.html), Style Sheets (.css), Images (.jpg/png/gif), JQuery plugins (.js), Fonts (.ttf).
High Resolution: Yes.