Free responsive website templates for Agriculture
As a farm or ranch owner, you may rarely come in direct contact with the end users of your product. That doesn't mean you don't need a website. For a farmer, a well-structured website is a place to share information. You can educate readers about farming techniques, share your business philosophies, and build credibility. And, since you are open to the entire world, you can approach new vendors and expand your business.
But your website must display your farm products as fresh as they are. Otherwise, your visitors will turn off, and you will lose out on business. To make your website attractive, we have a host of brilliant agriculture website templates to download.
When designed using our templates, your website will work with our responsive web design on any screen size. Your pictures will not be twisted or out of alignment anymore. The latest backend technology behind the templates will ensure that your website loads faster.
Scroll the templates and find the best one for you. If you like it, download it and spread the word.
Features of Agricultural Website Templates from w3layouts
Agriculture is the backbone of our survival. Even our younger generation is so enthusiastic to work on farms. With the growing importance of farming needs, its consequence is constantly recognized by society in every dimension.
If you need a website to showcase agricultural tools and products or tips, our developers are ever ready to help you create modern agricultural websites. These templates look great, are efficient in performance and fully customer-oriented.
W3layouts has a considerable collection of agricultural website templates with outstanding features. Let us check the best website templates which set us apart from others in the farming business requirements.
Likes and Comments on Blogs
Having a feature of likes and comments on the blog posts is a way of direct interaction with your prospective customers. It gives an opportunity to the customers to come out with their views and ideas about the topics. Our free agriculture website templates have this feature in blogs for logged in users. There are two icons for like and comment placed at the end of the blog. These interactive elements keep the visitors engaged and decrease the bounce rate.
News Sections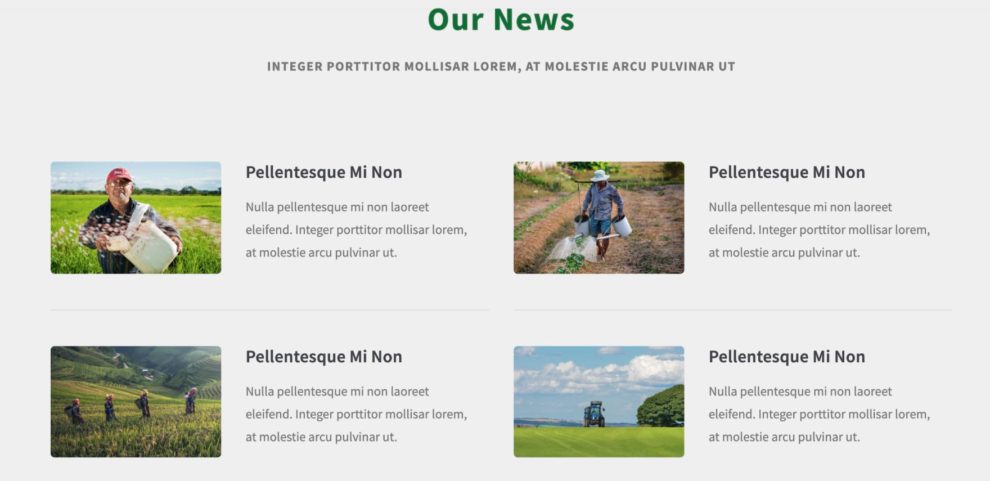 The news is the only way of remaining updated with the latest advancement and inventions. In the field of agriculture, it is extremely significant for farmers to be aware of the latest information. Our agriculture website templates have a news section which consists of a snippet of content followed by the full-screen image at the top. It has a 'learn more' button which takes you to the complete page to read the information in detail.
These templates are fully responsive, adjustable to any device screen and have a fast loading speed. They are available as both single and multi-page layout templates.
Map Zoom-in and Zoom-out
Google maps are used to display the location of your physical address. The high-end technology has made the user experience a memorable one.
For the zoom-in and zoom-out feature, the maps in our templates have a "+" and "-" button. It allows you to see your destination closely along with nearby hotspots. It is usually placed below the contact form.
Shop
The shopping feature is not only limited to an e-commerce website. But other websites can also implement this in their business ventures. Almost every website has something to sell either in the form of online services or any physical products.
W3layouts' agriculture website templates have ready-made designs which are competent enough to take your business online. Here you can offer to sell fruits, vegetables, agricultural equipment, raw products, and compost for agricultural activities. The shopping cart is designed with basic HTML5, CSS3, and JavaScript programming.
LightBox effect on pictures and notifications
The lightbox implementation requires a JQuery programming language. These pop-ups are used for warning, promotion or important notification. It opens during website loading or any user's activity and closes on clicking the cross or close button. When the pop-up opens, the background is faded and disabled.
In the agriculture website templates, the lightbox is used for photo-gallery. You can also add a smooth animation effect on pop-up open and integrate navigation within the pop-up without closing the box.
Customer Testimonials
Customer satisfaction is a priority for any business. The testimonials are a platform for customers to keep their views about how they feel about your services. It also encourages business owners to fulfill the lacking features and keep improving their services.
W3layouts' agriculture website templates testimonial sections have a heading, with the client's picture, name, designation, and their opinions. It increases your customer base and you are recognized as a credible business associate globally.
Space to show your business partners
Your business partners need equal recognition on your website as well. Giving a credit will ensure long-lasting sustainable relationships with them. It is a simple segment, which holds logos of your partner business websites.
These templates are simple yet classy. Everything is easy to customize and the cutting-edge features give a remarkable experience to the clients. The other features are blog, counters to represent data, team member's description and fixed scroll to top button.
Enquiry Form
No matter how user-friendly your website is, your clients need a detailed explanation of your services. As a website owner, you are solely responsible to give clear details about your products and solve the customer issues.
Our agriculture website templates inquiry forms have a name, email and message field with a 'send message' and 'clear form button'. The forms are placed in the bottom of the template. Timely replying to the customer's queries will keep them engaged with your business.
Contact Form
It is an essential element of any website. It is the easiest way to get in touch with your prospective customers. The email ids are stored which are used later to inform the customers about any important updates or newly launched services. These simple contact forms are designed with HTML5, CSS3, and JQuery. These forms have a simple interface synergized by an excellent layout.
The contact form consists of name, email, phone, and message field with a 'send' button.
Registration Form
On click of the sign-up button, the pop-up appears which consists of the registration form. The registration form has the first name, last name, and password and confirm password fields along with a 'register' button.
Through these one-time registration pages, the email ids are stored in the database.
These templates are smartly designed with HTML and CSS and are easy to edit. They are perfectly displayed on every device screen. You are free to change their font and color.
Conclusion
For being a preeminent source of agricultural services, your website plays a crucial factor. In the olden days, our farmers or people related to farming have no source to endorse their services.
Building a website and promoting your products have become so easy with the introduction of these templates. These agricultural website templates look amazing and people are encouraged to pay attention. Their best features are SEO optimization, responsiveness, and cross-browser compatibility.
These templates are available both in free and premium versions. You can choose the most suitable for your website. To know the steps to download our website templates, click here
Have a great time building your website