15 Gaming Website Template
Finally, after a lot of wrestling around with all types of people, you have automagically cracked a client. But that's not the end. In fact, a new trouble element has entered. Your client needs an amazing gaming website. BUT…. he is trapped in a budget constraint scenario and, you got to pay your bills. So, you can't afford to lose him.
Reached a dead end?
Well, there is an escape way here. Scroll down and check out our superb website templates for free download. Action, sports, strategy, racing or any other genre you call, our plethora of free responsive HTML gaming website templates will gratify your designer mind. Our templates are not only affordable but also make website design and development faster. With these, you can do more projects in a lesser number of hours.
So, go ahead, click on any of them, take a demo, download and design a video game website effortlessly!
Features of our Gaming Website Templates
The gaming industry is always in its boom. To stand out amongst others, you need to hit the right nerve. Even before your game is out in the market, every gaming company introduces its new game through their website. The theme of the website matters when it comes to influence game fanatics.
The style and genre of the game decide the visual treatment of the website. If it's a racing game, then the website can employ fast swoosh animations. Whereas if it's a story-based game, then the website can have a more intriguing navigation style like a user is on a discovery of something. It can have layered, sequence type animations.
Our gaming website templates come with all these types of themes and animations inbuilt. The research that you would do before working on your website is already done by us. And, we have coded these designs with respect to the latest industry trends.
Why you must download gaming website templates from w3layouts?
Let us take you through those aspects of our templates that make them a go-to option if you need a website real quick.
A large part of crazy gaming fanatics are those college going teens. That's your target audience. And they always love cool colors and trendy animations. Our developers have chosen contrasting colors for the templates to make them eye-popping so that they record the instant likeness of the young crowd. The images used in these gaming website templates blend in organically and never appear out of context.
Gamers can access your website on any device. If your website is not responsive, the menus, tabs, and scrollers will get disoriented when accessed on other devices. Our templates are extremely responsive to any screen size. You can open any template in a browser and adjust the window size to witness the speed of responsiveness.
The customizability feature of our gaming website templates allows you to mold them according to the taste of your brand. With our website builder, you can remove the preset images, add new ones, and adjust the colors accordingly. You can also modify the content, add or remove blog posts, news articles and even customize the background image for your landing page.
You can check out this article to know how to use our website builder.
The Ultimate Guide to Website Builder
Apart from being responsive, the templates are compatible with all the browsers like Chrome, Internet Explorer, Mozilla Firefox, Safari and Opera. All these browsers have their own CSS rules and your website needs to have the same behavior for different browsers in order to run smoothly. Our templates use valid doctype, CSS reset, conditional formatting, and JQuery, JavaScript library.
Support High-Resolution Pictures
Websites built with our template will never cause hiccups with high-resolution images. For a gamer, there is nothing more important than aesthetics. And hence, gaming websites rely on high-resolution pictures. And, if your website does not load quickly in front of your client, you know how bad an impression it puts.
The use of the latest technologies like HTML5, CSS3, and Bootstrap in our templates ensures that they will not go out of trend anytime soon. The glossy interface and stylish animations are way too high-end for a free website template. With interactive contact forms and CTA buttons, the templates give an ultra-professional feel.
Even after supporting high-resolution images and glossy animations, these gaming website templates work real fast. To provide a great user experience is your priority. Time is a crucial factor in measuring the quality of user experience. Even today, developers at google constantly work on reducing the search time by milliseconds. Our templates are well optimized to respond quickly to every click.
All our HTML website templates have simple layouts, even though flooded with creativity. Even though they follow the conventional style in terms of their arrangement, the visual aesthetics makes them unique. Our templates are available in both single page and multi-page designs and both the layouts are eye-friendly making it easier for the visitors to find the right information. For those who could not find anything by merely navigating, almost every template has a search box.
Best Practices to Build a Gaming Website in 2020
Create a gaming website is much easy than you think. Nowadays people are fantasized about playing online games. A wide number of CMS are available which helps you to create gaming websites with no prior experience or technical knowledge at all.
We have several website builders that allow you to build a free gaming website with ease at fingertips.
The global Gaming Industry is growing potentially at a rate of 10% CAGR, and by the end of 2023, it is forecasted to reach 90.13 US billion dollars.
So here we are together to discuss the best ways to build a gaming website.
Determine the Best Website Builder
If you don't have any coding experience and have no idea from where to begin then no worries. You have landed at the right place. The gaming website builders offer gaming website templates, quality hosting, customizable design templates, and forum building options.
The gaming website builders carry a variety of games, voice support, widgets, and SEO support to create websites with ease and flexibility.
Some of the best gaming website builders are Enjin, Gamer Launch, Wix, Sitebuilder, uCoz, and iClan. These website builders are ideal and quite affordable for the integration of your gaming website.
Choose the Gaming Niche
Though there are multiple gaming sites which are dominating the market, choosing your niche is especially significant in this case.
You should decide whether you want to build a Game playing site, game review site, portable gaming consoles, browser-based games, video games for kids or money-making games.
The niche solely depends on your enthusiasm and interest. If you possess a great passion for gaming, then the online gamers community will support you to expand your site and establish your position in the market.
Create a Unique Content
What makes you stand apart from other gaming websites is the content. The popularity of your website depends on the content of your site. Remember, you are competing with the most renowned websites on the internet.
While writing a guide for your games, make sure it should attract a lot of tech-savvy users on the web. Your document should be free from grammatical and punctuation errors. Always proof-read the guide before publishing.
Use copyright videos, images, and screenshots on your website. Else, your website will appear less-professional which will affect the credibility of your website.
Promote Your Website
Developing a website is important, but it holds no value until you promote it and let it reach to the prospective customers. There are several ways to market your gaming website.
You can promote your website through CTA, linking to other recognized websites, getting positive user reviews and testimonials.
Social media is one such strong tool for the promotion and to draw monetary benefits for your website. To maintain the uniqueness of your website, you can create a promotional video, and establish a social media presence.
Top 5 Best Gaming Website Templates by W3Layouts
Dragon Slayer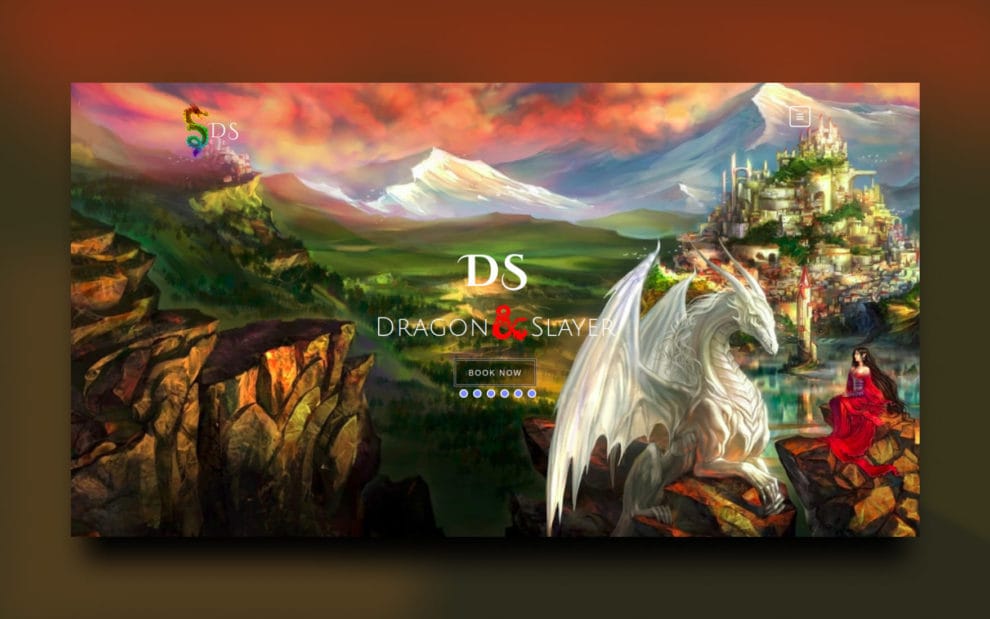 Dragon Slayer is a dynamic HTML gaming website template which will make every gamer fall for it. The multipage layout of this template presents the world and characters of your game like a layered story. The template can be used for gaming blogs, magazines, game stores, and game production studios. It's 'about us' page has an innovative timeline style of presenting your story. Apart from animated banner slide, hover animated CTA buttons, the template also has an avatar page, a gallery with a lightbox effect, and a minimalistic contact page.
Gaming Store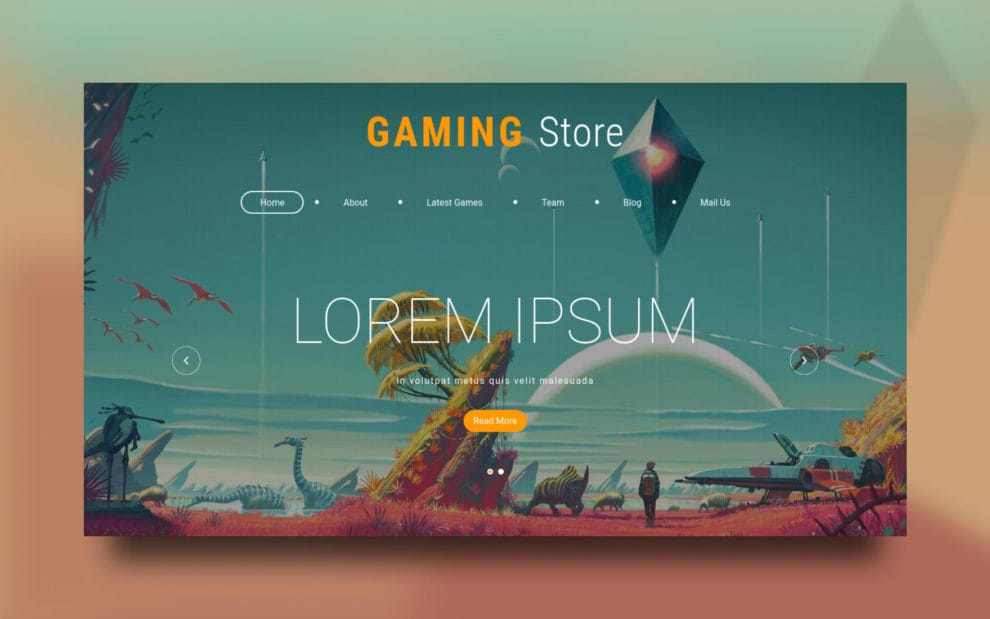 Gaming Store is a single page gaming website template with gentle fading animations at the masthead. The parallax effect engages the audience to create a high probability of shooting up your online presence. Add catchy tag lines about your game on the masthead and they will keep repeating themselves with fading transitions. The 'about us' information can be concisely added in a pudgy looking grid. With very few words, the template makes every effort to make your website a quick glance to your first-time visitors.
Game Over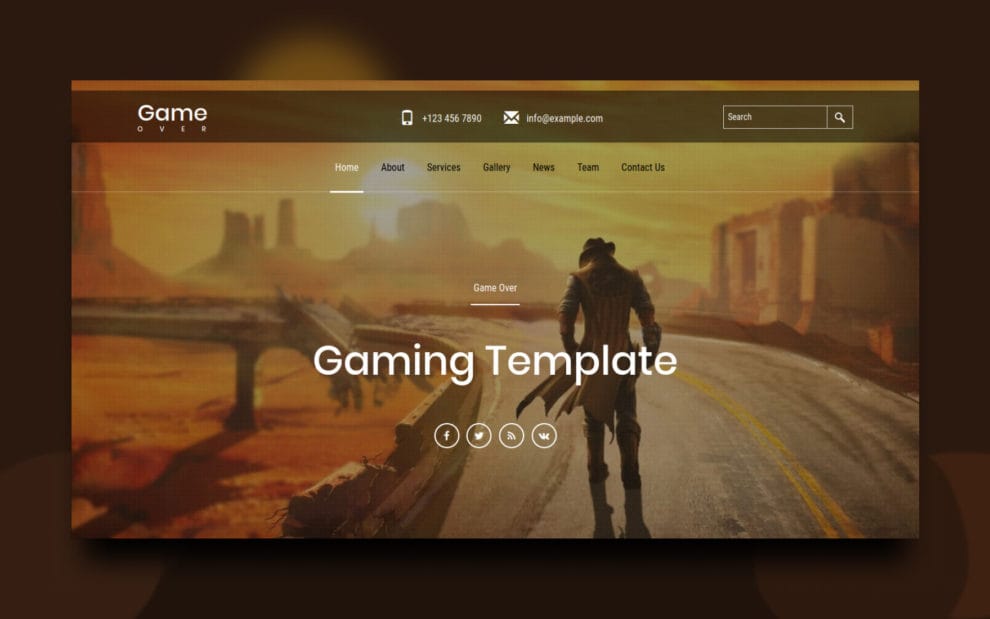 With the right amount of glossiness and energy transfused into it, Game Over is a perfect single page HTML gaming website template for game development startups. The social media buttons are right at the banner of this template, which otherwise is placed at the footers. This offers you to adopt an aggressive marketing strategy. Going by the popular trend, the template has a parallax effect giving a 3D feel. A prominent search bar at the top right corner is a great tool to easily find whatever you need.
Gaming Wonderland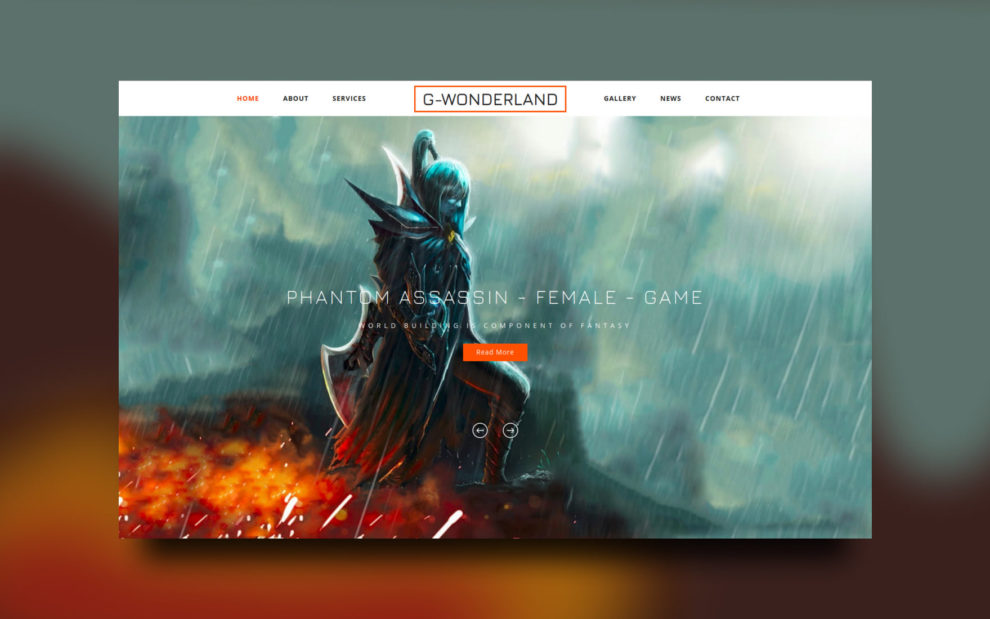 The instant you open Gaming Wonderland, it takes you inside a dreamy world. It keeps your visitors engaged with its scrolling type single-page layout. The button at the header tab helps the users to directly jump to the required section. Images in the gallery are decorated with a lightbox effect in this gaming website template. If you like writing a blog or latest news updates from the gaming world, you can link them to the stylish slider.
Kids Video Game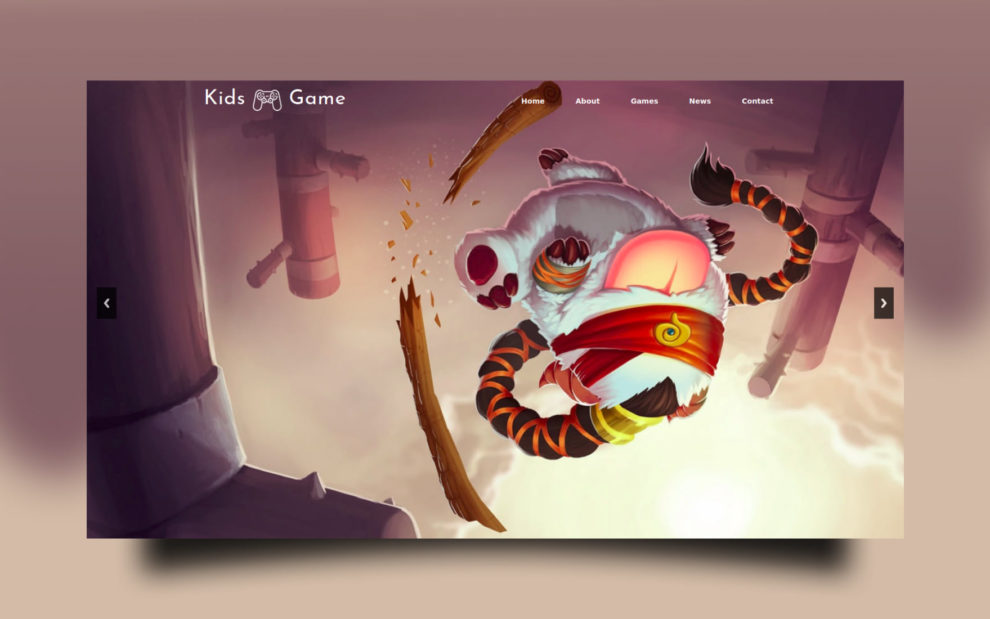 Kids Video game is fresh colored gaming website template designed especially for those companies who work with kids games. The masthead is the free space for you to play with. Show your game characters of either your upcoming games or popular ones from your last games. The template has a colorful tone to attract kids. It houses much of information in its multipage layout such that the visitors are not distracted away. Highlight the top news from the gaming world at the top of the news page.
Browse through the category for more templates!
These five templates we have listed here are for your quick reference. If you could browse out the complete collection on our website, taking out some time, you will find many other designs and each one is the best in its own way. Be it a gaming company startup or for a passionate gaming blogger, we have a website template for all of them. We want no one to go empty-handed from our store.
You can download these gaming website templates for free as well as buying paying a decent amount. A little investment will get you wonderful additional features.
Have a great time building your website!