6 Free Laundry Website Templates
If your business falls under the category of laundry service delivery, dry cleaning, leather cleaning, ironing, repairs, pickup and delivery, then our laundry website template is the best choice you can go for to build a website.
Using a readily available template to design a website is the easiest way. For those who must deliver to their clients urgently, these templates act superheroes. And, for those who have no budget to hire website creators, these templates don't require any coding knowledge.
Now, that does not mean our ensemble of laundry website templates are stodgy and old fashioned. They are coded using HTML5, CSS3 and Bootstrap, which makes them technologically advanced.
Navigation on these website templates is as smooth as skating on ice. Each template has clearly distinguishable categories letting you to show what your services. With testimonial sections, you can post the reviews from your past customers.
Browse through the templates below and choose the best one for you! They are available in both free and paid versions.
Features of Laundry Website Templates from W3Layouts
Establishing an online platform for providing laundry services is no more a difficult task. Online Laundry businesses are rapidly expanding at a fast rate. And, if you are interested in launching one of them, our laundry website templates will help you to establish your business online and explore new opportunities.
W3layouts' vast collection of awesome templates is purely designed with HTML5, CSS3, Bootstrap, and JQuery. They are loaded with great features and elements such as contact form, CTA buttons, and services widget. After landing on the home page, the user will come across full-screen sliders, video frames, and easy to add content placeholders.
Let us check some features of the best collection of Laundry Website Templates from W3layouts.
Newsletter Subscription Form
The newsletter subscription form has an email field and a 'submit' CTA button. These forms are used to collect the email ids of users that drive towards lead generation. In the newsletters, you can write about the latest developments in the world and your fresh offerings. Through such forms, you can make your brand recognizable in the market. In our laundry website templates, email newsletters are the most prominent ways to remain in touch with your audience. They engage people and encourage them to act. You are free to change the look and feel by making minor modifications.
Lightbox Gallery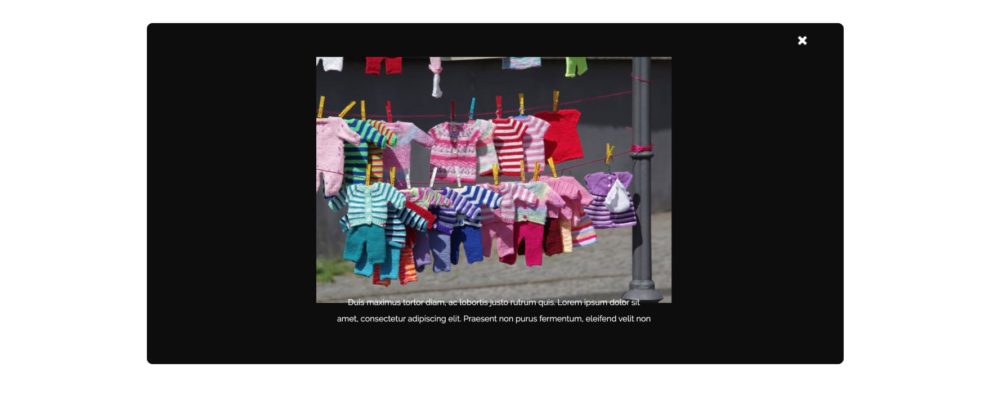 The lightbox gallery in our laundry website templates has a classic appearance. On clicking on the image, it opens in full screen with two arrows for sliding left and right to see the next or previous picture and a cross button to exit the screen. Such features bring maximum traffic and boost SEO. Our website templates have more such engaging lightbox features which will surely suit your taste and interest.
The built-in lightbox gallery is easy to integrate without any programming skills. The lightbox gallery smoothly works in desktop and mobile devices due to its fast responsiveness.
Scroll to Top button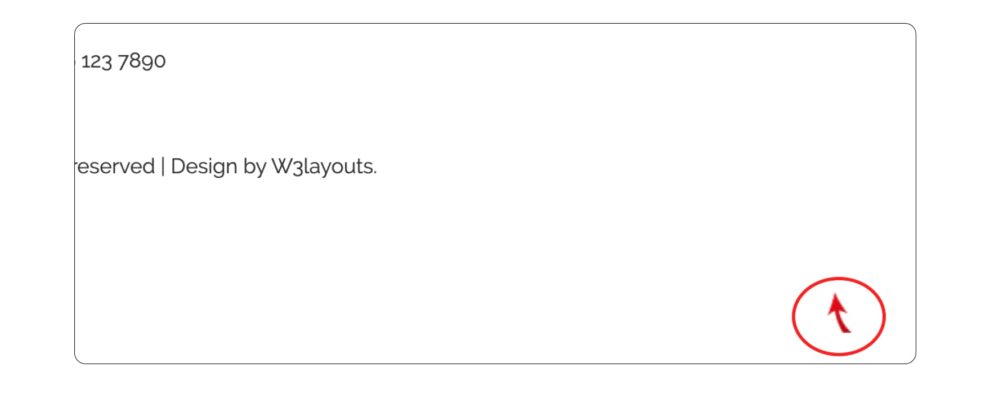 In the case of single-page website templates, you will find these buttons at the bottom. After clicking them, you will reach the top of the website with ease. The button is designed with HTML5, CSS3, and JQuery. This button is already customized, only you need to replace the image which matches your website theme. It is preferably placed in the bottom right corner of the screen, however, in some cases, you may change its position.
You can opt to remove them on mobile versions because it does not require much effort to scroll on small devices.
Onload Counters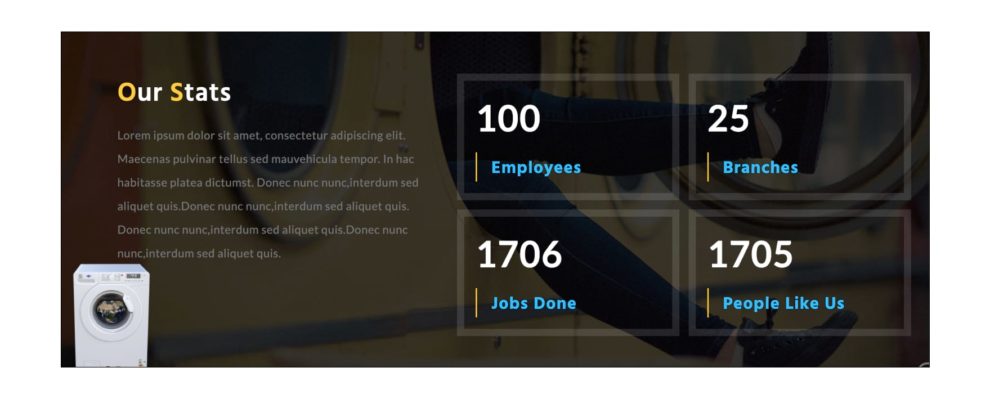 The page on load counters show real-time data statistics and promote your website performance. These counters are implemented with JQuery plugins. They count the current data statistics and display them on your web page. You are free to change the background, color, and icons of your layout. You can check out the one showed in the picture here.
These counters can be used to showcase your website traffic, number of employees and clients, and successful business projects. Our laundry website templates run smoothly on all devices, are light-weighted, and offer straightforward features.
Testimonials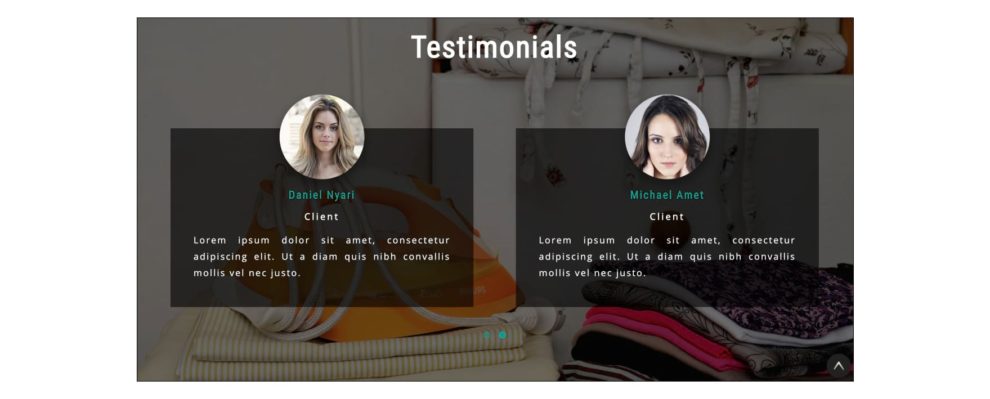 Our laundry website templates have both dark and light themed testimonial sections. In some templates, there is an auto slider frame that displays at least two blocks at a time. They have bullets at the bottom which are clickable. This makes your website search engine friendly and credible.
Testimonials are prominently used for effective marketing and nowadays they are replacing traditional advertising. Showcasing positive statements to the clients about your products ensures the trust factor among them.
Booking Facility
The booking service form has a name, number of pairs, dropdown category fields with a CTA button. All the fields are kept horizontally in a transparent background layout. On hover, the color of button changes. The booking forms in laundry website templates will allow serving better to the clients.
These forms are purely designed with HTML5 and CSS3. The modern booking forms have a full-screen image background. The forms look even more attractive on small screens.
Auto changing header image with animation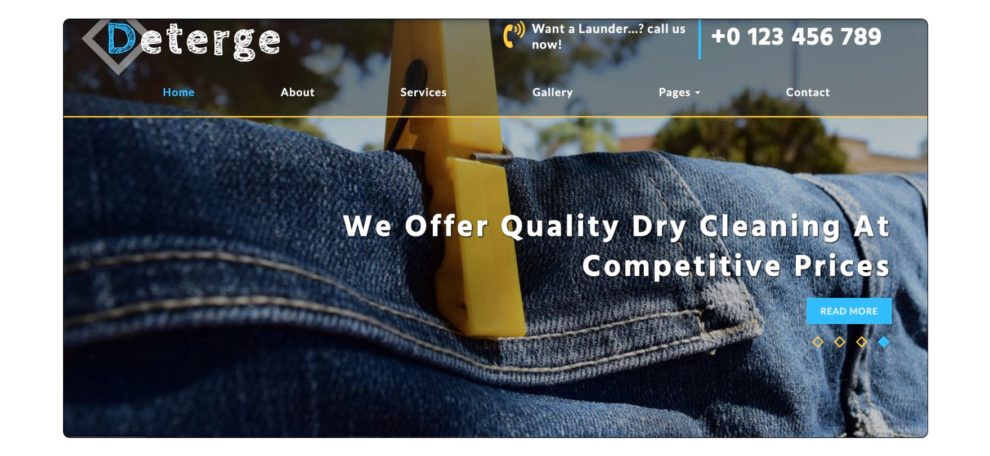 The header image has a slow animation effect and the background image auto changes after a few intervals. The image has a logo, contact number, navigation menus, and CTA buttons. The header in our laundry website templates has a powerful convincing design. The animation effect makes the template more vivid. You can check out a sample here.
Images within the sliders are evolving and making attention-grabbing impressions. Headers in some of the templates are easily customizable and you can choose to change the number of images
Accordion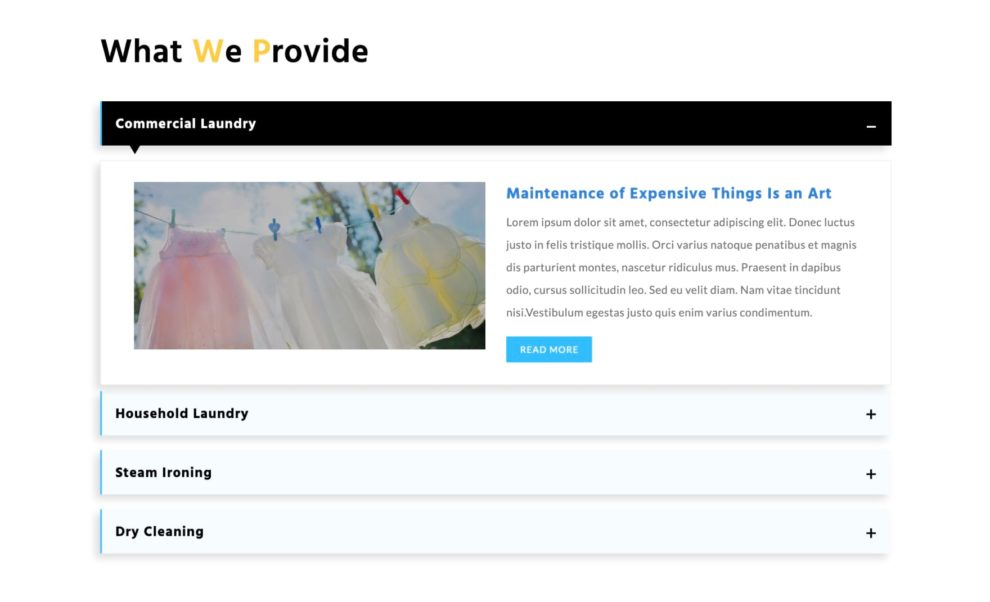 The accordions have a heading, sub-heading, content and CTA button. The accordion is primarily used for providing solutions to user's queries (like FAQs). They are particularly helpful when you want to display maximum data in each area. Accordions on our websites are compatible with both desktop and mobile versions. You can add animation effects to make the accordions more interactive. You can get a feel of it here.
Our laundry website templates are designed by highly creative designers. They have a unique interface and are easy to integrate into real-time projects.
Skill Meter
The skill meters have a thin progress bar to showcase your knowledge and skills. Every skill meter has separate colors and slightly aligned stripes. You can also give animated representation to these progress bars.
They are a great solution to represent your brand needs and the robustness of your site. Our laundry website templates will surely improve your website career and represent your brand expertise.
Order Laundry Form
This form is for the old aged customer for whom it is difficult to step out of their homes. They can request you to pick up their laundry. The order form has a name, email, phone, date and address fields with a CTA button. A cross button is placed at the top-right corner to shut down the form. You can check it live here. The forms are the primary requirement for any organization to collect data and endorse their services.
You can add or delete any number of fields according to your website requirements. Our laundry website templates have professional looking forms designed with the latest technologies.
Conclusion
Every template of ours is compatible with the latest version of browsers. They are cross-browser ready, have a responsive layout and in-built SEO support. These templates are prepared for a single page as well as the multi-page websites. They have visually amazing features, gallery portfolios, map integration, contact details, and social sharing icons. You are free to customize the color schemas, Google font icons, and typography prospects.
They capture the user's attention and fit for personal as well as commercial business needs.
Our templates are available in both free and premium versions. Downloading the template is super-easy. If you find any difficulty, you can read this blog here which will guide through every step of the process.