Free Music Website Templates
Music is a universal language. It's every musician's dream to take his music worldwide. But, when you are taking baby steps towards your goals, you must first create a business through your creative pursuits. It's tough, but a website can turn things for you.
A website instantly puts you on a global platform. Anybody can reach out to you just by using the details on the contact page. And, we make the creation of a website easy for you by offering a host of music website templates.
These templates are for everyone who is into the music industry. Musicians, singers, songwriters, music producers, bands, and more. The customization feature extends their applicability to concert venues and recording studios as well.'
With fully responsive designs and cross-browser compatibility, you can use these templates to the fullest. They are coded using the latest versions of HTML, CSS, Bootstrap, and JQuery.
Currently, there are more than 20 templates in this category that you can go through. More will come soon.
Download now!
Features of music website template from w3layouts
We all know the power of Music. It gives relief to pain, fills the emptiness in your heart and creates a joyous environment. If you have a passion for music, give it a chance to showcase your talent to the world. It's time to bring your project online and turn the audience musically on. The online world offers you with enough opportunities to bring out the inner musical talent and perform in front of millions of people.
W3layouts have numerous collections of music website templates for music lovers, singers, and artists. Let us check out the best features of the music website templates from W3layouts.
1. Featuring Latest Releases
The notification icon is placed in the header. We all want to get reminded of new updates and other information from our favorite music website. Notifying through image and video representation creates a long-lasting impact on the user's perception. We, customers, are always curious to know about the new launch and latest releases. This is the best option to keep in touch with your prospective customers. The notification option consists of new music updates, artist updates, live concert notifications and playlist updates.
W3layouts music website templates have notifications enabled to notify the user about the on-going activities. To facilitate this functionality, you need to have a professional developer. It requires a little bit of backend coding.
2. Audio and Video Albums
Uploading audio and video albums can make them viral over the internet. You can increase the number of visitors and customers on the website. Our free music website templates have built-in pages where you simply need to integrate your music albums. The customization process is straightforward and will increase your fanbase overnight.
You need not invest a lot of time and effort to build the pages from scratch. Our template designers have taken care of the technical aspects to build awesome music website templates.
3. Details of Artists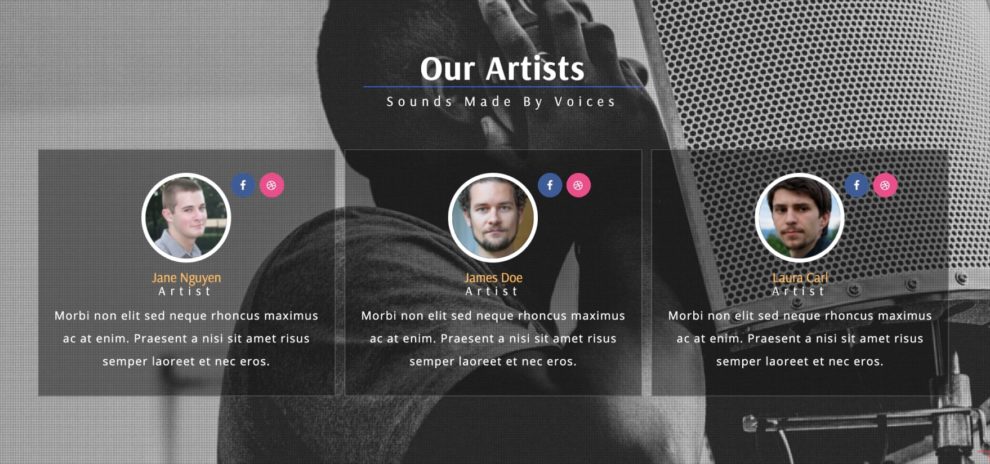 In w3layouts.com, you will explore the best website template for music producers. Through our templates, you can give credit to the artists behind the albums. The artists who are responsible to create soothing and sensational music should be facilitated with honor.
Even the audience would want to know about their favorite artists. Our bootstrap music website templates are available for free download. They are fully-fledged and flexible to connect with their followers.
It is the best source of marketing and promoting upcoming releases without spending a huge sum of money. Select the best theme which suits your taste. These themes are suitable for both professionals and beginners.
4. Radio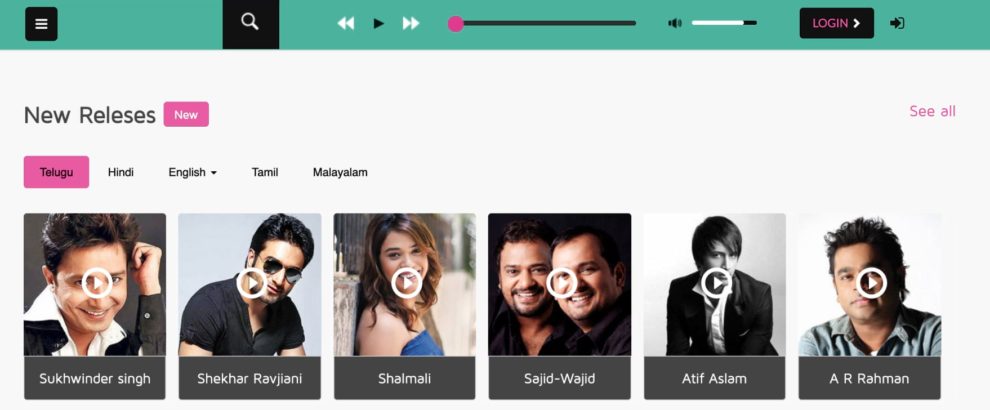 With the emergence of technology, the radio medium for music lovers is also dramatically evolved. The agencies who outsource musical shows also want to stream their radio shows. The templates featured in W3layouts have audio players for radio station programs. The radios are also used to promote events or upcoming shows.
This feature shows the details of hosts, special guests and the old shows already released in case the audience might have missed them.
Our pre-built music website templates look good and stream your music program directly from your website. It has an inherent user interface and the radio icon can be placed in the header or side navigation bar.
5. Add to Favorites button
We hear several songs or watch videos every day. But some of them feel close to our heart and we wish to hear them frequently. So the "Add to favorites" option is here to create your music library, which reduces the burden of finding your favorite playlist.
This option is designed with HTML cards, adding designing features with CSS and Bootstrap.
To integrate this feature, you need to have some prior coding experience. Its icon is heart-shaped. These templates require less maintenance and have an ideal loading time. This feature attracts lots of fans and is a sign of a professional music website.\
6. Upcoming Events List
With this feature in our music website templates, users can get quick information about any upcoming events from your website. In this way, users can also book advance tickets for upcoming events and plan their schedules.
This feature makes your website more credible and allows it to reach to a like-minded audience. The events can be organized in lists with their time, date, venue, name of organizer and brief introduction. It is easy to customize and the different headers can be arranged with varying colors and fonts.
7. Awards and Recognitions
A person who refreshes our soul deserves the awards and recognition for their efforts. Our music website templates have this feature to showcase talented people. This feature is flexible and has a naive design. The list of awardees is organized in bullet points. Though its interface is simple, you can customize and give it some stylish attributes.
You can dynamically arrange them by calling an API. It requires coding knowledge to fetch the data from the backend. The feature is mobile friendly with different fonts and colors in the header and order list.
8. Download Page

Any website or app requires 24*7 internet connectivity to access the application. The downloading option enables your user to enjoy the favorite playlist offline without any internet facility. The download enabled feature is stylish with a responsive layout. It has a sleek design with a background image. With the download option in our music website templates, the folks can enjoy the music from anywhere they wish.
It creates an awesome user experience with cross-browser compatibility.
9. Auto slider music gallery
The carousel allows you to add audios or videos in the slider without any technical knowledge. The auto sliders look amazing on devices and give a great experience to the user. W3layouts templates with such functionality are ideal for any music website templates.
Such templates are also perfect for photography or radio websites. Our carousel is lightbox modal integrated and you can use audio and videos in MP3, mp4, AAC, or MPEG format. These sliders give a professional and elegant look to the website. They enhance the user experience and provide a polished presentation to the music website template. On hovering over the card, the navigational arrows appear on both sides of the layout.
10. Search Box
The search bar provides you results for your query with accurate information. Though it possesses high importance, it is often ignored by websites and mobile applications. The simple search bar designed with HTML5, CSS3 and JavaScript code can increase the conversion rate. We have animated search bars with a search icon, bars expandable on click or hover of an icon. You can either create this component from scratch or already use the existing ones. The search boxes are responsive and work smoothly.
It is a much-needed element, to improve your musical website usability. It simplifies the search process and gives all the relevant information by simply typing the keywords.
11. Mobile Application
Mobile applications are very significant for every business. Every person browses through mobile because we all are habitual of using them as they come in handy.
If you have no coding skills, you can hire a mobile application developer to create an APK and put it on the Play Store or Google Play Store. Mobile applications are luxurious and remain in demand for any business.
You can also give a QR code to users to directly download by scanning it.
12. Categories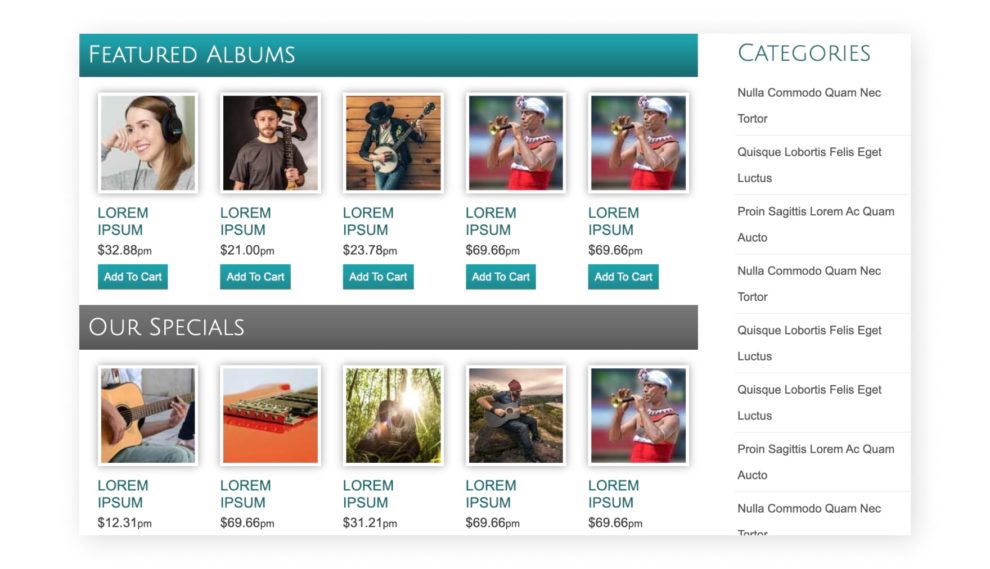 Music websites can have several categories like popup music albums, classical music, or hip-hop. Every age group people enjoy different types of music and video albums. It is crucial to categorize them for the audience to find easily.
Through our music website templates, you can group these albums into different categories. These small features create a huge impact on the audience and connect with them emotionally. Such elements are easily customizable and do not require huge maintenance.
13. Shopping carts for music accessories and latest albums

The soundly designed shopping cart will persuade people to know about the music albums, accessories, and instantly purchase them. The functionalities for shopping carts are smooth animation while adding products to cart, and the traditional way of adding items. The use of bright colors and simple checkout make it a great looking interface. Our music website templates are designed with modern concepts and fashionable outlook.
The other design elements are promo code widget; continue shopping button, product summary, and checkout link. Our designers and developers never fail to give a purpose to the customer to revisit the website.
Conclusion
Our themes are suitable for live performers, musicians, rock bands, nightclubs and radio stations. The wide collection of a single page and multipage websites has a modern and neat layout.
They are mobile-ready and search engine friendly. They will help you in establishing yourself as a professional musician.
Our music website templates provide you with a great opportunity to reach a large number of audiences. The distinct styles have no limit to explore and adapt. They are customizable at your fingertips. Our templates range from dark to light themes which persuades your clients to work with you again and again.