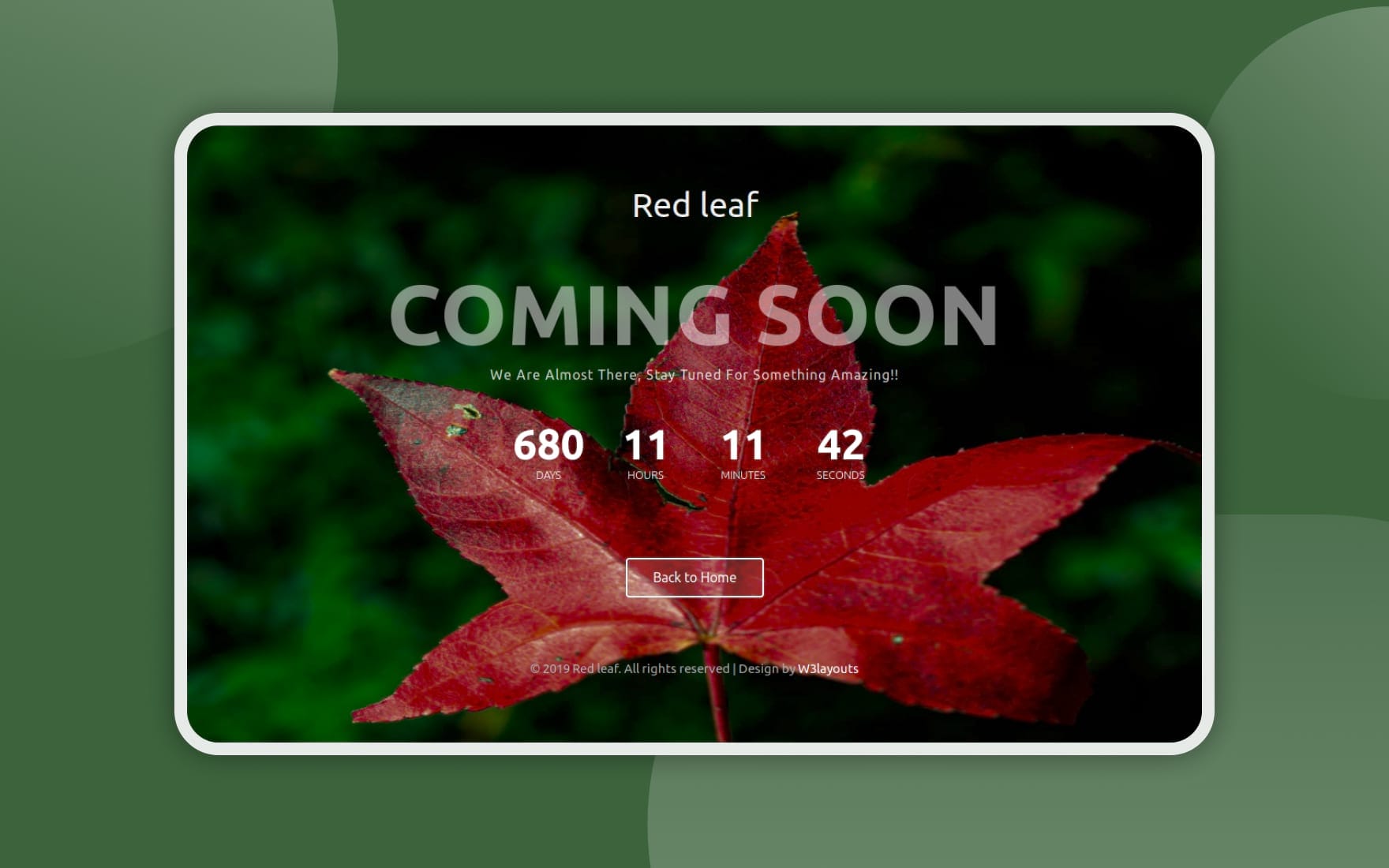 You must have a planned release date for your site much earlier. But now it's been two days since the date has passed and you are still ruffing around the backend codes. You don't know when the site will be online!
Under this condition,
What if you could gain visitors even before your website is ready. Wouldn't it be great?
Yes, that's possible. Not in some futuristic sci-fi environment, but right now!
Attention-grabbing 'coming soon' page will do it for you. Replace your boring 'site under construction' page with a fantastic, eye-popping, 'coming soon' page with a short message on it.
There's no need to waste time mulling over the design and layout. Download Red Leaf Coming Soon page template and use it wherever you wish. The style of template is so organic that it can blend in with the website of any business type.
Cozy Background
The title rests in front of a cozy red leaf against greenery. The hover sensitive image floats around giving an interactive feel. Beneath the large title, a text box of the small-sized font is perfect for you to convey a concise message.
Candid Timer Widget.
Complementing the message is a candid countdown timer widget. The ticking seconds gives your visitors a feeling of every passing moment. Be creative with your message! If it is catchy enough, no one can control the temptation of revisiting your site.
The 'Back to Home' button comes as a bonus if you are using the template for a specific page on your site.
100% Functional, Responsive and Customizable.
When holding the attraction of your users is the prime goal, how can you ignore different sizes of screens users operate. Red Leaf is smooth while adjusting itself to any screen size without distortion. If you want some changes, you can customize any part of it.
The template is available in Starter (Free) and Liberty (Paid) plans. Get the one that suits your needs and add stars to your website!
Please keep backlink to w3layouts.com, if you are downloading the template for free. If you are using the website template for commercial purpose consider buying a Liberty License.
Design by <a href="http://w3layouts.com">w3layouts.com</a>
Template Name: Red Leaf – Coming Soon Page Template
License: Starter License and Liberty License
Compatible Browsers: Google Chrome, Firefox, Safari, IE 10, Opera, etc.
Source Files included: HTML files (.html), Style Sheets (.css), Images (.jpg/png/gif), JQuery plugins (.js), Fonts (.ttf).
High Resolution: Yes.
Features:
Number Counter
Fully Responsive
Hover move the background image
Attractive Image background
Background Image by Unsplash