Description
Coffee Cafe – WordPress theme for coffee shop
Coffee Cafe is a purpose-built coffee shop WordPress theme that's ready to help you launch your new website today. In fact, no matter what type of coffee shop or cafe you're working with, Coffee Cafe could be a great choice.
This is one of the most versatile coffee shop WordPress themes around. Among the different website pages, you'll find more traditional layouts, with opening hours, location, and contact information on the contact page, as well as more unique designs that use eye-catching layouts and grids to display your content.
If you choose the Coffee Café theme for your coffee shop website, you should have no trouble customizing the overall look of your site. As this theme has a good set of design controls, you can easily use the WordPress Live Customizer interface to add your own content, changing the theme images, icons, and more.
There's also a handy coming soon demo that's perfect for building anticipation in the run-up to your coffee shop's opening.
Theme's design is fully customizable and highly optimized for mobile, so will adapt itself to any mobile or tablet device. The theme is ready-to-use, with no needed coding or design skills. The theme offers all essential restaurant features such as responsive owl carousel slider, menu management, gallery management, blogging, and also a working contact form.
How to start a coffee business online
Opening a coffee shop can be extremely profitable if you do it right. If you love coffee and are looking for a business opportunity, this coffee café WordPress theme is your best choice to starting a coffee shop and making it a success.
One-click demo importer for your coffee website
Coffee cafe keeps things simple with just one demo. However, this doesn't mean you'll be limited when it comes to deciding how your website will look. After using the one-click demo content importer tool, you'll be able to add and remove elements from the default homepage layout to get the right look for your website.
Home Page Layout
Some of the elements you can use on the home page layout of your website include a Full-width slideshow, a banner displaying your title, paragraph content, and a call-to-action button that links to the important pages of your site, a photo gallery with a lightbox popup, products from your coffee shop, and testimonials from happy customers and clients. You can also display the latest posts from your blog, giving your visitors an easy way to check out the recent news from your business.
Transparent Header: A beautifully created transparent header placed on the banner gives more attention to the users. And when we scroll down the page, the header gets fixed and you can navigate to other pages anytime as the header is fixed to the top.
Attractive Portfolio Gallery: The only way you can make your website engaging is by displaying exceptional pictures of your coffee. Beautiful coffee cups, café interiors, and different types of flavors of coffee put a fleeting impression on your visitors. Your Coffee portfolio is like having a hover overlay effect and a lightbox plugin that will entice your visitors with a smooth experience.
Testimonials from happy customers and clients: Testimonial's owl carousel slider, which makes you display customer's reviews. Encourage your customers to write down their experiences about your services and display them in the testimonials section.
Homepage Blog posts: You can display the latest posts from your blog, giving your visitors an easy way to check out the recent news from your business. One way to have recurrently arriving traffic on your website is to keep your visitors updated with the latest happening in the industry.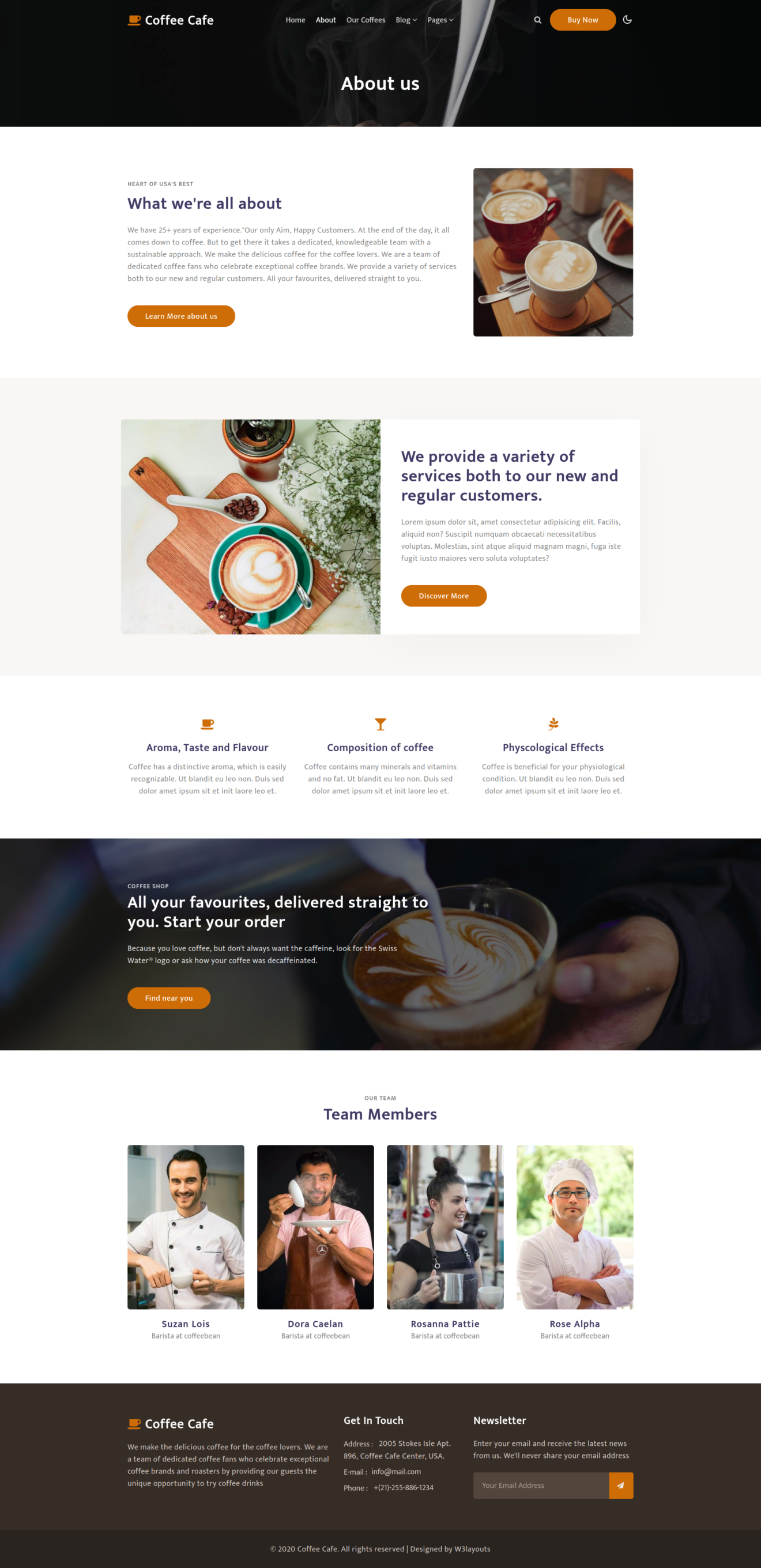 About Page
Killing About page is another attractive feature of this cafe theme that helps you stand in the crowd. The way of arranging images and the content on this page is very clean and neat. It also has plenty of space to feature what your business has to offer.
If you want to promote events that are being held at your coffee shop, this template is a good choice. Therefore, whether you just want to create a simple online presence to promote the existence of your coffee shop or you need to launch a more interactive website, Coffee Café can help.
Team Section: The team section is perfect for showcasing the people who work behind the scenes. The team member has their images, the hover effect along with the social media icons makes the team component attractive with a remarkable look. Publishing profiles of your team members in this section is also very easy and simple.
Blog Page
This Blog page has a beautiful blog post owl carousel slider to showcase the featured posts in a slideshow. It is a clean and beautiful design that makes it to read the news and articles. The blog posts on the blog page show a featured image along with the title, likes, date and a read more button. The thumbnail or featured image of the post has hover zoom-in animation adding dynamism to the page. You can also find the news section on the home page with the titles of our coffee blog and latest blog posts.
This blog page comes with a posts slider and a posts grid arranged in a creative grid manner. Easily readable and eye-pleasing font style gives a relaxing experience to the readers.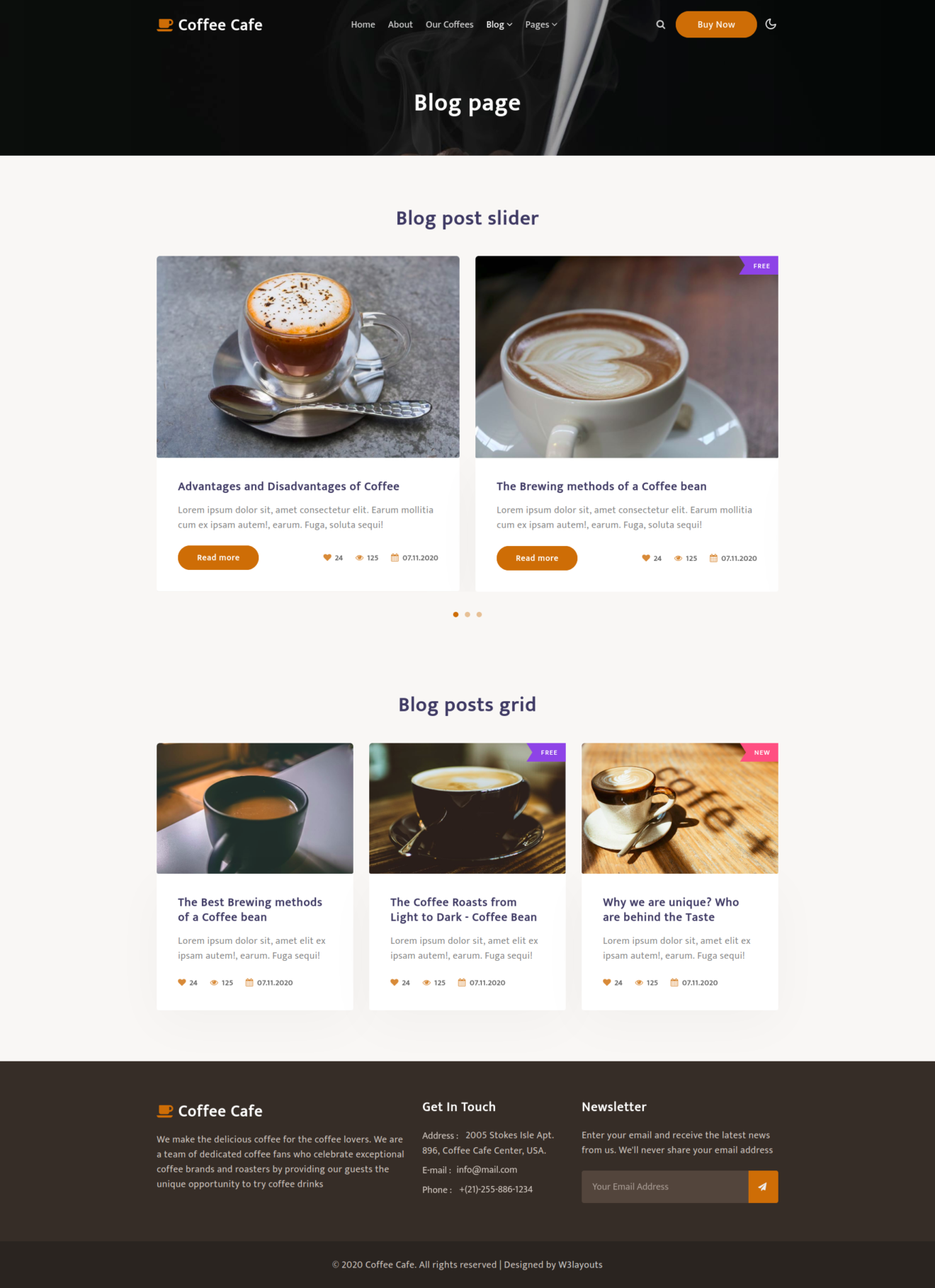 Contact Page Website
A contact page is a common web page on a website for visitors to contact the organization. The Google Map, contact address, opening hours, email address, and telephone number also are included here in case the customers want to have direct contact. A website's contact page plays an important role in turning visitors into customers. This contact page exists to serve the user with the purpose of providing them with information on how they can get in touch with you.
Theme Features
Fully customizable content layouts
Beautiful and Awesome Design
Image hover effects
Fully responsive and mobile-friendly
Amazing design
Bootstrap v4.4.1 Framework
Custom 404 Page
Easy to Use and Customize
Working contact form
Gallery lightbox plugin
Dark Mode theme support
Much more
Coffee Cafe a Hotels and Restaurants Category WordPress Theme
Coffee Cafe a Hotels and Restaurant category bootstrap WordPress Theme that can be used to build your beverage shop, bars, restaurant, etc. websites with stunning pages and a beautiful look.
If you won a beverages shop Coffee Cafe WordPress Theme is the best choice for your business to maintain an online beverage website where you can showcase their menu.
Grab this WordPress Theme with the complete package so that you can have the complete benefits of our service and enjoy the high-quality pages and display cards for your latest blog posts.
Dark Mode Enabled:
Dark Mode is now preinstalled with every Theme we publish. You just need to click on the toggle at the top right of the Theme that changes the entire Theme to the dark mode that brings a premium feature to this website template.
Theme Details:
Theme Name: Coffee Cafe a WordPress Theme.
Compatible Browsers: Google Chrome, Firefox, Safari, IE 10, Opera, etc.
Source Files included: PHP files (.php), Style Sheets (.css), Images (.jpg/png/gif), JQuery plugins (.js), Fonts (.ttf), XML(.xml).
High Resolution: Yes.
Relevant Templates:
Relevant Posts:
Images: