Description
Hoster is a premium website template for web hosting companies. This is one of those website templates where the banner gives more emphasis to text rather than image slideshow or animations. Although there is a subtle illustration art to fill up space, the text with a price of domain services and a 'Get Started' button grabs more eyes. In addition, the banner sliding buttons come handy.
The color palette matches up with the niche of the web hosting website template. Light indigo speckles over a greyish white background add credibility and professionalism. Bundled with 25+ HTML pages, Hoster consists of all the widgets you need to showcase all web hosting services. The template has a lightweight CSS design and the pages can be navigated with submenu dropdowns.
With Hoster, you get a ready website with each page specifically designed for web hosting companies. Even though it comes with a customizability feature, there is hardly any need to make changes in the design.
Clean and Professional Design
The design has spaces between the sections if you notice. It takes out the clutter giving healthy visibility to the viewers. The intelligent combination of different font sizes takes our attention naturally to crucial information.
Compatible with all Browsers
Our premium website templates are downloaded across the world. With every template, we make sure that the cross-browser compatibility clause is satisfied. Be it Chrome, Firefox, Internet Explorer or Opera, this premium website template will make your website smoothly function on every browser.
Types of Hosting
Every hosting company offers different types of hosting services. The template has individual pages for each type of service. Each page has a pricing plan with features of the services. Cards, text boxes, icons, accordions, and other web design widgets are used to display services.
Once you download this premium web hosting website template, you get a comprehensive collection of pages needed to build a complete web hosting company website. It acts as your brand. No need to download any page separately and struggle with customizations to it so that it blends with the website.
Domain Transfer
Help your customers to transfer their domains with your domain transfer service. As the page opens with an 'Enter Domain' box, users can start with the process right away. Apart from listing the available domains with their prices, the page also gives useful information about domain transfer.
Order your Domain
A pricing plan page custom-designed for hosting companies. Cards orderly arranged on the layout offer different schemes. Each card has benefits mentioned in bullet points, cost, and order now button. With every piece of information given clearly, it increases transparency between you and your customers.
Dedicated Hosting Features
Offer dedicated server hosting to your customers with this structured page designed after brainstorming on the designs of various other hosting websites. The page comes with three pricing plans, giving enough variety for the users to make a choice. If one page is not enough to list the features, you can link an article or another page below with a 'Read More' button.
Blog Page
With big responsive cards for each blog post, the page looks perfectly in order. Each card has the title image, blog title, and a snippet of information. With the help of the pagination widget at the bottom of the page, users can navigate across all the blog posts. The single blog pages consist of social media sharing buttons and comments section which plays a major role in increasing the engagement ratio on your website.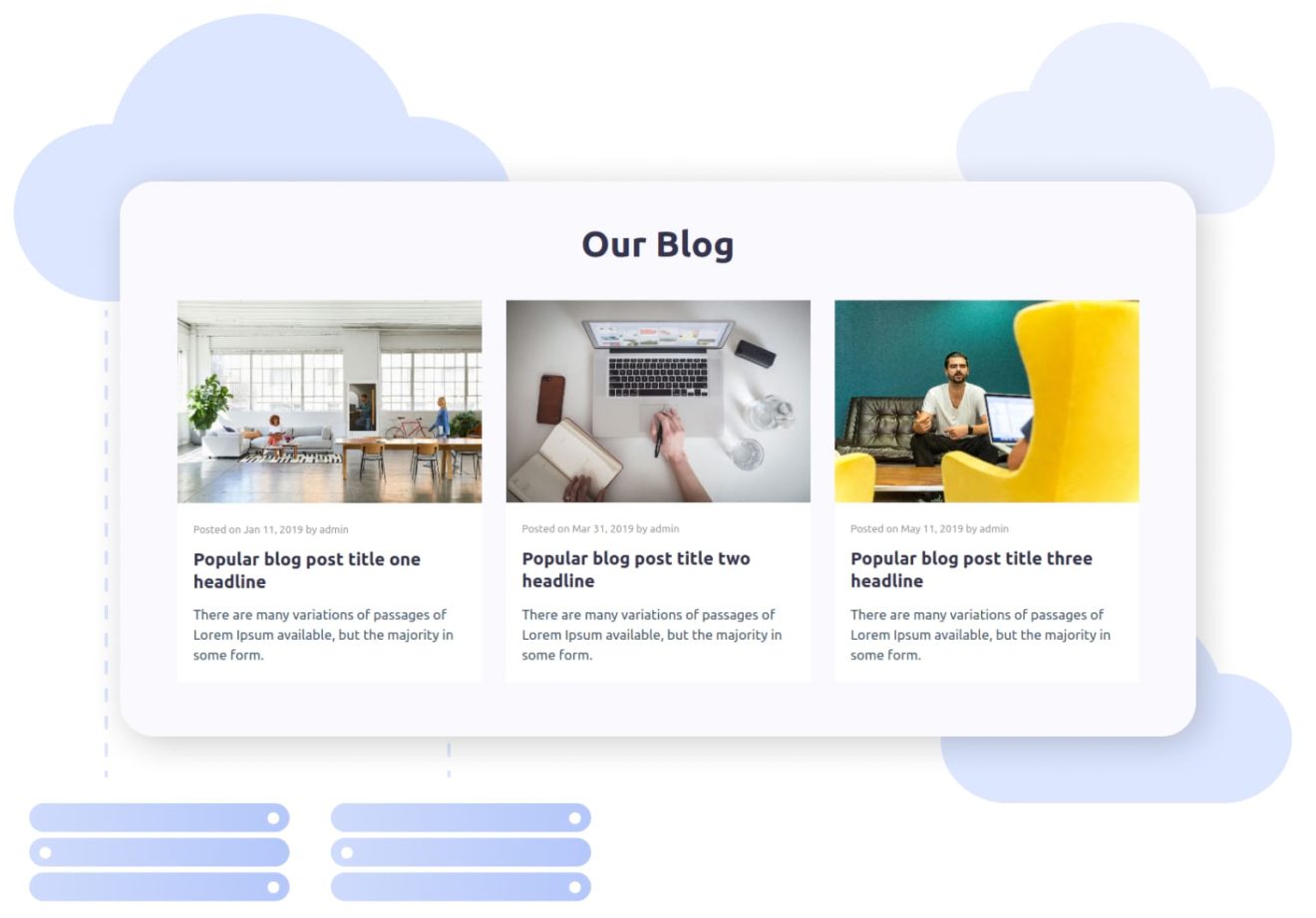 Email Template
Fuel up your email marketing campaign by synopsizing all your services in a single email. This compact email page open in any type of device. It has more image grids which help you to convey information through pictures. This creates more impact in a short time which is one of the good characteristics of effective marketing emails. The unsubscribe button at the end gives more entitlement to the readers to exit themselves from your list of emails.
Pricing Page
With multiple types of pricing plans, this template gives options to use any of them. Each one has a unique design with hover animation on buttons. You can also highlight the most preferred or recommended plan to the users. The end of the page has a 'contact us' button for users to immediately get in touch with you in case of any queries.
Support Page
Gain the trust of your audience by offering all types of support to them in need. The page has a contact form, email id, contact number as well as FAQs. This versatility of options speaks to your audience and increases their confidence. Sometimes, there may not be any need to even contact you. The FAQ may give the needed answers in its CSS3 accordions. The contact form also has a dropdown tab to direct queries to a specific department.
Timeline Page
In the vertical timeline page, event points are placed on a vertical spine. You can use this to narrate your story of founding your company or chronology of future project plans. Also, follow an out of box approach by showing the steps to follow to buy a domain on your website. There can many applications of this.
The complete premium web hosting website template comes with 25 HTML pages. You can download them in two different plans. Freedom and Extended. Extended gives you the ability to use multiple projects without a backlink.
Compare them, discuss with your teammates, and make a smart choice.
Download our templates and have fun building your website.
Pages Available :
Home page
About
Services
Blog & Blog single
Contact
Shared hosting
Dedicated hosting
Reseller hosting
Domain transfer
Choose a domain
Order domain
Pricing
Support
Team & Team Single
Portfolio
Search results
Timeline
FAQ
404
Login
Signup
Coming soon
Email template
Configure(checkout page)
Template Information:
Template Name: Hoster a Web Hosting Category Responsive Web Template.
License: Freedom Licence.
Compatible Browsers: Google Chrome, Firefox, Safari, IE 10, Opera, etc.
Source Files included: HTML files (.html), Style Sheets (.css), Images (.jpg/png/gif), JQuery plugins (.js), Fonts (.ttf).
High Resolution: Yes.