29 Free Video Background Website Templates
What if the banner images on your website are replaced by videos? Wouldn't that be awesome?
With our collection of video background elements, this can be possible with only a few clicks. On this page, we have an array of web elements and website templates with video backgrounds, to instantly engross your visitors the moment they step on your site.
All these designs sit on a strong technological foundation and are responsive by design. Some of them are a must-go for travel and media related websites.
The page has 30 templates, including website templates, login forms, coming soon pages, appointment forms, shipping forms, and subscription forms. They are coded with HTML, CSS, and are built on a bootstrap framework.
Browse through them and find the right one to download.
Have fun working on your website!
Different types of templates with video background from W3layouts
Backgrounds are an important aspect of any website template which reveals a lot about your website. Gone are the days when the designers used to prefer the images in the background. Nowadays designers are looking for video and dynamic backgrounds for their websites.
W3layouts' templates with video backgrounds are attractive and bestow a reason for visitors to frequently visit the website. The well-integrated videos are eye-catchy, attractive, and easy to maintain. We have a choice in abundance for such templates full of surprises and amazing features.
Let us check the outstanding features and widgets of our templates which together comprise making the best video background website templates.
Opening Soon Page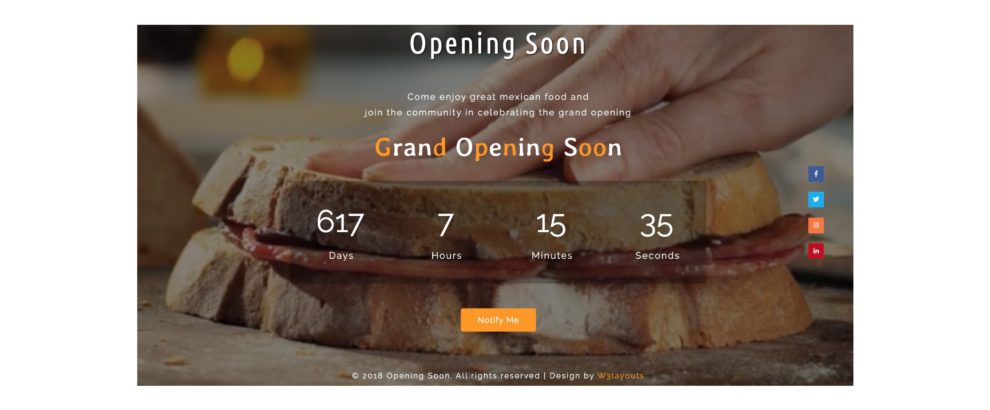 Take a demo of this here.
The opening soon page informs people in advance about the new pages and features. Such pages have a unique widget counter which notifies about the days and hours remaining for the beginning of the website. The counter continuously changes with each passing second. The other way to inform the users is by collecting their email ids through a subscription form. You can regularly stay in touch with them and apprise about the website status.
Our video background templates produce excitement among the users which compels them to connect with the website.
Login Form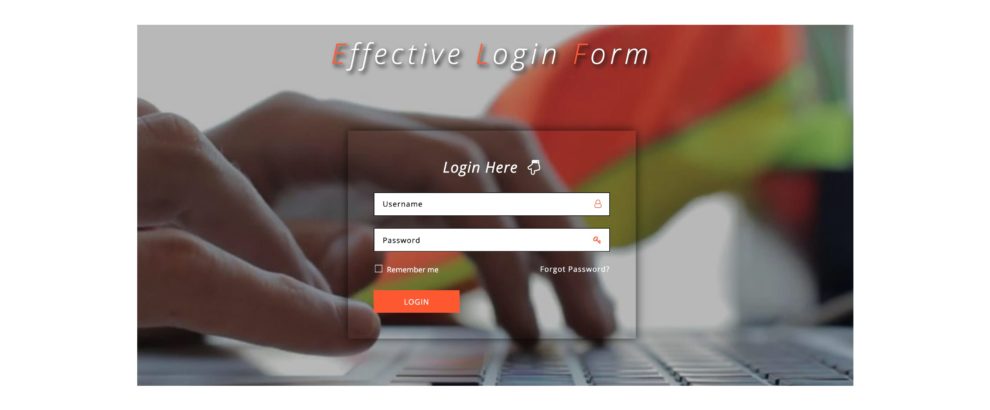 Take a demo of this here.
W3layouts login form templates are transparent which makes the video background apparent. Login form has a 'username' and 'password' field with 'forget password' and 'login button'. Two icons are placed at the right corner of both fields. On hover, the background color of the button changes.
The login page is the initial stage to enter the website and avoid the access of unauthorized hackers. W3layouts' designers are very competent in designing responsive and well-executed login pages.
Registration Form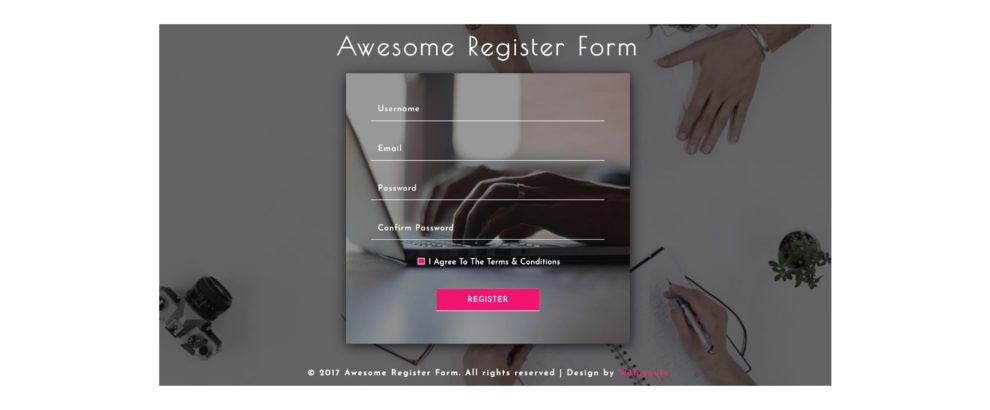 Take a demo of this here.
The registration form consists of a username, email, and password fields. The registration form is a source to ensure your validity to access the website. The form should be organized and should possess related content. It should be placed on the landing page which instantaneously prompts the user for call-to-action.
Registration form in the video background website templates supports lead generation and allows only credible users to access the website. Our forms are very secure, efficient and most of the fields are easy to customize.
Appointment Form
Take a demo of this here.
The appointment forms have a name, email, contact number, and address fields. The appointment is particularly used for the medical field website, educational website, and job application website. Whether you have a small or large business enterprise, the appointment form is a must-have widget.
These forms have great significance where people want to get in touch with you before visiting physically. They are suitable for SEO purposes, retina-ready, and possess responsiveness.
Freight Shipping Form
Take a demo of it here.
The shipping form is for cargo, freight forwarding, and logistics-based businesses. The one showed in the picture has a dark transparent background and has fields such as name, phone number, email, drop-down country field, city, state, zip, and address field. They have a tracking timeline for order, shipping, and payment which is split into parts.
The shipping forms in video background website templates allow growing an impactful business online. These forms are a great approach to integrate shipping options and services for e-commerce business.
Resume Website Templates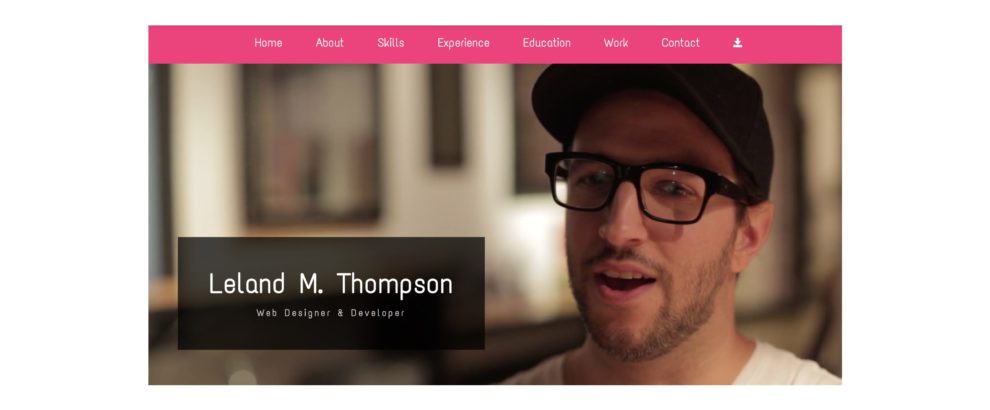 Take a demo of it here.
Such video background website templates have a great significance in resume websites. The candidate can upload his video in the background. This will help you to highlight your skills, education, and grab the job of your choice. The trend for resume websites is growing with pace. Our resume websites look professional and attract recruiters and managers quickly.
These templates are purely designed with HTML5, CSS3, and JQuery. Most of the features are ready to customize without any coding experience.
Restaurant Website Template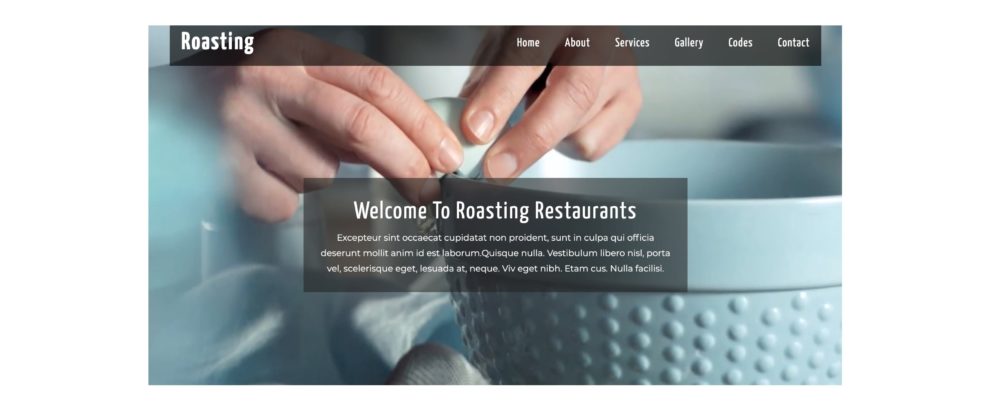 Take a video of this here.
The restaurant website templates allow establishing your business world-wide. They allow you to order food online, get customer reviews, appointment booking, and sharing recipes on social media. Such websites are the most accomplished way to advertise your products and services.
The restaurant websites are great in demand by the customers to represent the working hours, menu items, discounts on special occasions, and the physical address of the restaurant.
Travel Website Template
Take a demo of this here.
The travel website templates provide to plan and book your trip. Our video background website templates consist of testimonials, contact form, map, and trip planning form. The travel agency owners should look for online website templates to establish their enterprise.
People nowadays prefer online websites to read user reviews and trip budgets before planning the trip. You can also add a travel blog to share the user's experience about their vacation visit.
Wedding Website Templates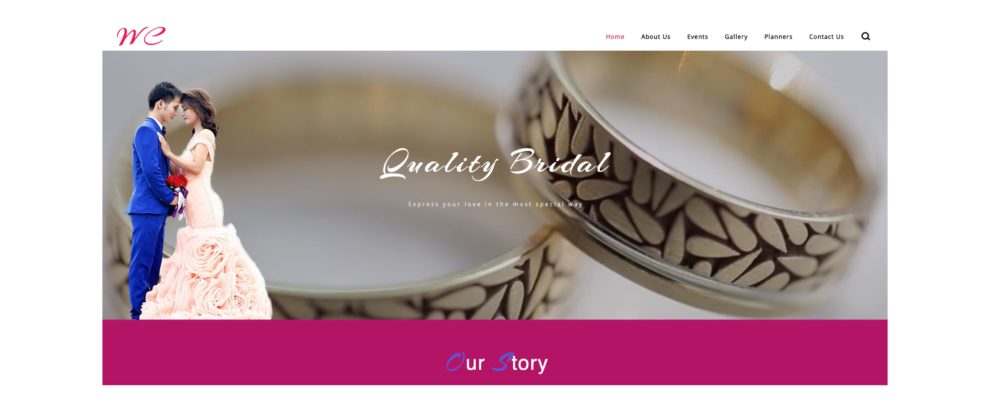 Take a demo of this here.
The wedding planners are looking for website templates to increase their customer reach. The wedding website templates have events, gallery, and event planners section. Such templates give a gorgeous and stunning appearance. They are fun to develop and integrate. In order to customize some features from the core, you can hire a professional developer.
The website owners can showcase their different plans and prices. Such wedding templates are emerging as a complete solution for all the customers who are planning for the marriage ceremony.
Agriculture Website Templates
Take a demo of this here.
The important features of our video background website template are menus, services, on-load counters, testimonials, and footers. Once you built your website using these templates, your customers can get agricultural tips, purchase the crops, and other raw materials.
These templates are mobile-friendly and fit in all devices. They support in expanding online opportunities and raise profits.
Conclusion
Selecting the best website template for your website is the most significant decision which determines its success.
There are a lot of factors to consider while making a fair decision that adapts your brand and requirements.
These templates are purely designed with HTML5, CSS3, and JQuery. These widgets have an easy setup and allow you to accomplish a variety of functionalities and developments. W3layouts acknowledge taking advantage of our built-in features and develop an amazing final product.
Our templates are available in both free and premium versions. If you are stuck at any step of the downloading process, this article will help you. Read this and download the free video background HTML templates from our collection.