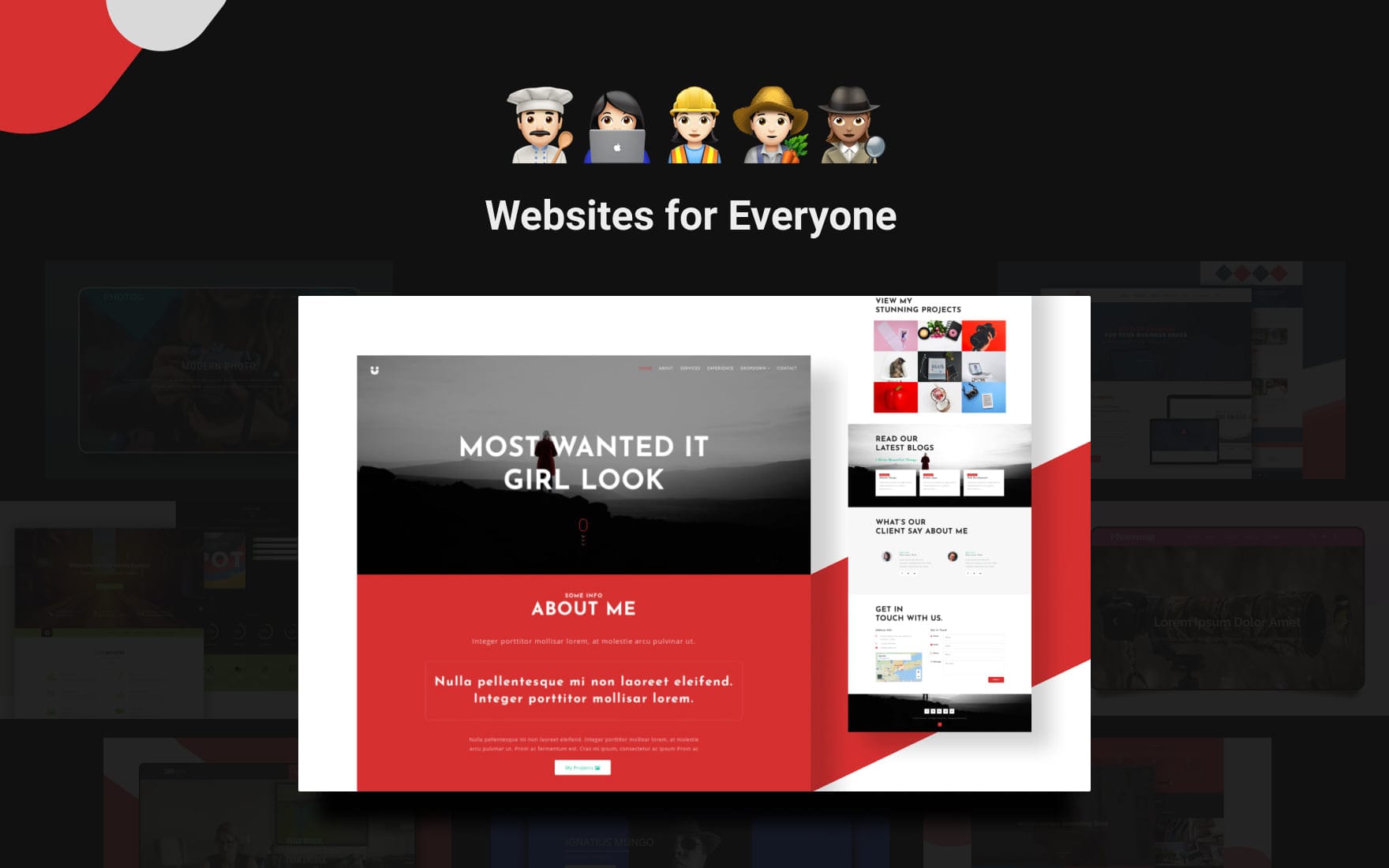 As a freelancer, you are doing everything on your own. You take care of branding, you look for clients, you execute the projects, and you negotiate the prices. You need a team, but you don't have a budget. You want to give more time on every project, but you got only 24 hours in a day. You are juggling around. Give importance to one thing, and you will lose the other.
Cracking a freelancing career is not easy. Only those freelancers who adopt a smart strategy achieve the goals. And, having a personal website is one of those smart things. You not only reach out to many people who are out of your periphery, but a website gives you branding.
A personal website not only helps freelancers, but it is also a great asset for job seekers. Sending a portfolio will create a unique impression on the employer.
We have shortlisted 20 best personal website templates, which will help you create a fantastic portfolio. Go through them and download the one which suits your field of interest.
Only 4% of freelancers become very successful in their careers. The remaining ones either stop getting clients or perform moderately. With such a little chance of making it big, freelancing is a bit dicey choice.
But we can't toss away the idea of freelancing out of sheer ignorance. There must be some reason behind success and failure. If you scroll down a few articles online, you will find that not having a personal website is one of the primary reasons for failures. And, in the era where netizens google even for a bowl of ice-cream, many freelancers do not have a website.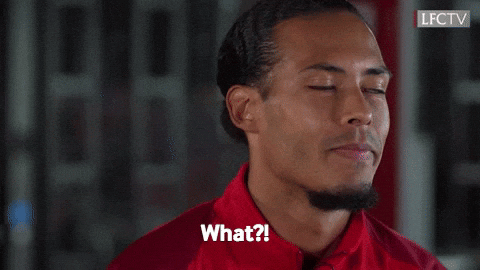 Yes, it's hard to believe.
So, if you are a freelancer, owning a website will make you stand out. You become more findable for those who have never seen your work. Anybody from any corner of the world can know you. If you have nailed it on your website, you have nailed a client. It is as simple as that!
Not only for freelancers, but a personal website can also be a boon to job seekers. Many today still rely on single page resumes. Even though a resume is concise, it is a static document. You cannot change it once you have mailed it to somebody. But you can update a website anytime. Plus, it looks way more professional.
If you want to create a website of your own, we have some thrilling templates for you. They are crafted using HTML, CSS3, and Bootstrap technologies.
1. Recognize Personal Website Template
Recognise focuses on designers, digital professionals, musicians, photographers, and others who are related to creative endeavors. The template is decorated with a wide banner with a soothing snowfall animation. Lightbox effect and dynamic call to action buttons bring style in every element. Colorful progress bars add to the vibe and make the template aesthetically beautiful. Download this template here.
---
2. Intro Personal Website Template
Intro has a magnificent design best suited for a portfolio website. It has neat grids to add relevant personal information, educational qualification, awards and fellowships, skills, and work experience. Glossy title banner makes an unforgettable first impression on the employer. Zoom in effects on the thumbnails brings your website alive for the visitors. Download this template here.
---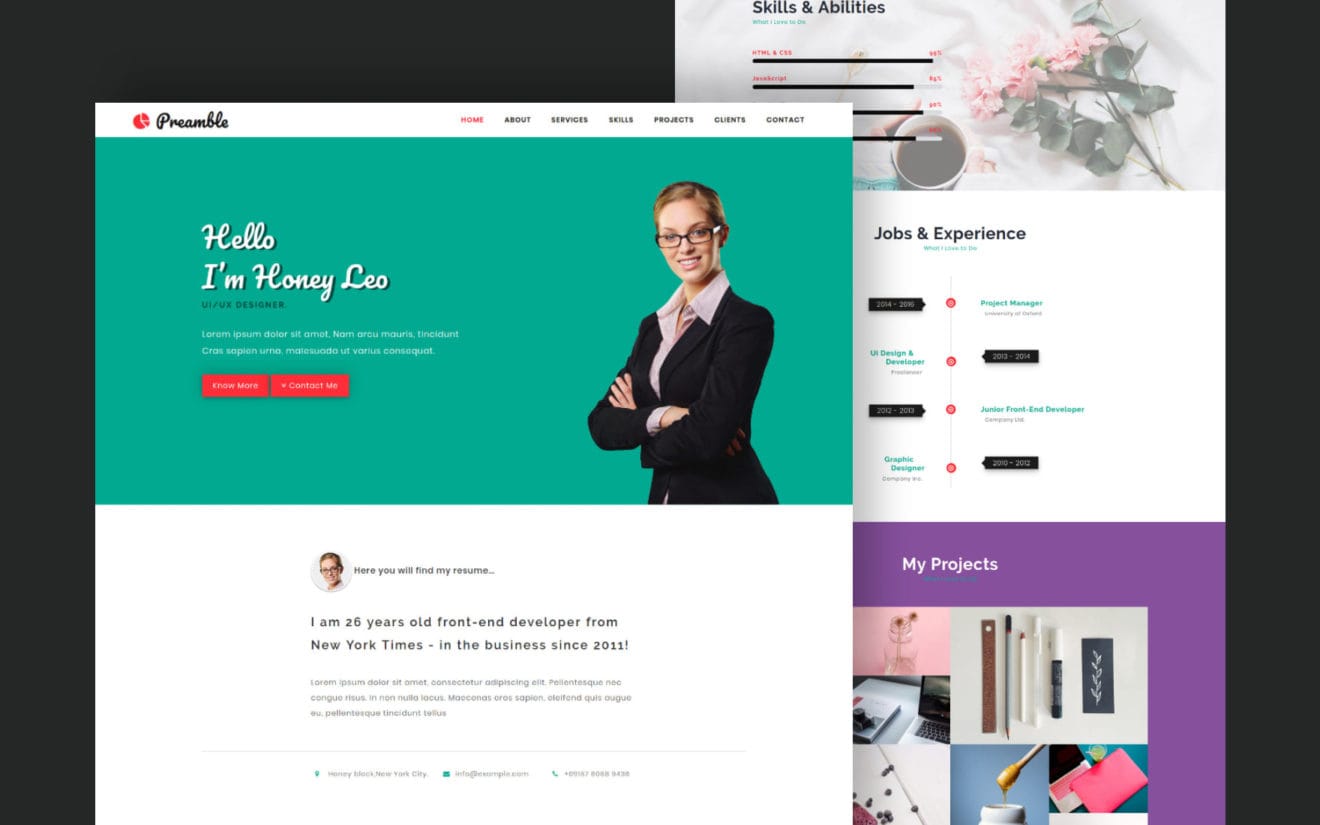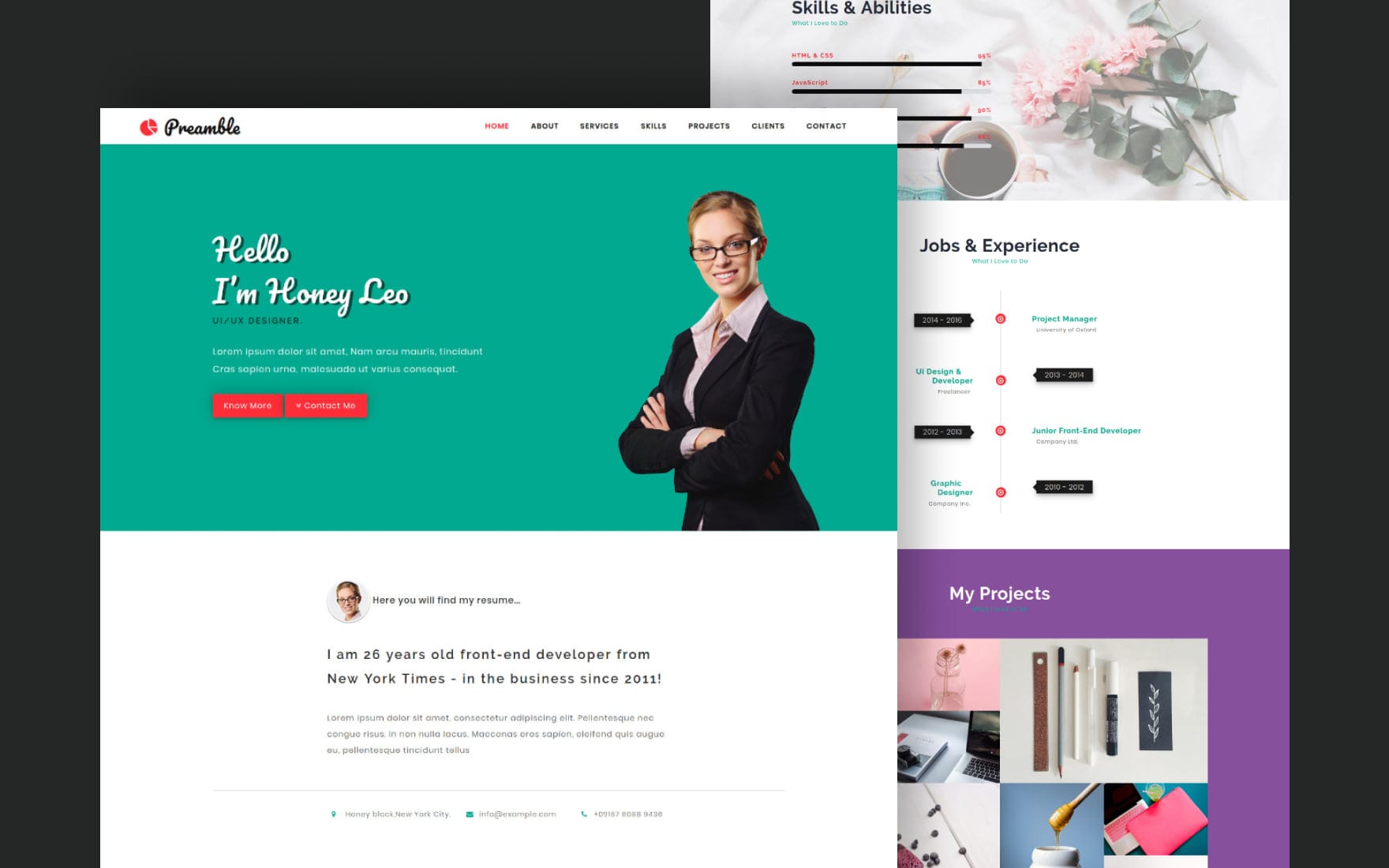 3. Preamble Personal Website Template
Preamble is an alluring single page template to create a desirable impression in front of your clients and job seekers. The complimentary type of color palette perfectly suits professions like doctor, lawyer, accountant, adviser, teacher, real estate agent, and other corporate profiles. Hover animations, vertically aligned timeline widget, a counter widget to keep a count of your achievements, make this a complete template. Download this HTML template here.
---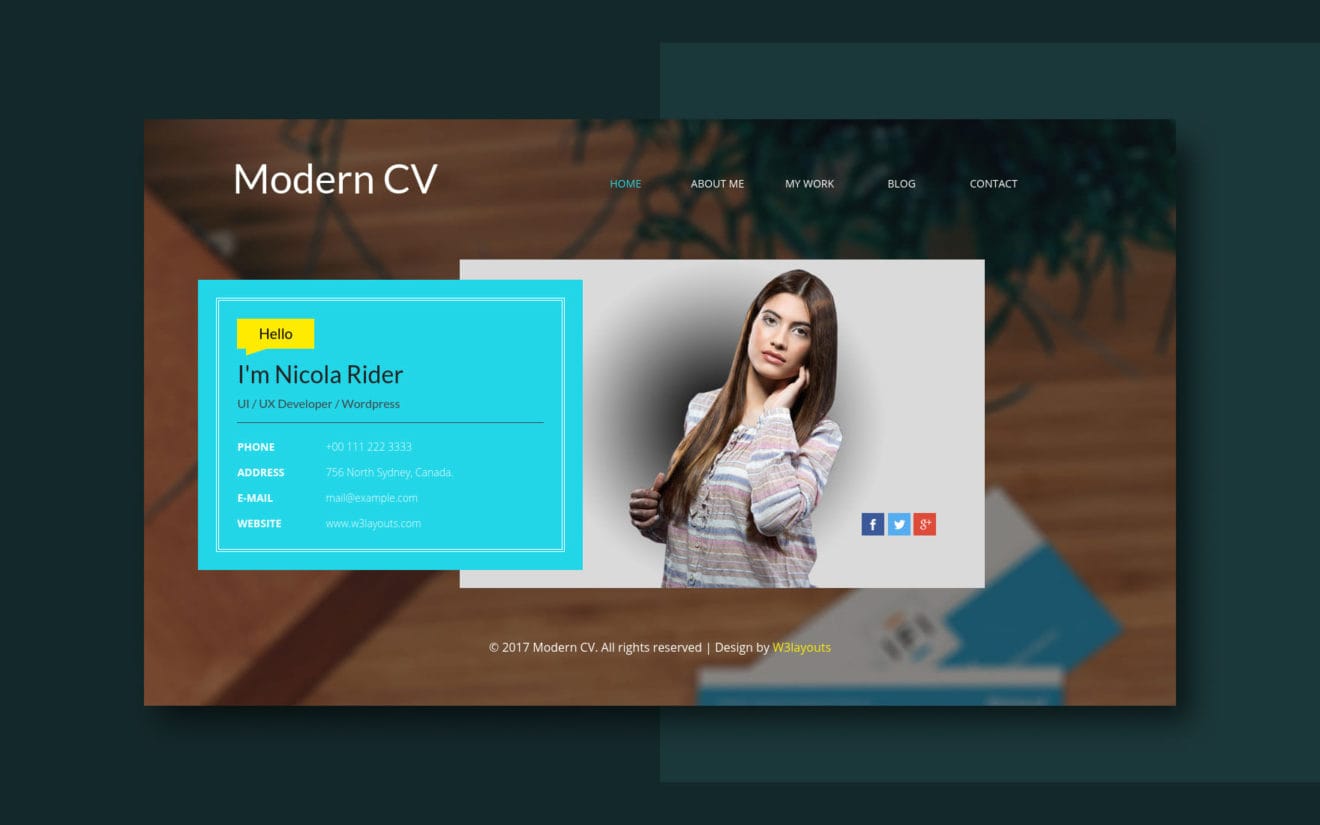 4. Modern CV Personal Website Template
Modern CV is a multipage website template for academic professionals and students. The minimalistic design of the user interface makes it very easy for the visitors to find relevant information using navigation tabs. The template acts as an extended version of your resume, where you can write down your achievements in more detail. Download this 100% responsive template here.
---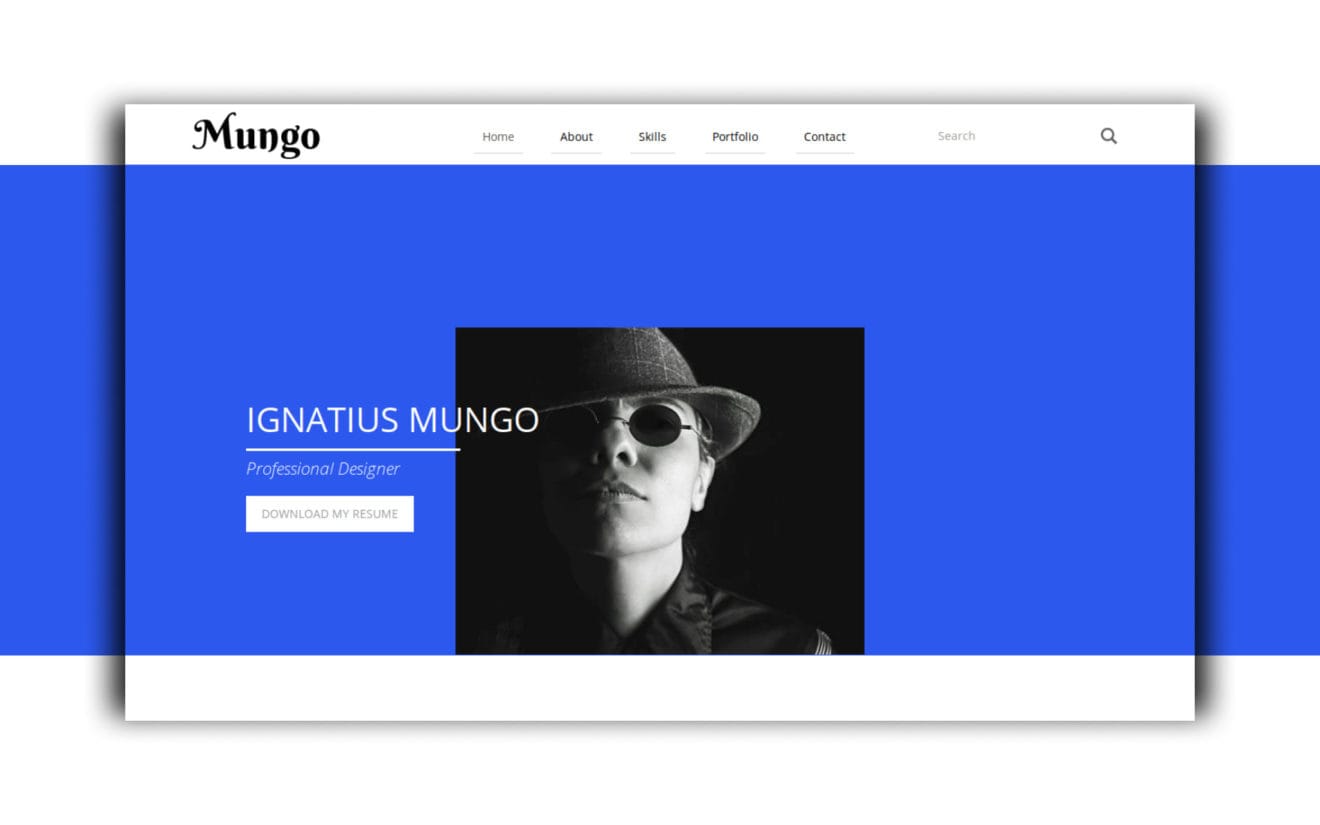 5. Mungo Personal Website Template
Mungo is for those who are looking for a simple website layout. This single page, vertical slider type layout, uses two complementary colors to portray a bold personality. If you are an audio-visual creative, use the video player widget to display your showreel. Download this customizable website template here.
---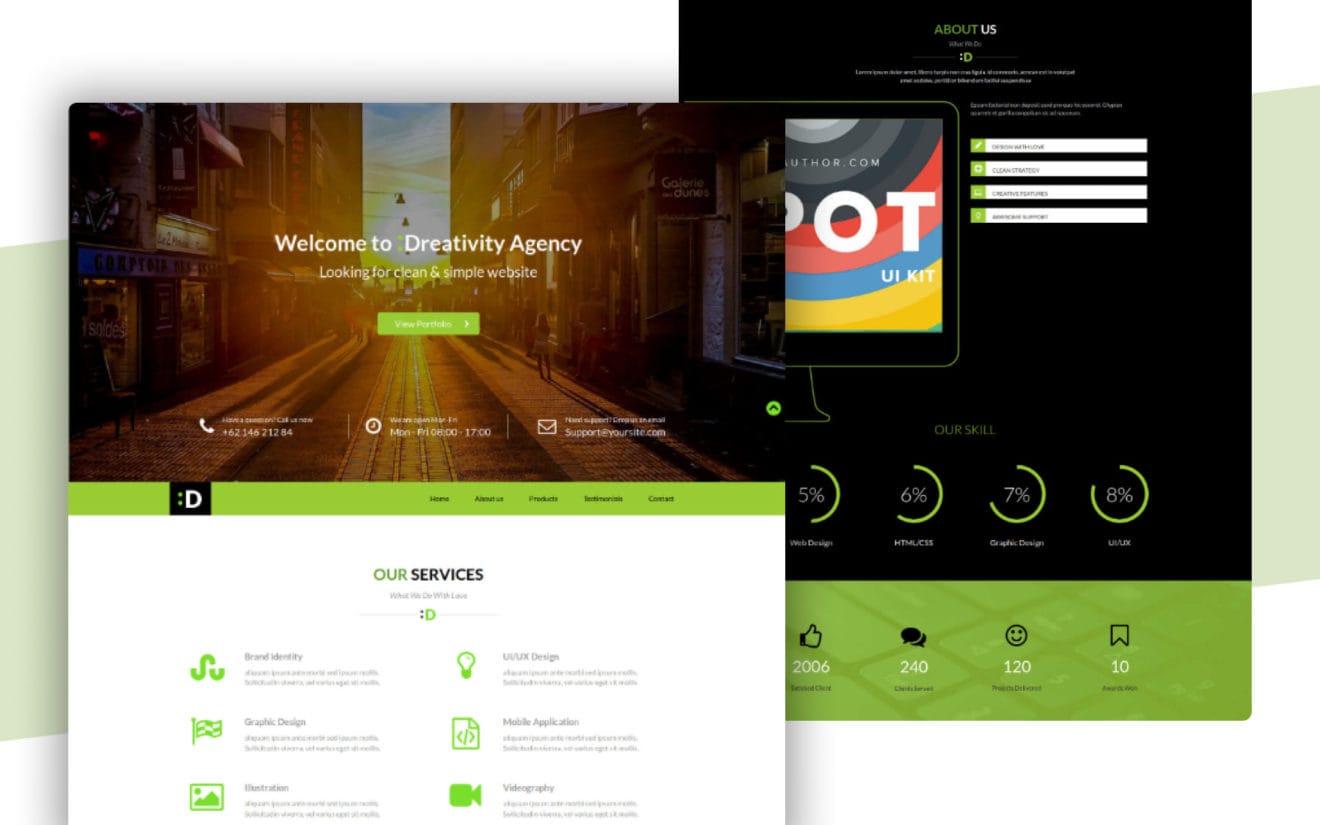 6. Dreativity Personal Website Template
Dreativity has a more comprehensive design accommodated in a single page layout. The excellent grid style is cladded in an amber shaded banner. The template is perfect for web designers, brand managers, graphic designers, illustrators, and videographers. With a few adjustments, you can also use this for your creative startup. Download this bootstrap template here.
---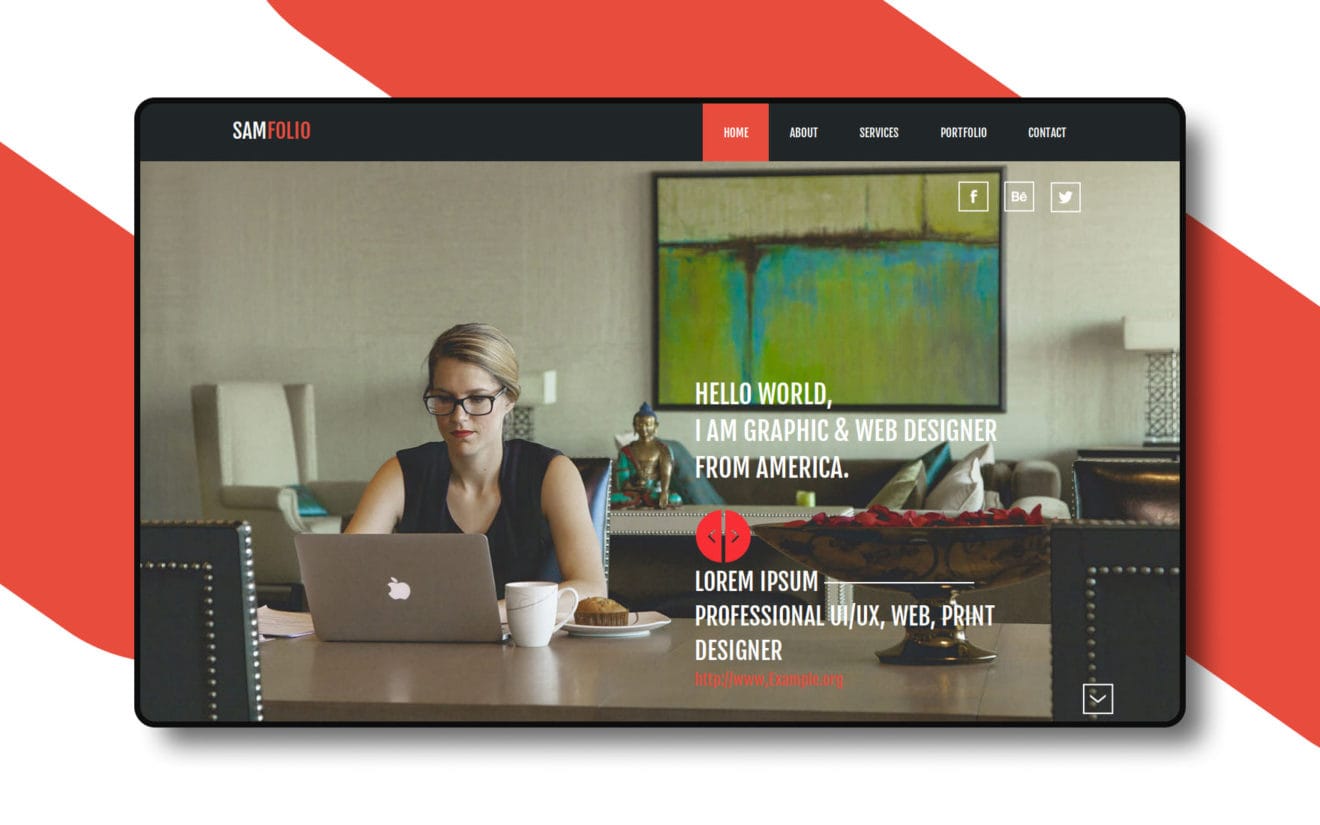 7. Sam Folio Personal Website Template
Sam Folio is a deep and dark template for professional web developers having a corporate portfolio. The use of a bold dark grey header with a combination of red buttons portrays an honest personality. Some informal elements instantly break the ice with your visitors building friendly relations. The testimonial swiping across creates an element of trust in your client. Download this HTML website template here.
---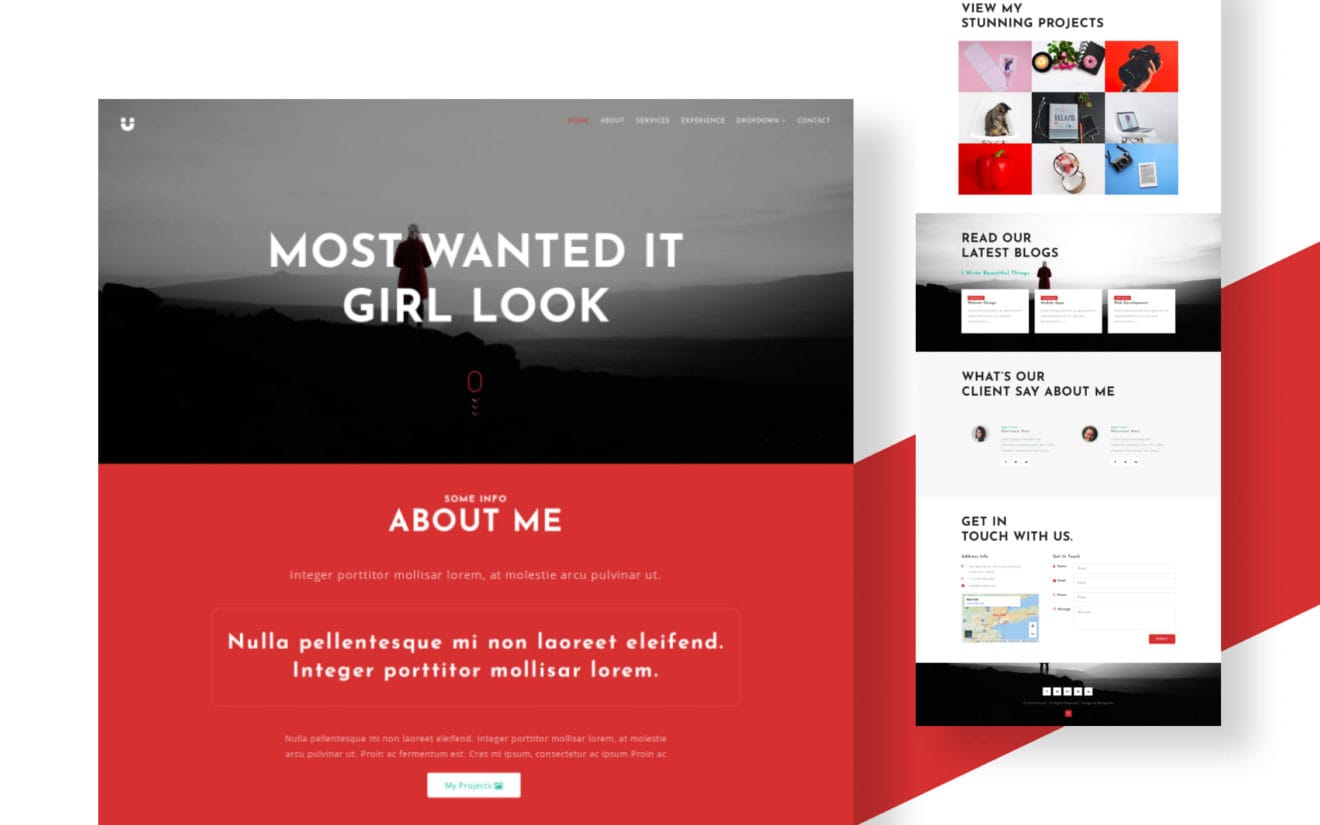 8. Precise Personal Website Template
Precise is a website template that embraces confidence in every bit of it. The broad canvas lets you add ample information about yourself. Its widescreen interface and candid font create an impact and instantly engross the visitors. Best suited for freelance photographers, the template also has a section to link your blog. Download the template here.
---
Creative is a corporate looking personal website template cladded in a cobalt blue backdrop. Bathed in moreover a monochromatic palette of blue the template has a tightly arranged grid of image blocks to showcase your past projects. Space is used optimally by providing buttons for education and experience. Download the template here.
---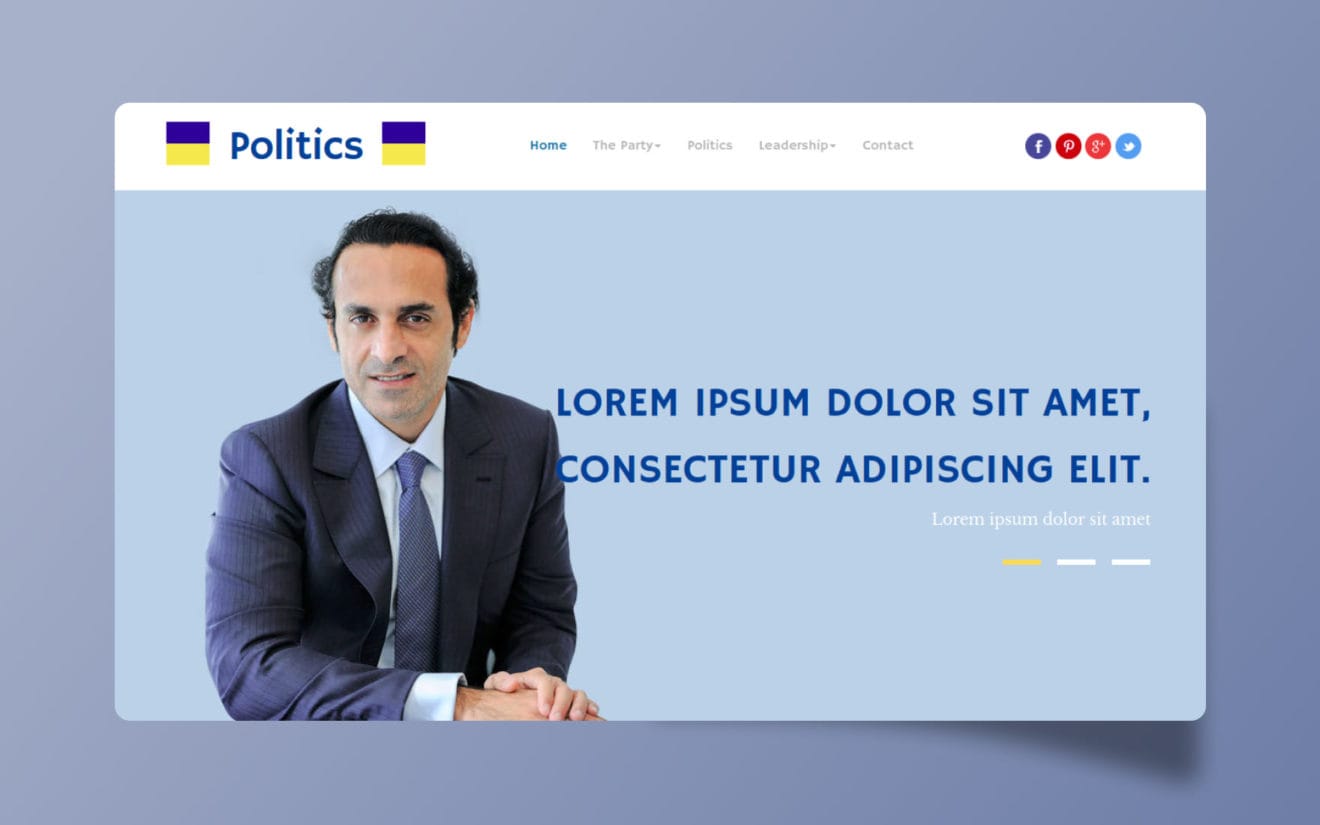 10. Politics Personal Website Template
Politics website template is especially for portfolios of political parties or individual candidates. It goes with the most conventional layout housing square image grids to show your team of dedicated individuals. Smartly adjusted blog and news sections keep your visitors updated about your latest plan implementations. Download this template here.
---
11. Option Personal Website Template
The salient feature of this glorious template is the big CTA social media buttons. They are placed exactly where they should be, right below the masthead. If you are a content writer, research scholar, branding professional, or a social media influencer, this template is perfect for you. Download this template here.
---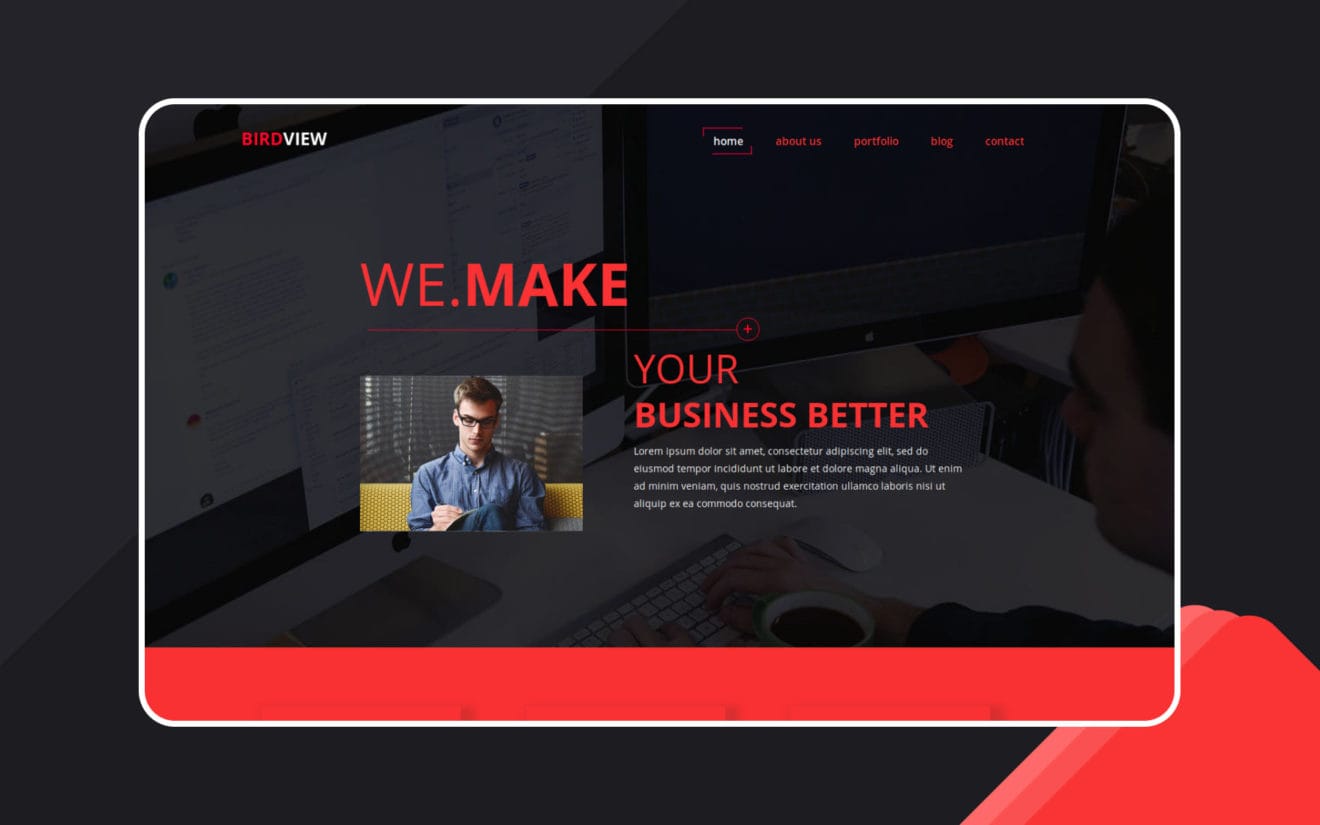 12. Bird View Personal Website Template
Bird View is best for individuals who are strictly into corporate lifestyles. Technical advisors, financial advisors, architectures, real estate brokers, data scientists can all go for this template. The combination of red and black encapsulates its class and elegance brilliantly. To download this template, click here.
---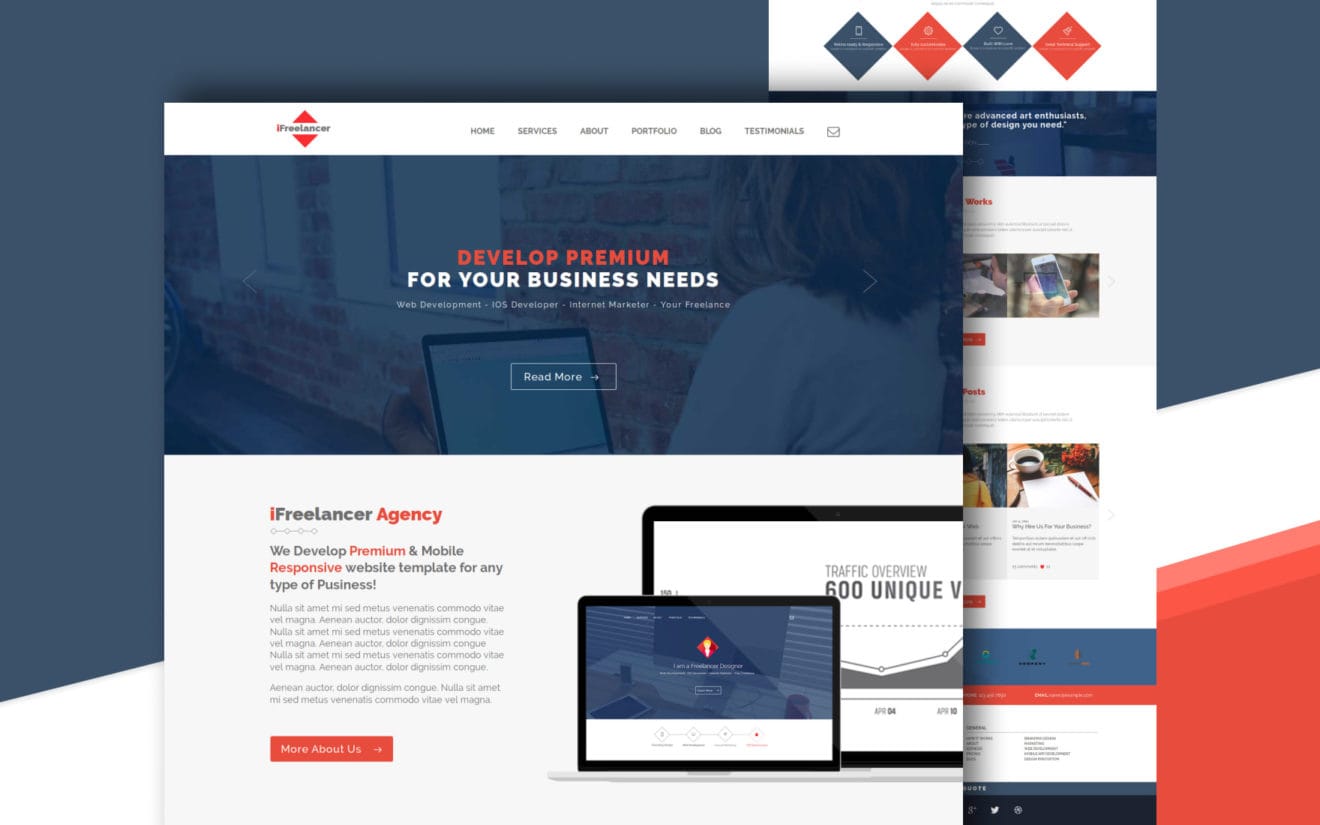 13. I Freelancer Personal Website Template
I Freelancer is dappled with clean layers of indigo and red over a glossy white carpet. This personal website template is apt for web developers, digital marketers, and brand designers. With swishy hover animations to highlight CTA buttons, the template is fully customizable. Download the template here.
---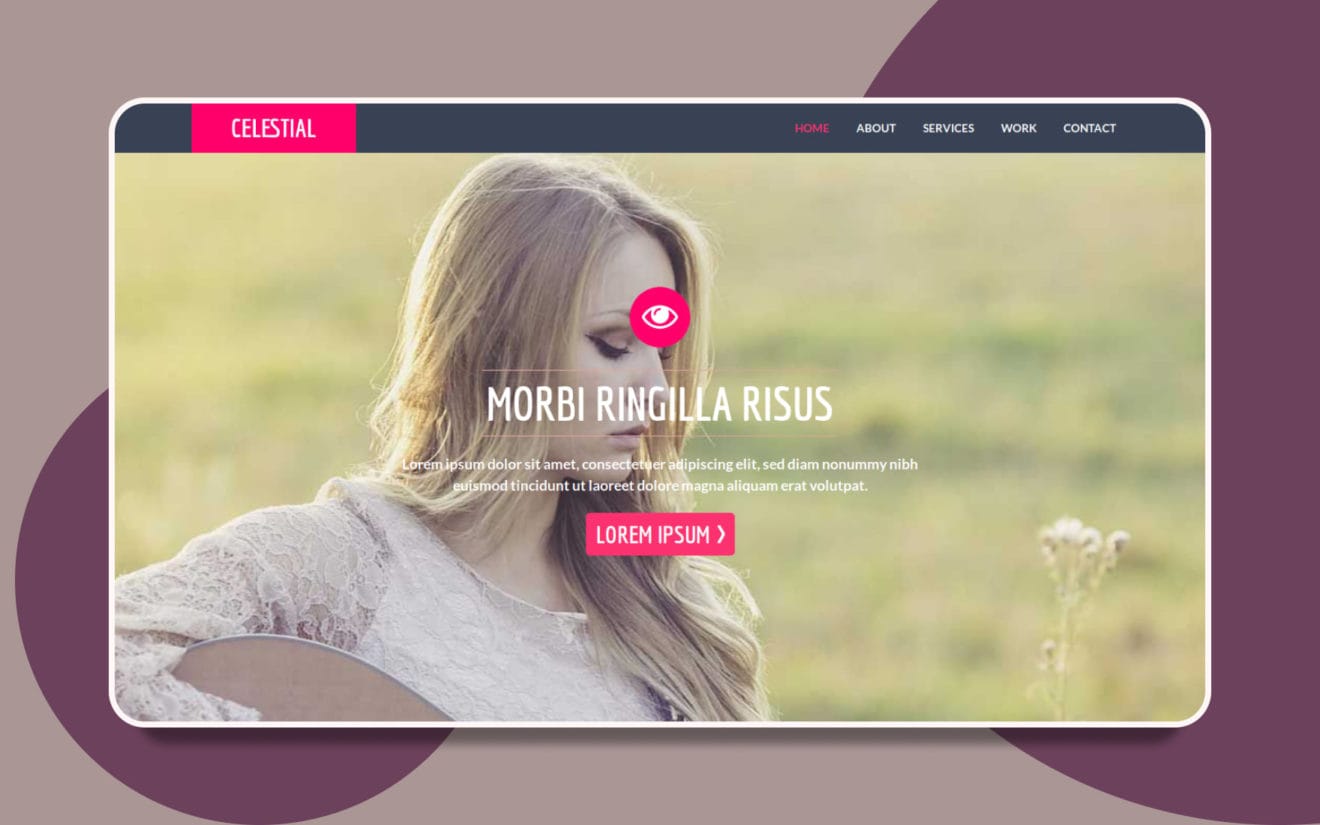 14. Celestial Personal Website Template
Celestial comes with a title banner as fresh as a bright morning of spring. A perfect mix of jazz and elegance, pink adds tinge of vibrancy on an elegant canvas of white and grey. A simple one page layout is ready for marriage photographers and students and professionals of interior designing. Download this fully customizable template here.
---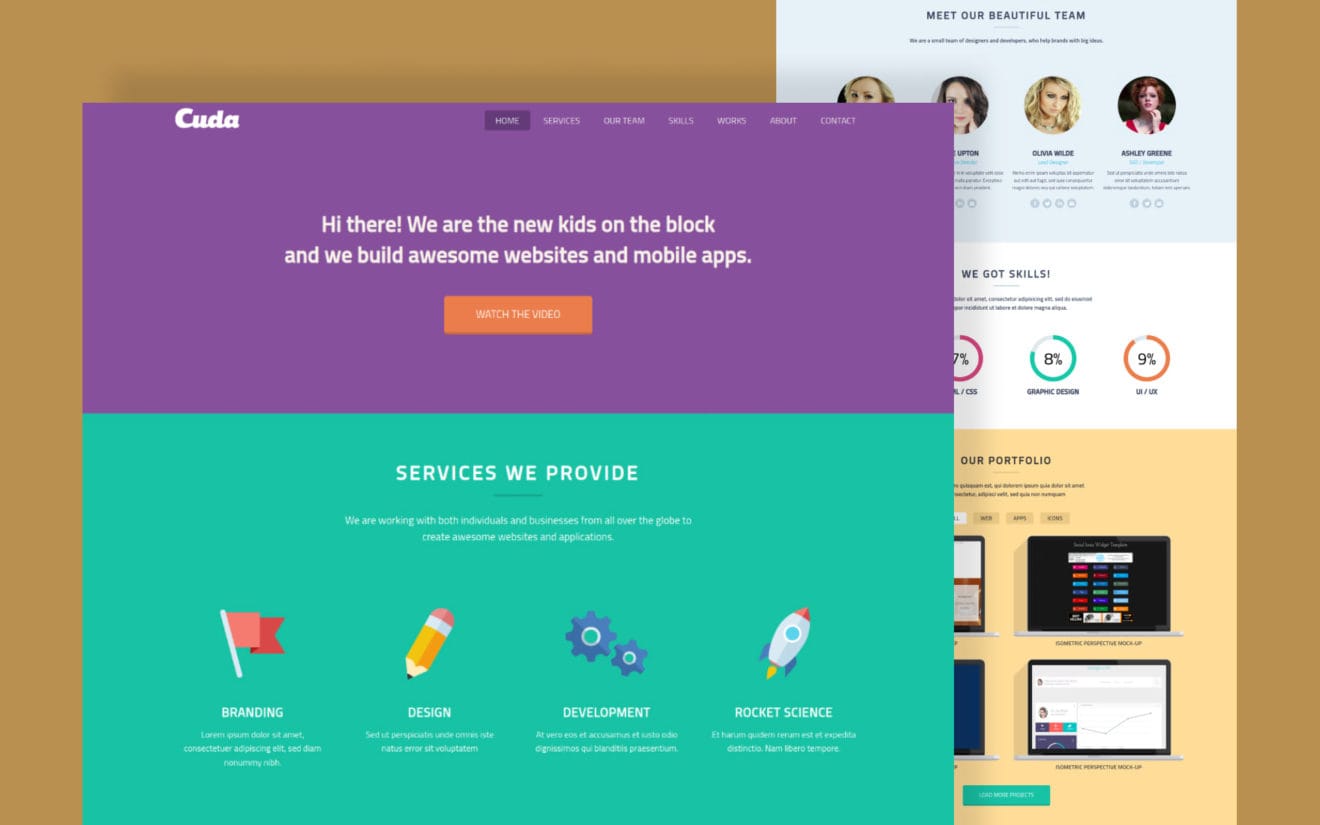 15. Cuda Personal Website Template
Graced by a multi-colored palette, this is one of the most spacious templates you will ever see. The plain masthead puts enough emphasis on the text. Devise a catchy tagline for your business and impress the visitors. Cartoonish iconology makes it suitable for portfolios for cartoonists, artists, and voice dubbing artists. Download this template here.
---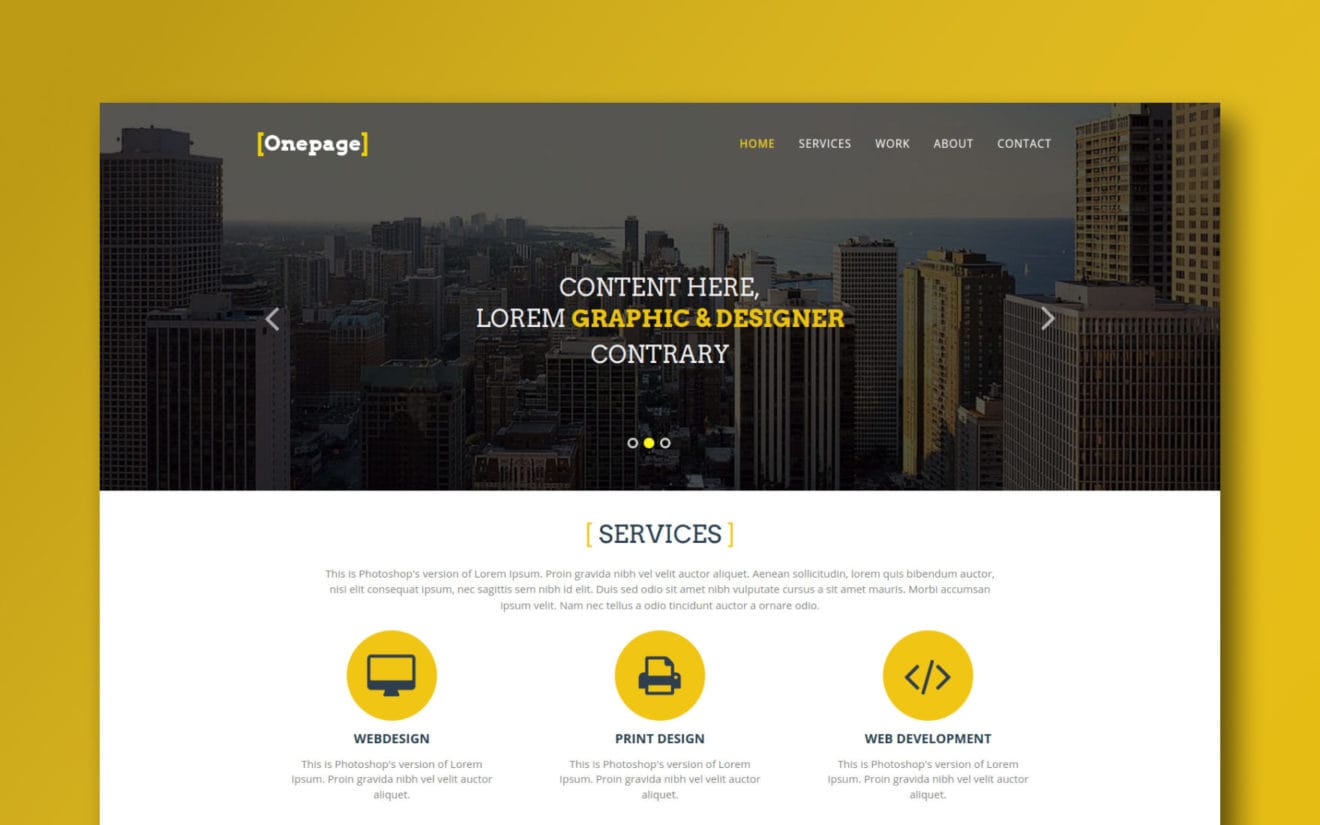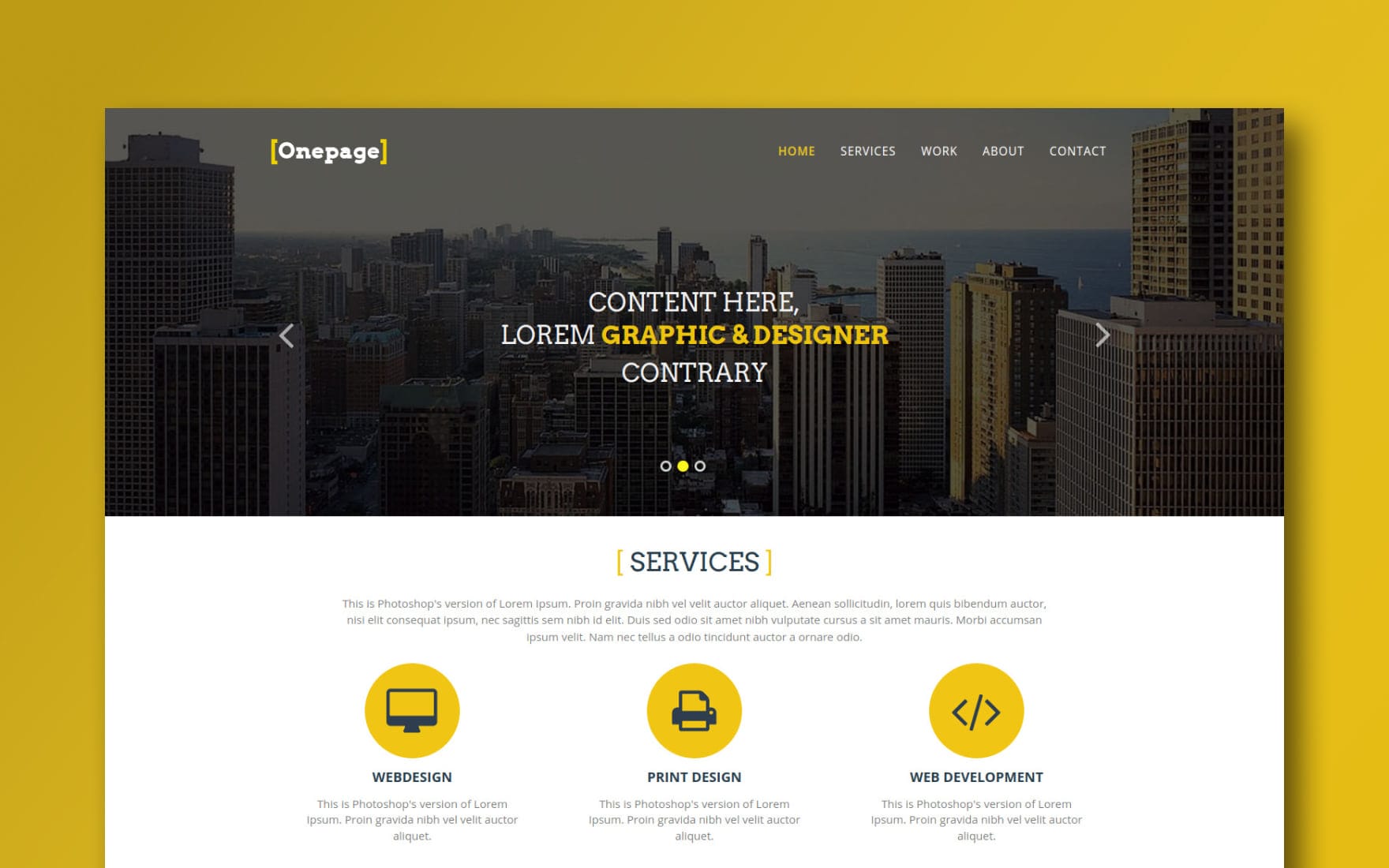 16. One Page Personal Website Template
One Page expresses the zeal of a passionate graphic designer to perfection. The salient feature of this template is the multi-tabbed portfolio grid at the bottom end. If you are providing many services, then you can display your classified portfolio. A progress bar widget presents your skillset to your clients, giving them an exact picture of what you can offer. Download this template here.
---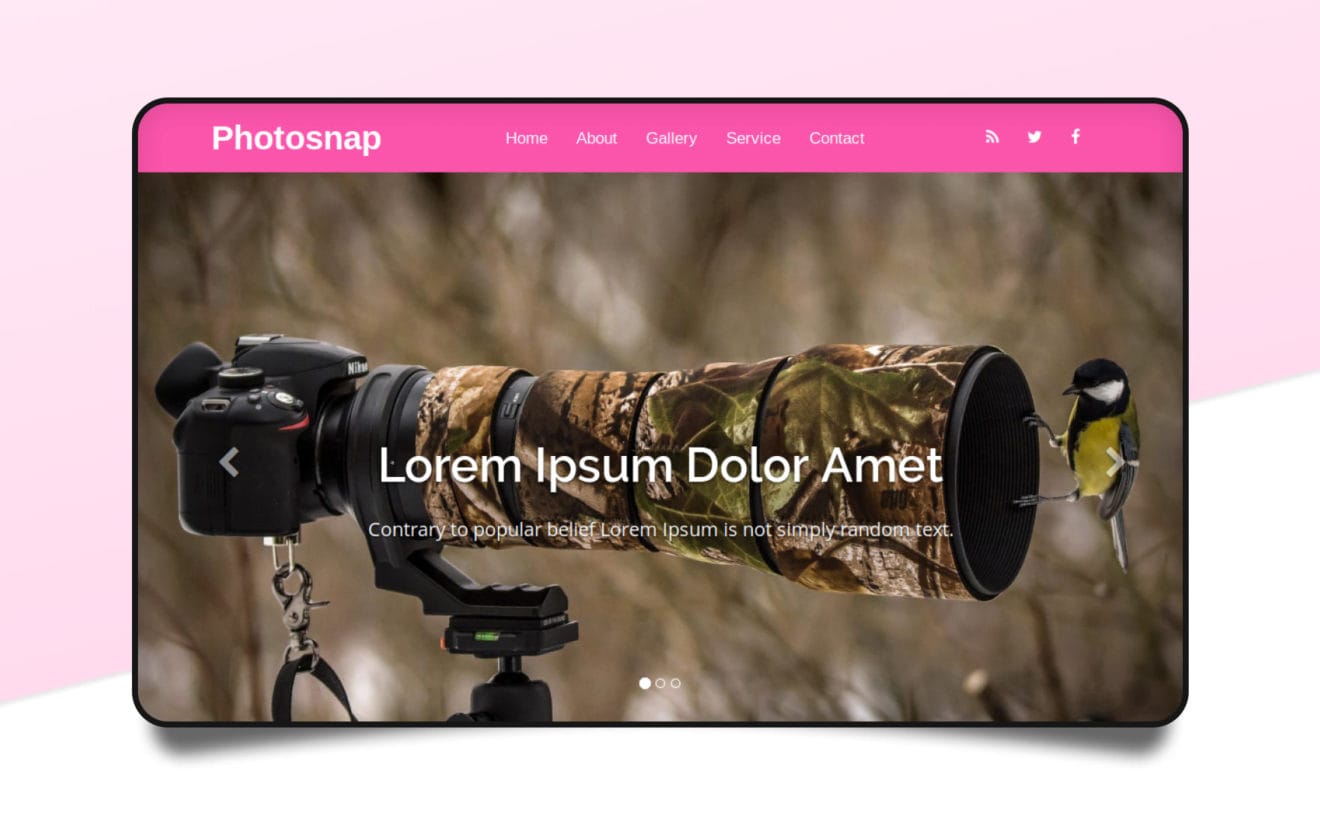 17. Photosnap Personal Website Template
With an enormous amount of energy bouncing out of its ruggedness, Photosnap is best suited for fashion and wildlife photographers. The masthead is a slideshow of high-resolution landscape images. Use this space to exhibit infinite passion and perfection towards your work. The use of glowing colors adds a joyful vibe to your website. Download this mobile friendly template here.
---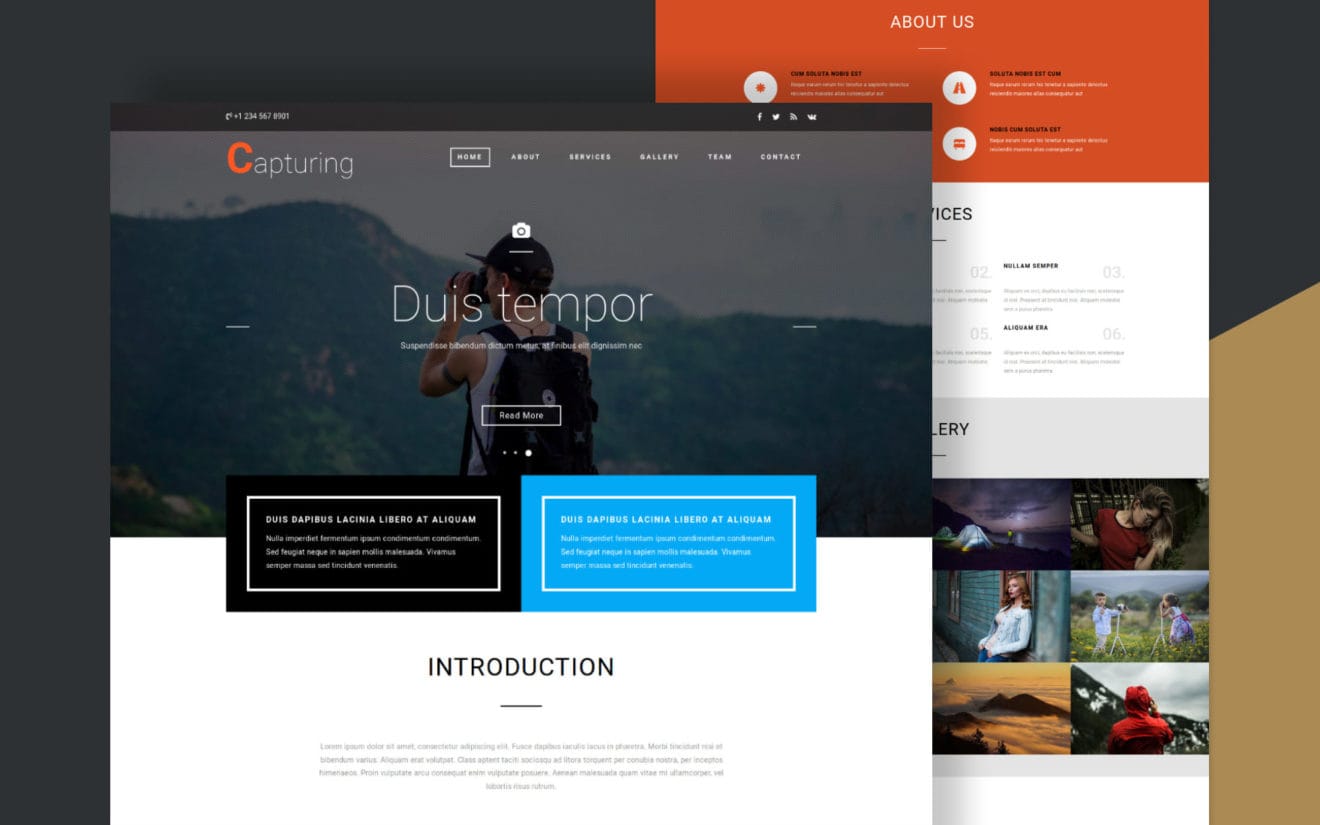 18. Capturing Personal Website Template
Capturing is another exuberant personal website template for freelance travel and wildlife photographers. The complete customizability gives you the freedom to use it even for travel blogging with a little adjustment. Designed with sleeky and dynamic, both types of hover animations, the template carries the exact nature of the profession, filled with adventures at the same time tranquil. Download the template here.
---
19. Designer Personal Website Template
Designer is a fabulously designed template with features like an animated sliding navigation menu, smooth scrolling navigation, and image lightbox effect. It has a signature mellowish, sleek, minimalistic, and elegant style. Students looking for their dream job can build an outstanding portfolio using this template. Download it here.
---
20. Photog Personal Website Template
Photog is a multipage layout template for photography professionals that has an exclusive section to upload your best clicks. The contrasting canvas with a parallax scrolling effect will make your portfolio stand out from the crowded conventional ones. You can take a demo of it here and download it if you like it.
---
All these templates are built with HTML, CSS, JS, and Bootstrap. They are available in starter and liberty plans. Get your personal website template free of cost using our starter plans. And, if you wish to get additional features get a paid liberty plan.
All the best creatives!