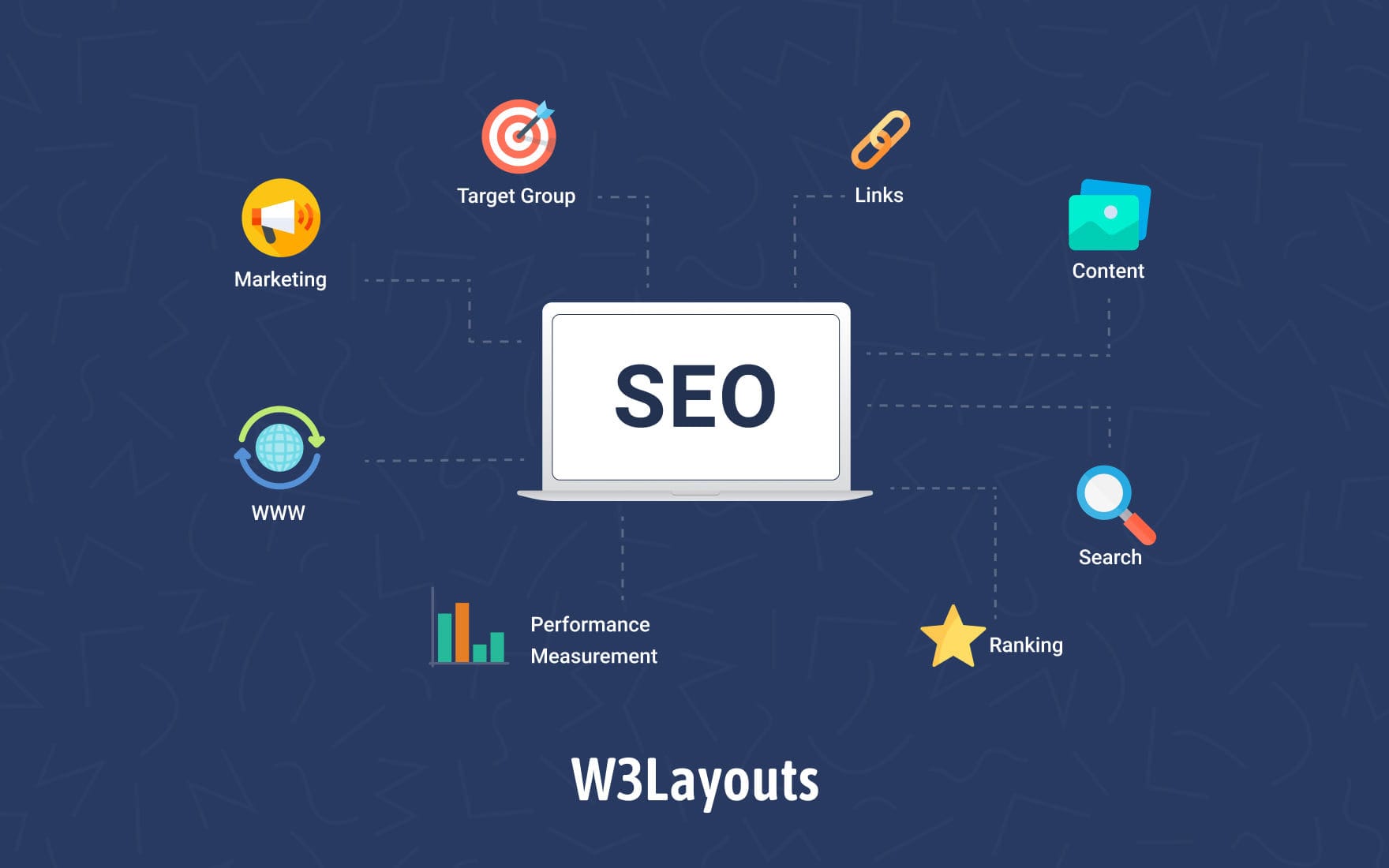 Looking to get into the SEO industry in 2019? Well, we have curated a list of the best SEO tools available in 2019 for you.
The internet is filled with over a billion websites and the competition to appear on the first page of Google is growing day by day. SEO or Search Engine Optimization is a great way to get your website in front of web surfers across the globe without spending a lot of money. The process is organic and is a bliss for your website.
SEO, sometimes, can get quite intimidating especially if your site attracts a lot of traffic. There are a lot of SEO tools in the market today to make things simpler but not all of those are useful.
This article will not only inform you about the best SEO tools available but also will list down their USPs and why you need them. But before delving into discussing the tools, let's brush up our knowledge about SEO a bit.
What is SEO?
SEO or Search Engine Optimization is the process of optimizing a website in a manner that it is loved by both website crawlers/ spiders and users. SEO is majorly used to drive traffic to a website organically, increase crawlability and indexability of crawlers and serve good content to users. There are a lot of components and divisions in SEO and it is essentially an integral part of digital/online marketing.
Search Engines like Google, Bing, Yahoo, etc. have web crawlers, which are called spiders, that crawl the web to index websites and pages present on the internet. The job of an SEO is to essentially make the whole experience of these spiders as well as normal users better. Optimizing your site for search for the right keywords can give your website a significant traffic boost.
Are SEO tools helpful?
SEO tools help you reach your SEO goal by giving you actionable insights about what's wrong or right about your site and what your competitors are doing.
The most important features you should look for in an SEO tool:
Keyword research
Backlinks Audit
Site Audit
Competitor Research
SEO recommendations
Almost all good SEO tools come with these basic but important features and much more. There are lots of SEO tools available today in the form of website tools and browser plugins, with varying price ranges. We have curated a list of paid and free best SEO tools that will help you gain more organic traffic in 2019.
Best SEO Tools
Let's look at the best SEO tools you can get in 2019 and what are their key features.
1. SEMRush: Online Visibility Management System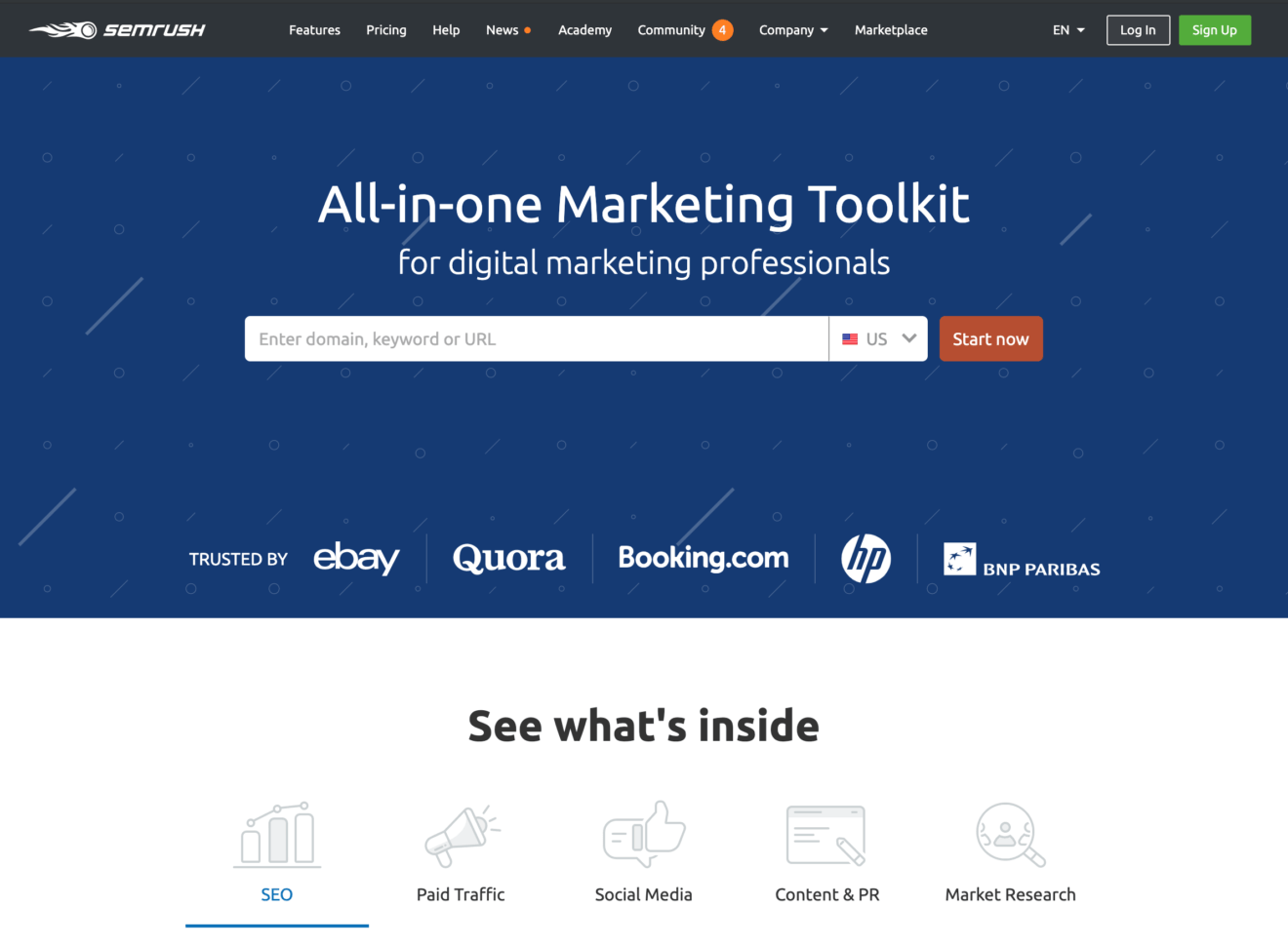 SEMRush is undoubtedly one of the most popular SEO tools in 2019. The online marketing community has absolutely fallen in love with this marketing tool. The best part about SEMRush is the fact that it is so easy to use that even a newbie can get it up and running within a few days. As their tagline suggests, SEMRush helps you in tracking your keywords across search engines and countries and helps you maintain your visibility on the web.
You have the option to create dashboards for each project and automate site crawls and reports. SEMRush gives you the ability to compare your site with 4-5 other domains simultaneously in order for you to amp up your game. From the On-Page SEO checker to Position tracking to Site Audit, every feature on this tool is top-notch. Along with all these, you get other features like Social Media poster and tracker. If you are looking for an all-rounder tool that will take your marketing game to the next level, do have a look at the SEMRush SEO tool. Just connect your analytics and Search Console and you're good to go.
Note: SEMRush gives you the option of a 14 day free trial of its features.
2. Ahrefs: SEO Tools & Resources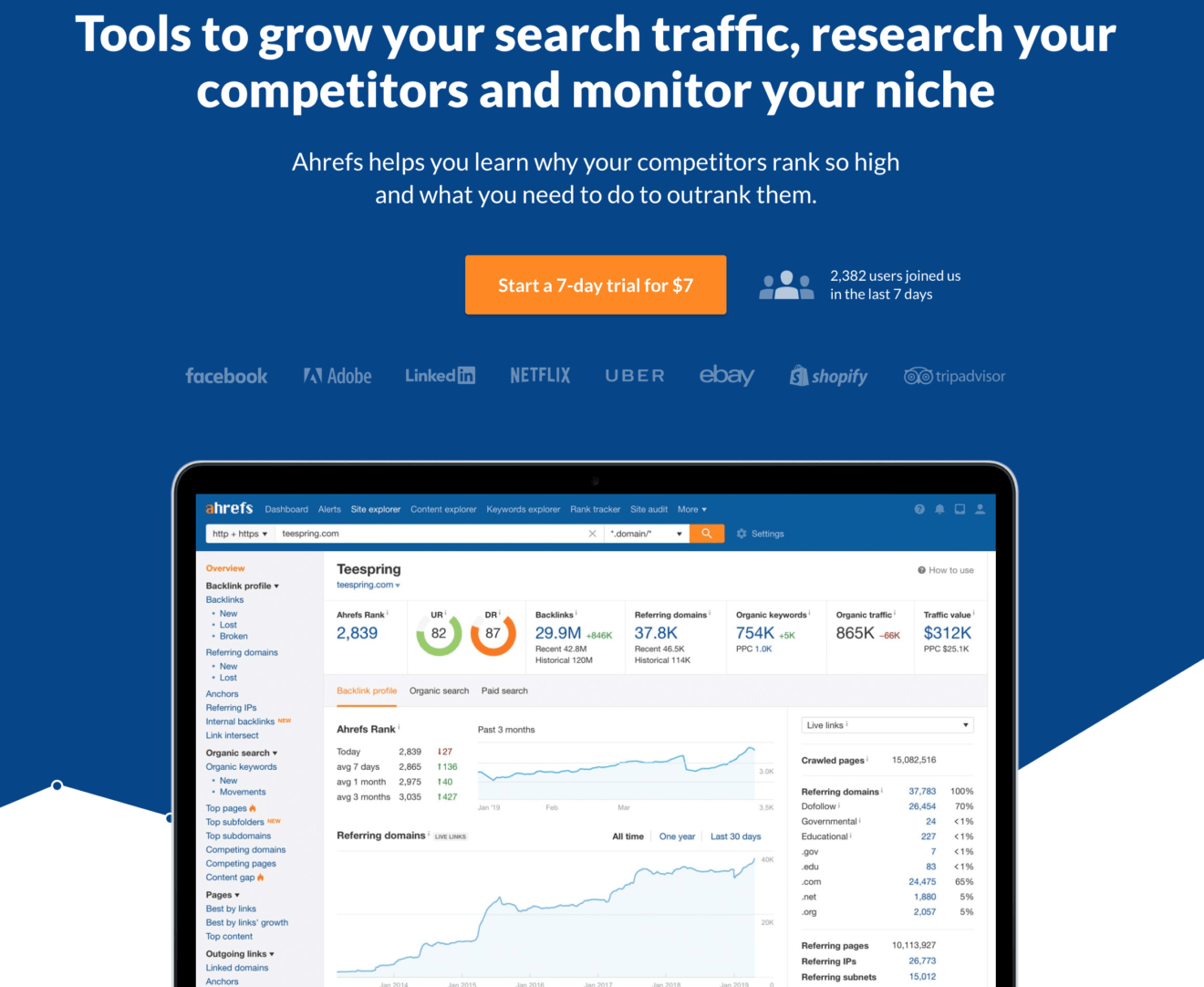 Ahrefs is another very popular tool, loved by online marketers to make their SEO game strong. Like SEMRush, Ahrefs also comes with a lot of important features. The most talked-about features of Ahrefs has to be their Keyword explorer and backlink checker. Although Ahrefs is a bit pricier than SEMRush and other SEO tools, its backlink explorer feature is one of the best out there. Other than these, it has all the standard features a good SEO tool should have.
Create projects, automate site audits, generate reports, etc. with Ahrefs SEO tool. Connect your Google Analytics and Google Search Console for better performance.
Note: Ahrefs gives you the option of a paid trial at $7 for 1 week.
3. MOZ: SEO Tool for Marketing

Moz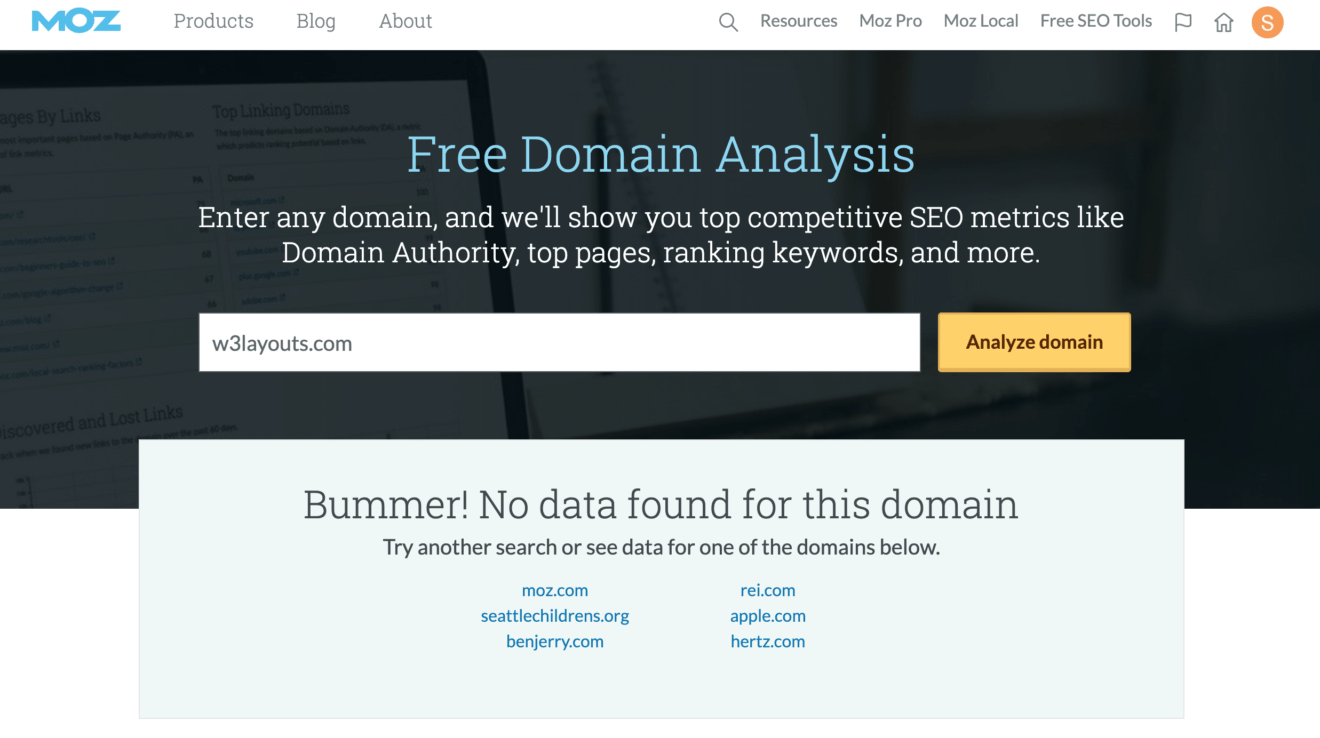 is one of the oldest SEO tools out there and has successfully helped marketers over time. You must have heard about the term "Domain Authority" if you are even remotely close to the online marketing world. Moz created this domain authority thing wherein they analyze the overall visibility, backlink profile and other important metrics and give your site a rating. This Domain Authority score is widely used by SEOs to measure and analyze their SEO strategy. Moz also has a list of other free tools like Small Seo Tools which are very useful and come handy.
Mozbar is another free browser plugin, created by Moz, which is used by many. Mozbar lets you have a quick glance at a website's metrics like their title, meta H1, domain authority, etc. Moz is undoubtedly one of the most loved and widely used tools out there.
Note: Moz gives you the option of a free trial for 30 days.
Conclusion
There are a lot of other SEO tools and browser plugins which along with these 3 major tools, give you an added boost. But if you are just starting out, we'd recommend that you start with any of these 3 and then look at other products. Watch this space for more tools as the list will be updated very soon.