5 Free Community Website Templates
Building a community of likeminded users is the secret behind the success of all online businesses. And, a community website will bring everyone under one umbrella.
Different types of community websites exist like a social networking site, community blog, and interactive forums. No matter what kind you want to start with, we make designing your website effortless.
Our collection of responsive community website templates fit all your needs. Each template has a set of great tools and features that make your interaction with the community exciting. And, since they are customizable, you can adapt them to any niche you want, like an educational forum, artists' community, sports club, or technology related blogs.
Our templates will help you bring people together in the shortest possible time. Browse through the template and take your first step to make a ding in the society.
W3layouts' community website templates have flawlessly designed characteristics which are flexible and SEO-ready. Without even writing a single line of code, you can optimize some of these features as per your business requirements. Our professional developers take care of even the minute details, the community websites must possess.
We have a broad range of community website templates, you just need to pick the right template for your website. Moreover, when it comes to practicality, our templates offer reliable integration and the necessary documentation to edit and adjust the widgets and make the overall appearance engaging.
Let us check the widgets and features from our best collection of such website templates.
Responsive Web design
A broad range of audience is active on mobiles as they are easy to handle. They provide the information at your doorstep in no time. Mobile responsiveness allows the application to run ideally on all devices. The responsiveness is purely achieved through CSS media queries. Our community website templates have a pixel-perfect layout and are easily adjustable to all browsers.
These responsive elements give a comprehensive look in mobile-devices and are easily optimized for search engines.
Auto-Changing Text
The sliding text on a fixed background image gives a blazing experience. The content auto changes after every few intervals. The image has carousel indicators that determine the activeness of the text. It gives a standard representation to the online community website templates. The text-carousel looks gorgeous, modern, and easy to integrate even for non-developers. You can check it out here.
Such cool features are attention-grabbing for the audience and provide a modernistic outlook to the website. The ready-made features assure extendibility and avail you to create an impactful website application.
Animation on Scroll
When you start scrolling the page, the content begins to load with animation. You can see it here. This happens whenever you first visit the website. The subtle effect is adaptable to all devices and browsers. It provides a smooth experience with better functionality. Such immersive effects possess the full potential to improve visual quality. The features are accomplished with JQuery plugins and CSS3 parallax effects.
W3layouts' community website templates are clean and easily manageable and impart a retina-ready experience.
Tabs

You can display different content depending on the selection of tabs. It is used to show and hide dynamic content through animation in online community website templates. These tabs are built with JQuery plugins and are quite easy to customize. This feature is very stylish and has a lightweight framework. They always remain a great choice for our designers as it can display multiple contents in a minimum area. The feature is very eye-catchy and quite convenient for the user to view the content.
Blockquote
The blockquote section is used to emphasize the importance of your content. Whenever we read an article, we are more influenced if any expert gives his theory. This section is used to seek the recognition of the users on the website.
In our online community website templates, the quotation is highlighted in red bold with a quotation mark on the left and the author's name at the bottom. The red color is enough to highlight the quote and capture the user's attention.
Pagination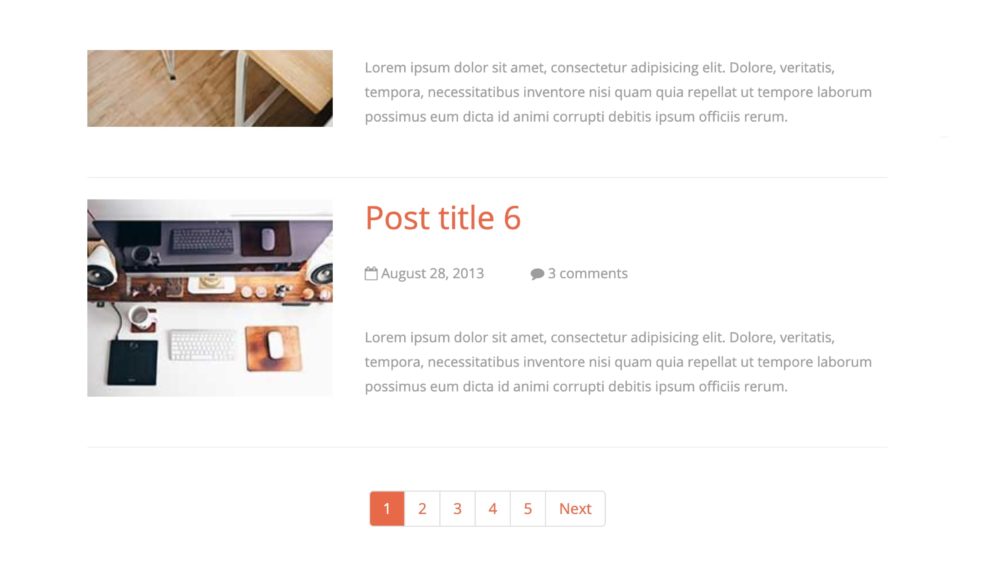 The set of numbers below the blog is called pagination. They are specially used when we have a series of blog posts, which can't be accommodated on a single page. They improve visibility and present large chunks of information in separate parts. They are referred by numbers and have next and previous buttons in both the corners.
It is an important aspect of SEO and allows users to navigate through different pages. There are endless possibilities to customize the pagination in community website templates.
Hamburger

On clicking the hamburger button, the menus appear through an animation effect that covers the whole screen. On hover, each menu becomes active followed by an underline for each element. It has a cross button to exit the screen. You can take a trial here.
The hamburger in community website templates is a source of direct interaction between the user and the website. A beautifully designed full-screen menu increases conversion rates which in-turn improves the profit rate.
Scroll Down Button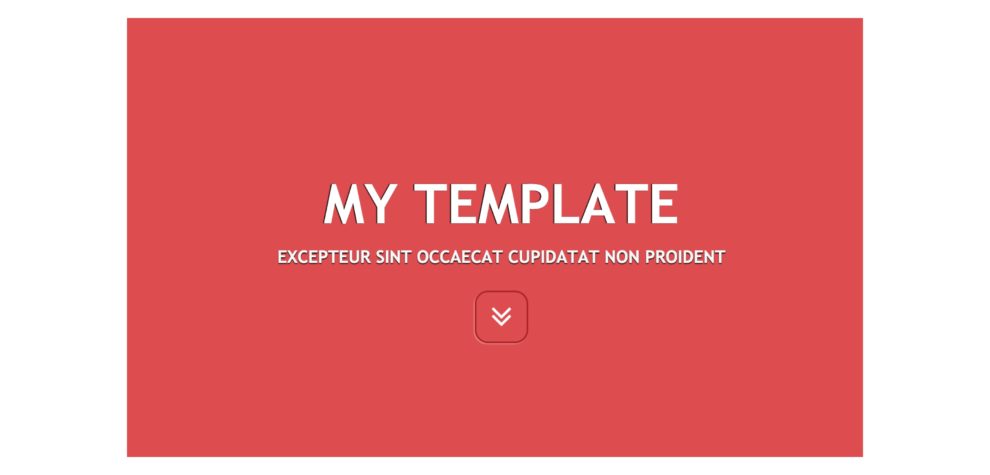 The button facilitates the user to view the footers section directly. It takes directly to the bottom of the page with an animation effect. The simple arrow improves the user experience and determines the progress of the website. Such features prepare for SEO Google ranking and add competence to the community website templates.
The button is purely designed through HTML5 and CSS3 and made functional through JQuery. The pre-built feature requires no customization, only you can wish to change the icon. Check it out here.
Single Page Template
In single-page templates, every section can be found on the same page. This eliminates the need for navigation and provides the entire information at a single place. The single-page templates are designed with great creativity and are adaptable to any screen resolution. They are quite modern and developed to promote your services and products through your website.
The other features in community website templates are testimonials, contact form, office address, and social icons and move to the top button. You can take a demo here.
Conclusion
Here we came across several outstanding and exceptional features from W3layouts. They are packed with remarkable features that are easy to formulate and handle. Our end goal is to provide the audience with super interactive characteristics and create an awesome experience for them.
Most of the themes support customized plugins, modern tools, and add-ons. They have stylish layouts, scenic backgrounds, clickable images, and cards. Such high-quality widgets create a great visual interface to convince the target audience.
Our templates are available in both free and premium versions. Click here to know how to download the free online community website templates from w3layouts.com