Free Photo Gallery Website Templates
Visual content is taking the internet by storm. Bloggers, web designers, and illustrators are rigorously searching photos online as scuba divers look for rubies. For budding photographers, this is the time to cash in by putting all your best photographs out there through a photo gallery website.
We are here to help you with your website. Our collection of more than 80 photo gallery website templates assist you in creating your website without dropping any sweat. Built using HTML, CSS, and Bootstrap, they support high-quality images.
A crucial element for a photo gallery website is image grids. So, our developers have coded high-quality grids that are responsive. They will make sure that the images don't lose their orientation and resolution.
Browse across both free and paid versions of the templates. Download the one you like and have fun creating your website.
Features of Photo gallery website templates from w3layouts
W3layouts has an awesome collection of photo gallery website templates using which you can create an appealing and dynamic website. We make sure that your website shows all the features of your quality products and your customers trust your business. These photo-gallery website templates showcase the quality and convince customers to develop long-lasting relationships. They can be used to create a portfolio, wedding website, wildlife photography profile and promote your services to the customer.
Our templates possess the potential to increase your client base by demonstrating your work to them. They are responsive and encourage user engagement.
Let us check some of the features of our best website templates,
The Fixed Side Navigation Bar
The side navigation bar remains fixed despite the infinite scrolling of the page. They are called sticky bars. Through this template, our designers ensure that the navigation bar is always apparent to the user. This eliminates the need to go back to the top and switch the page.
The navigation bar has a website owner photo with his name. On click and hover, the color of the menu option changes. You can keep the logo on this bar, its continuous visibility increases brand value.
Album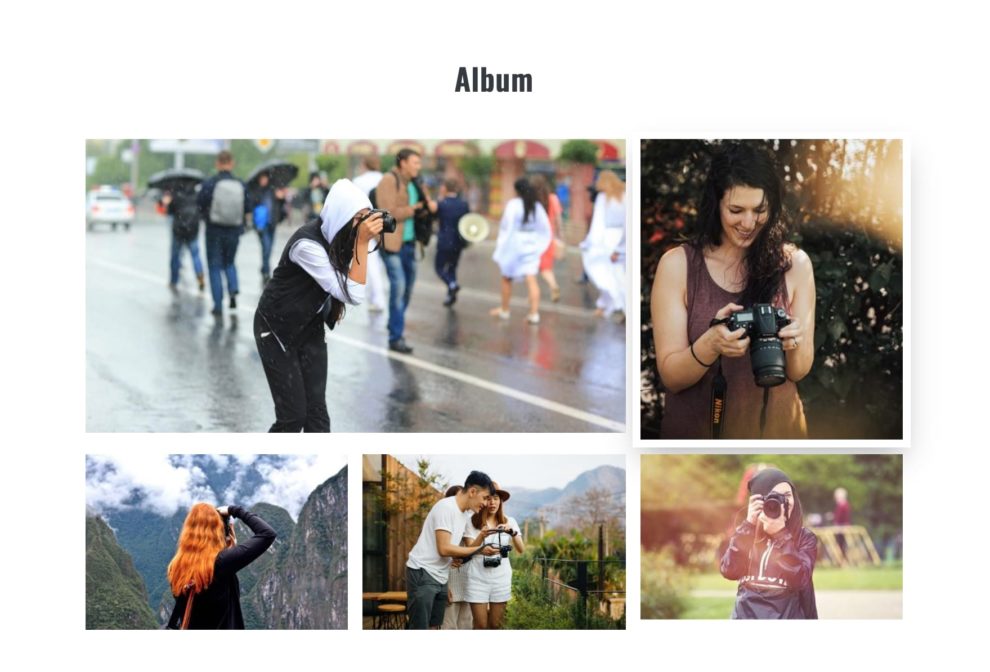 The album section allows you to organize your pictures in rows and columns. You can share these photos on social media, and within no time they will reach to a large audience. W3layouts' gallery section has pictures arranged in different dimensions and categories.
Our Photo gallery HTML website templates are available for free download. They have a user-friendly layout that looks good even on mobile devices. This photography website template is all set to make new opportunities your way.
Photographer Details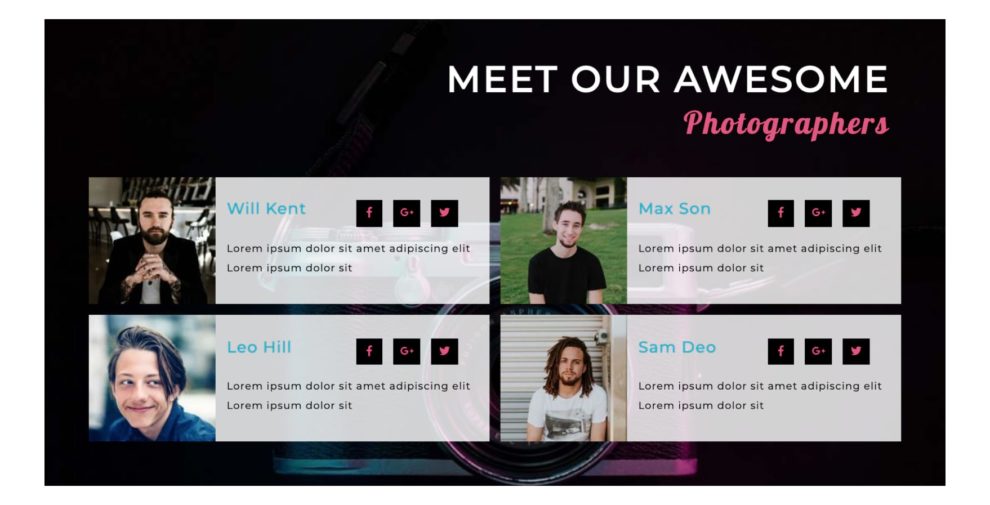 Photography has become a profession of gaining worldwide recognition. The best way to showcase skills to the client is to create a portfolio along with the photographer's info. This sets you apart and helps you establish your own brand.
Our free responsive website templates with photo gallery have two cards in each row and column along with their photo, name and a short paragraph of text. Your work is your curriculum vitae which helps people to recognize your expertise. The customer can contact you when in need by publishing your details.
Sliding Inner pages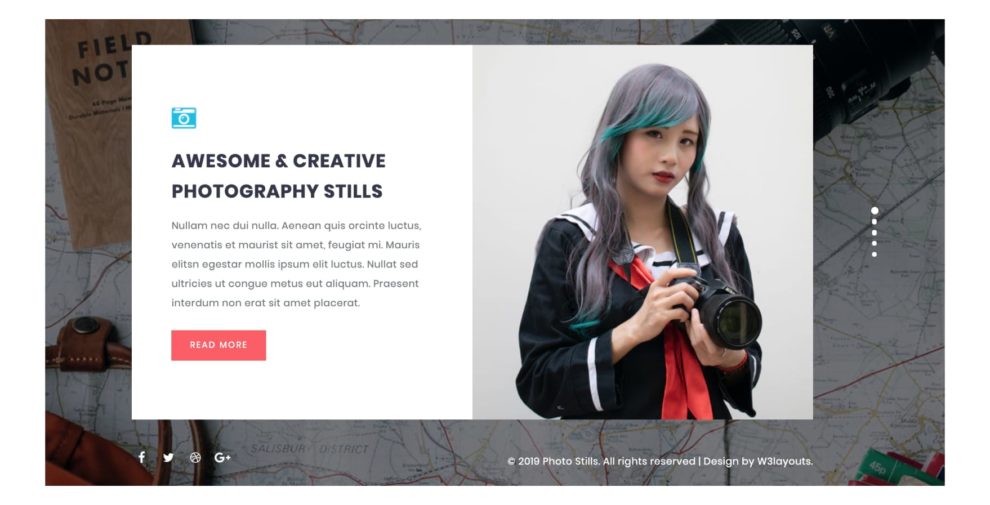 The single-page website has sliding inner pages which have horizontal bullets placed on the right side of the template. Pages can be navigated by clicking on these bullets. These templates have pages such as about us, services, portfolio and contact us. You can add pages as needed by your website. Check it out here.
The photo gallery website templates allow stress-free customizations and show maximum information with a strong visual presence.
Photoshoot Appointment Booking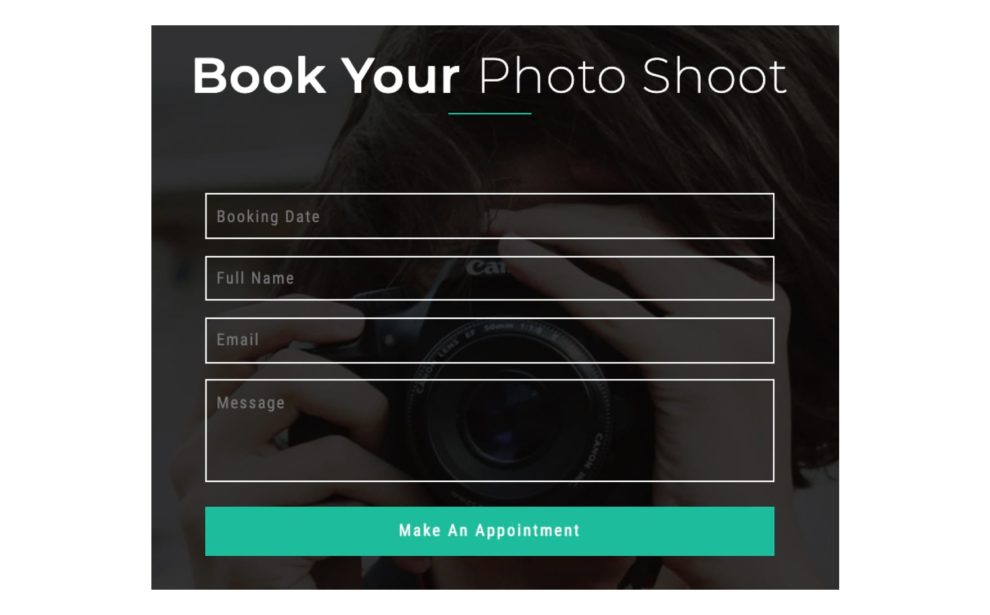 Our photo gallery website templates have customized and professionally designed appointment booking form. These forms have fields like booking date, name, email, message and 'make an appointment button'. On clicking the 'booking date' field a calendar appears, also you can also enter the date manually. Check it out here.
The booking forms are 100% responsive and SEO friendly. Our developers make sure that your clients cherish the experience of working with you and acknowledge your fruitful services.
Photography Application Form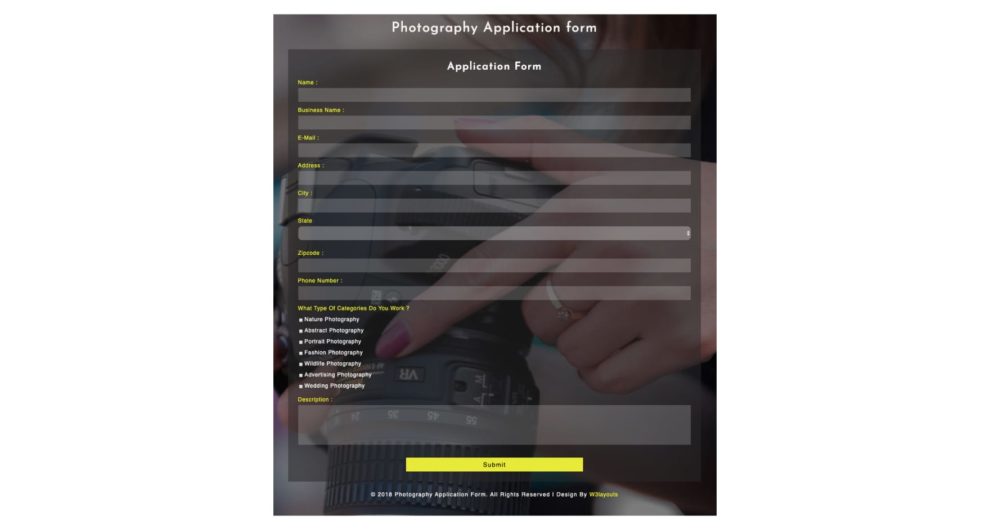 The photography application form is for photographers to register themselves as professionals. They have fields such as name, business name, email, address, city, your specialization and description with a submit button.
These photo gallery website templates are centrally aligned and have transparent fields and backgrounds. With its greyish transparent background, the template looks cool and has a simple layout. It is a great platform to meet and hire professional photographers from all over the world.
Pricing plans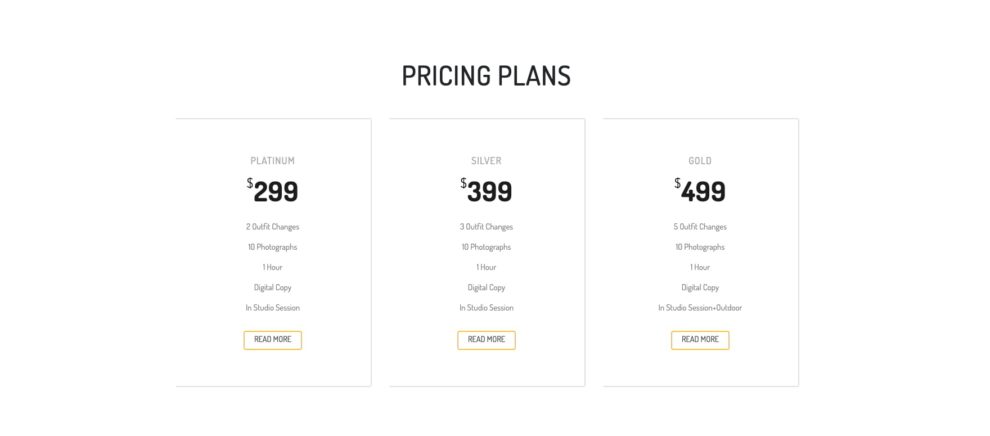 Our templates have a separate page for pricing plans. The website owner can showcase his photography packages for a pre-wedding photoshoot, wedding photoshoot, party shoot, or birthday party shoot. Every plan is arranged in cards with a 'Read More' button.
This provides customers to set their budgets and choose the best subscription plans. You can facilitate discounts, coupons on special occasions.
Our photo gallery website templates are suitable for complete digital processing from online choosing plans to quick payments.
Attractive Skill Meters

The skill meter is a line chart that represents your skills and expertise. It is represented by a thick line with animated design and data representation on top. The client can check this skill meter to know about your knowledge and hire services from you.
The line charts in our photo gallery website template are designed with JQuery and CSS. You are free to customize the inner animated design and market your talents and experiences.
Stylish and Assorted Blogs
The photo gallery website templates allow sharing your photography tips through blogs. The blog section has an image, heading, short description, publishing date and comments posted. You can hide or show these elements, according to your website requirement.
It has a 'Read More' button, by clicking on the button a pop-up opens. You can also redirect it to a different page.
This section adapts to any screen device. Its customization does not need any coding skills. The page loads quickly and has an easily customizable layout.
Accomplishment Stats

Through these accomplishment stats, you can represent the number of clients, successful projects, number of followers and awards received with icons. The counter charts are designed with HTML5, CSS3, and JQuery.
Such visual elements make a deeper impact on the audience and persuade them to choose your services. Such charts are compatible with modern browsers and have a creative interface.
Conclusion
So here we have checked the features of website templates which gather personal attention and attract new customers.
These templates increase search engine optimization, social media shares and demonstrate positive experience.
The customers are persuaded to spend a long time on a website which is good for Google ranking. They increase the organic search, decrease the bounce rate and load quickly. Our goal is to interact with customers and develop a friendly rapport by expanding our business.
The photo-gallery website templates are available both in free and premium versions. You can select the best template suitable for your business website. Check out the steps to download these website templates here.