Description
Electronics Mart an electronics eCommerce website template
Are you ready for eCommerce supremacy? We proudly present Electronics Mart, an electronic eCommerce website template that is fully stacked with features and functionalities any store may need, so you can set up your online store in virtually no time at all.
Electronics Mart is a professional minimalist responsive theme built to create modern electronics eCommerce website template. This is an HTML5 template designed for shopping online stores. It is perfect for electronics eCommerce store and also useful for any kind of shops like cloth, electronics, furniture, accessories, flowers or any other. This template including product detail, shopping cart, checkout page, payments page, about us, contact us, blog page, log in, and also the Terms of use page. It's a completed template and ready for your online store.
Whatever you're selling, Electronics Mart is the only eCommerce HTML template you'll need to create a powerful online store that will give your customers a smooth and seamless shopping experience. Modern design, minimalist feel, Electronics Mart is designed for an array of different online retailers. Display your products in style and make it easy for your customers to browse, choose and purchase.
It is build based on an electronics eCommerce website but is also suitable for other eCommerce websites such as fashion, electronic, organic, sneaker, shoes, glasses, accessories, supermarket … or anything you want. Make a beautiful website for your online store today using the remarkable Electronics Mart eCommerce website template. This theme has a great look and feel, that is sure to help you promote your eCommerce website template online with success.
Although we've made sure we include every page that you will need, you can edit each page of your site to suit your needs. Get creative with this beautiful theme, build e-commerce websites and start your online store today!
Fully responsive and mobile-optimized
Whatever device your website is viewed on, Electronics Mart will ensure your store looks and functions perfectly. Your electronic website will look wonderful on any platform and device. It is a natively fluid, responsive theme that makes short work of any sort of compatibility worries across all browsers, platforms, screens, or devices.
Each and every function of this amazing template will run impeccably on almost every device like – desktop, laptop, tablets, and mobile phone. Best practices for mobile store designs that increase conversion in your store. There is no doubt that Electronics mart will make your work look more impressive and attractive to viewers.
Our shop pages have all the required tools and features to create super-fast responsive e-commerce with an amazing UI and UX experience.
Responsive layout design:
Whatever you are using the device your site will run as it should be. The electronics mart template is a fully responsive layout for all types of devices. Each element is designed to be perfectly displayed in any resolution.
Bootstrap Framework:
Bootstrap is the most popular HTML, CSS, and JS framework for developing responsive, mobile-first projects on the web. You can create a great website layout based on Bootstrap. It has a very clean, crisp, and simple design that can easily be adapted and used for a variety of similar niche websites.
Dark Mode website:
Dark mode has gained a lot of traction recently. If you already have a light theme for your site, and you're interested in making a darker counterpart. Or, even if you're starting from scratch, you'll have both themes: light and dark. One theme should be defined as the default that users get on the first visit, which is the light theme in most cases (though we can let the user's browser make that choice for us, as we'll see). There is a way to switch to the other theme (which can be done automatically, as we'll also see) — as in, the user clicks a button, and the color theme changes. Turn on Dark Mode for a great viewing experience especially in low-light environments.
Awesome Blog Pages:
Blogging very important! We designed a beautiful blog page and a single blog style for your news and updates. Sometimes, blog posts can have an overwhelming amount of information — for the reader and the writer. The trick is to organize the info in a way so readers aren't intimidated by the length or amount of content. Need not worry, our eCommerce website templates blog page comes to the rescue. We Provide you a beautiful blog page with good-looking blog layouts and easy to navigate sidebar.
Engaging homepage for your eCommerce website designThe homepage has a lovely and engaging eCommerce website design that will trigger everyone's interest. This sleek yet elegant website template will make your online store stand out in the crowd of e-commerce websites. It is entirely built in Bootstrap framework, HTML5, CSS3 & jQuery, and packs in a lot of features. Use our DEMO option to see how it will look like a website.Electronics mart has widgets for displaying the top-selling products. Banner slider that displays featured products and trending products. Product categories feel smooth in the user experience. Plus, the search function is as extensive as you'd like for it to be, especially for an eCommerce store. Customers can define their search based on categories, availability, product conditions, brands, price ranges, sizes, colors, and various other custom specifications. In short. Electronics mart is the theme for you!When designing an online store, a lot of focus goes on the homepage—it's the first thing that visitors see when they arrive. The template is offering a unique homepage design with lots of other inner pages. But the real goal of any eCommerce website is sales, and there's no way you'll achieve that without a stellar product page.

Ecommerce Product PageProduct pages remain one of the most important parts of any eCommerce website. Product visualization technology can be a great way to increase customer satisfaction and reduce return rates, helping customers to visualize how items look in real life. Your product page is the most important page on your site.Build your product page effectively and both your traffic and conversions will skyrocket.Product page requirementsFeature image: Your feature image can excite visitors or turn them away as it forms their first impression and helps them decide whether to look further. Your best bet is a polished, perfectly centered product image with a white or light background and soft or no shadows.Title and overview: Beyond the images, your product page needs to give high-level information about the product right off the bat.Unique product description: Writing a unique product description can be challenging. After all, it's hard to measure how well copy is doing at converting someone. It's more of an assist than the player making the goal.The clear call to action here is to add the product to your cart. Build a complete online store for your products using the eCommerce product page of this template. The page is composed of all the widgets built into the page. Any number of products can be listed on the pages with their price and 'add to cart button. On the left, you will find customer ratings, category lists, price range widgets. Each product card displays your product with its price, title, add to cart button. A click on the card will open a single product page displaying the product details. Add more pictures of your product and write a description explaining its features. The cart has product adding and removing buttons.Product pages are the most important part of your store, not just because they inform customers about your products and entice them to buy from you.They are important also because great product pages help with your search engine rankings and bring in more customers in the first place. Improving your product pages is one of the easiest things you can do to improve your sales, and all it takes is a bit of time.
Checkout PageTo get traction with an online store, you need to have a great checkout page design. A checkout page refers to any website page shown to a customer during the step-by-step checkout process.A checkout page is a page related to payment and shipping/billing details on an eCommerce store. The checkout page gives customers the opportunity to enter payment details and complete their orders. The checkout process will collect a customer's shipping details, billing details, shipping method, and payment method, and give an option to submit the order.Get a checkout page that has the functionality to your eCommerce store needs and a style and design that properly reflects your brand.After all, this is your customer's first impression of your business, and your first opportunity to convince them to stay, browse and buy. But when it comes to buying, an online store's checkout far surpasses any other element of the website in terms of importance — including CTA buttons, product page specifications, and other more commonly thought-of factors.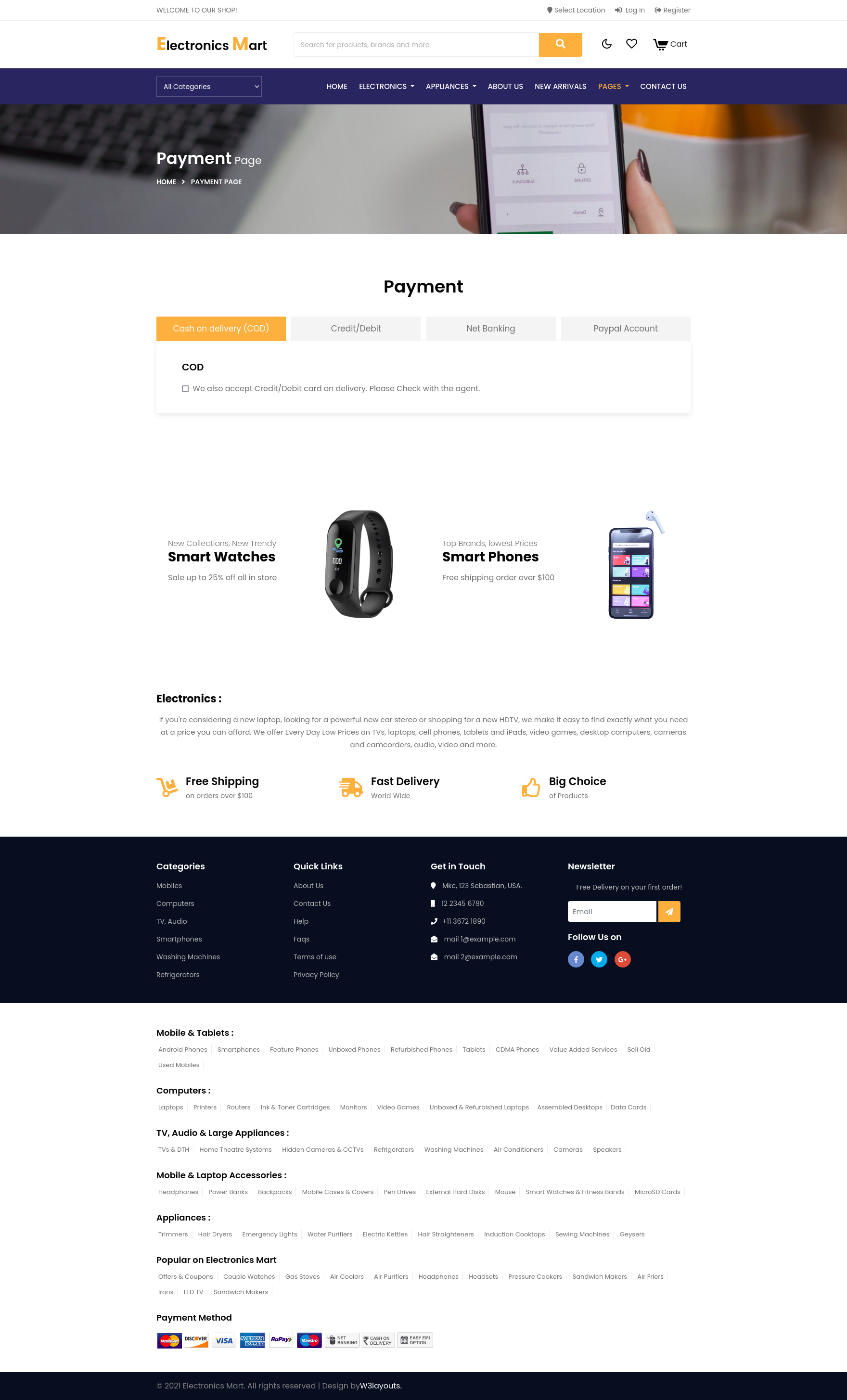 Payment's pageThe secret to designing high-converting flows is keeping distractions and the number of fields to a minimum. Are all the fields you require of your customers really required for your business? Less is more!The payment page design for this website is simply elegant, reflecting the image of the brand. The Payment step during checkout is often dominated by using the tab's function which allows multiple payment methods like COD, credit card, net banking, and PayPal account. Users or customers can choose their preferred payment method while checkout. It is better to provide multiple payment methods instead of using only one payment method because a customer can feel their convenience and flexibility to check out with his/her payment method.In addition, it's a beautiful payment page design and not intimidating in any way whatsoever. Even though the payment gateway may be effective, it is not enough. Not having a good payment page design means customers may not end up paying for products. Instead, they will leave your website without purchasing anything.Our website payment page is effective and easy to use, your customers feel their convenience and flexibility using this Electronics mart's payment page design.
Launch your store with this Electronics Mart – electronics eCommerce website template. It is stunningly easy to use, with more features and plug-ins.
Pages Available (Liberty):
Home
About
Blog
Blog Single
Contact
Product
Product2
Single
Single2
Checkout
Payment
Faqs
Help
Privacy
Terms
Key Features:
15 Html pages
Electronics Ecommerce website template
Amazing Homepage Slider built-in
Sticky Navigation Menu
Light and Dark mode switch
Smart blog and blog single with sidebar
Fully Responsive and mobile-optimized
Compatible with all browsers
Bootstrap version 4 Framework
Working Contact Form
Clean and modern layout
Easy to Use and Customize
Google web fonts used
And many more… Check out the demo!
Theme Details:
Theme Name: Electronic Mart an eCommerce Category Website Template.
Compatible Browsers: Google Chrome, Firefox, Safari, IE 10, Opera, etc.
Source Files included: Style Sheets (.css), Images (.jpg/png/gif), JQuery plugins (.js), Fonts (.ttf).
High Resolution: Yes.
Relevant Templates:
Plugins Used:
Relevant Pages:
Images: