Description
For all types of transportation-related businesses (like freight, cargo, trucking, car renting and automobile companies) the website should have smooth navigation. Users will mostly navigate the website for their right choice (cargo, freight or any other vehicle) and choose their booking dates. So, the user interface must be eye-friendly and interactive. The design should be such that users make the least number of mistakes while entering the details in the forms.
Global Transport HTML website template satisfies these conditions. This is a premium website template that comes with a package of web pages specially designed for the development of a mobile app. Once you customize it according to your venture, your business app is ready.
Specially Designed for Mobile Devices
This is a premium website template designed for mobile devices. The fonts are readable on small screen sizes and the CTA buttons are easily clickable by your thumb. The navigation is made simple with a single menu button. After you click it, a list of tabs will fall at your feet like a rolled-out carpet.
Single Page Design with Swipe Animations
Most features of the template are right there on the single long home page which you can access by easy scrolling. This page is to impress your visitors by adding the bestselling highlights of your business. With every scroll, they should come one step nearer to getting converted into a loyal customer. In the news section, you can swipe left to go through top headlines.
Bottom Navigation Buttons
Delight your visitors with single click super-fast navigation buttons. For quick navigations, add priority buttons at the bottom of your screen like a panel. One-click will land you on the page you want in an instant.
The advantage of this premium HTML website template over the conventional ones is that you will not have to juggle around to maintain continuity throughout your site in terms of its design. This template consists of all the pages you need.
Appointment Form
Make it easy for the clients and customers to connect with you. The appointment form in this template has only six entries, a box to type in the issue, and a dropdown for selecting amongst the types of services you are offering. This makes the process quicker. From there onwards you can take ahead the conversation the way you like.
Landing Page
With this landing page, you always get a high possibility of a fruitful conversion rate. Why? The instant you open it, you will see a form to get a free moving quote. The first question for any visitor landing on your site is 'how much will it cost?' and you are giving the answer right away! As you scroll through the landing page, it summarizes your services, projects, team, pricing, and some exciting numbers.
Blog Page
The simplest blog page layouts are usually the most attractive. This page shows a featured image for every blog post along with the title, a snippet of text and a 'Read More' button to take you to the single blog page. Easily readable and eye-pleasing font style gives a relaxing experience to the readers.
eCommerce Page
Rather than a page, it should be called a comprehensive package to build your own eCommerce store. From the listings of different categories, products with their prices, attractive discounts, ratings, and more. The individual page gives a complete idea about the product with its images, description, discount offers, and many other options.
Pricing Table
Pricing Table has three cards optimized such that only one is visible at an instant. This makes every detail of your services displayed clearly. The cards can be swiped across the screen to compare the pricing. Not only this. The tables are so concise and simple that users can just glance through them and make a quick decision. And rightly, the price has the biggest font as this is the first thing the users want to see.
Sign Up & Sign In
Mobile friendly sign up and sign in forms make it possible for anyone to register to your website even when they are one the way to their work. Sign In form also have Facebook and Google options if anyone does not wish to create a fresh account. For those who want an individual account, getting it is as easy as drinking a glass of water. The form has four simple entries and a 'sign up' button.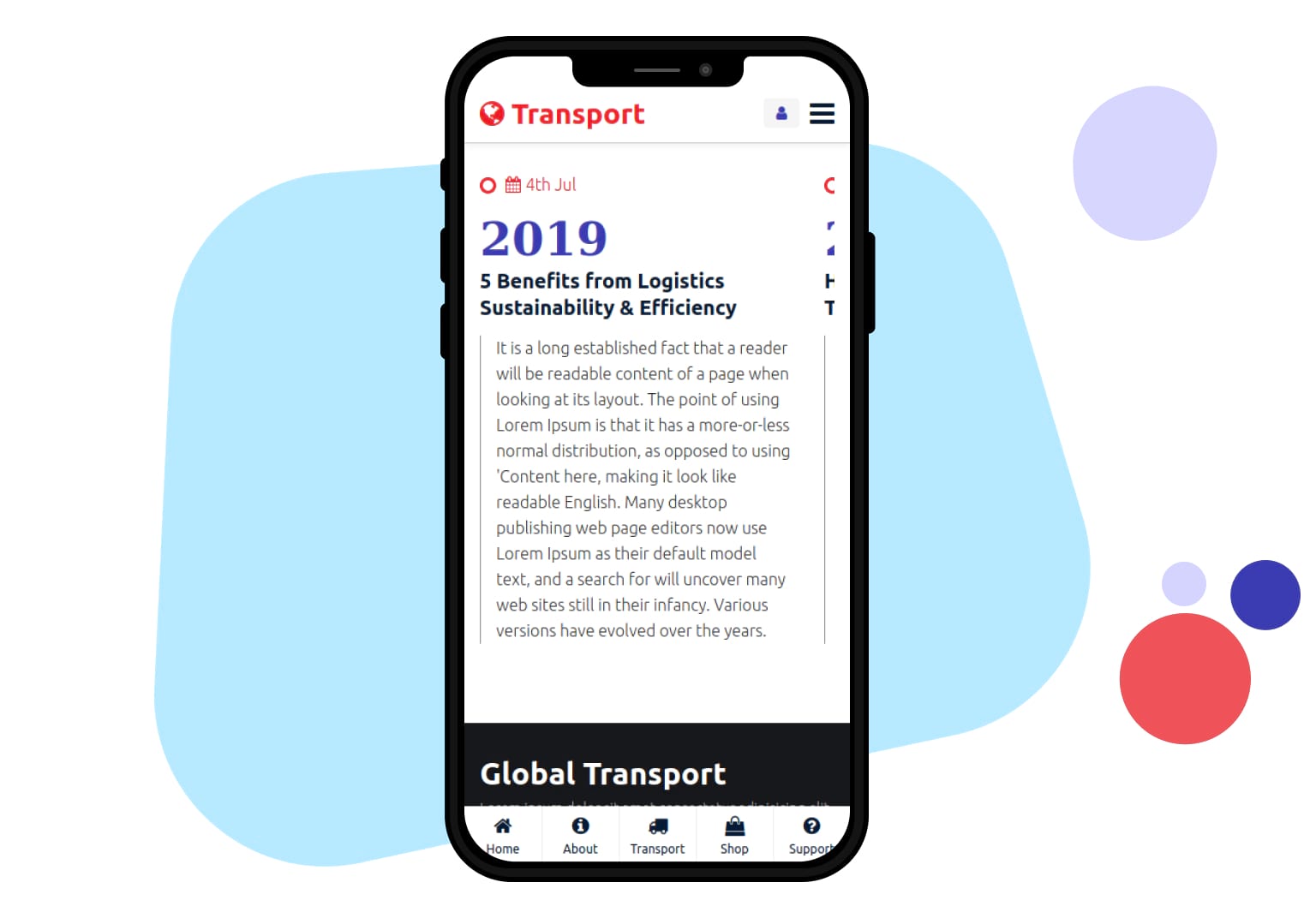 Timeline Page
Show chronology of events that took place in establishing your firm or blueprint of your future using this offbeat timeline page. Each event point is like one page of a diary. As you swipe left new page is opened with a new year. This sequence type design clearly helps to tell your story in the most captivating way possible.
FAQ Page
Hit the bullseye by framing the right questions on this FAQ page. The visitors can get brief answers when clicked on the dropdown arrow. You can also divide the questions into sections as done in the demo.
---
The complete package comes with more than 14 pages. You can download them in two different plans. Freedom and Extended. Each plan comes with a specific set of pages.
Compare them, discuss with your teammates and make a smart choice.
Download our templates and have fun building your website.
Pages Available :
Home
About
Transport
Gallery
Landing Page
Details
Team & Team Single
FAQ
Projects
Timeline
404
Coming Soon
Blog & Blog Single
Login & Sign up
Contact
eCommerce Page
Template Information:
Template Name: Global Transport an Autos & Transport Category Responsive Web Template.
License: Freedom Licence.
Compatible Browsers: Google Chrome, Firefox, Safari, IE 10, Opera, etc.
Source Files included: HTML files (.html), Style Sheets (.css), Images (.jpg/png/gif), JQuery plugins (.js), Fonts (.ttf).
High Resolution: Yes.
Pharmaceuticals – Photo of Pharma