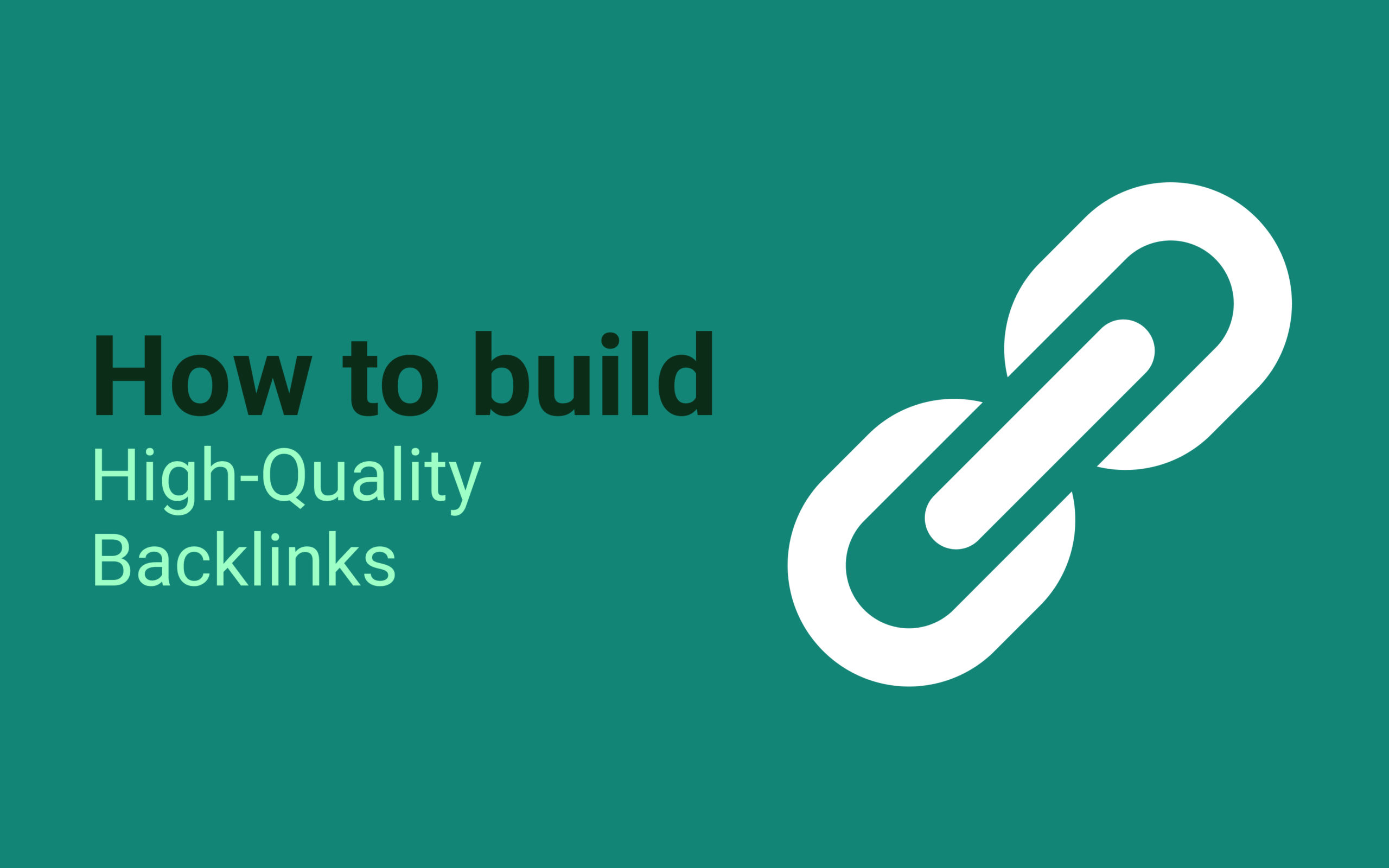 Simply put, backlinks are hyperlinks from other websites that lead back to your own. As a business owner, you should aim to build high-quality backlinks if you want to boost your SEO because they signal to search engines that other webmasters consider your website to provide valuable and trustworthy content, or valuable products or services.
So, in this article, we are going to look at five different techniques you can use to build high-quality backlinks to your website. Read on to find out more.
Create and publish link-worthy content
One of the most effective ways you can get organic links for your site is by publishing high-quality content that people will want to share and link to.
Whether you write the content yourself or hire a professional SEO content writer to do it for you, the important thing is to make sure your content is helpful and provides value so people will be encouraged to link to it on their websites. There are different types of content that tend to receive the most backlinks from people, and we're going to talk through a few of them to give you some ideas.
Original research
Publishing content around original research that your business has conducted is a great way to get quality backlinks. When you conduct original research and write about it, you'll be providing fresh new data that people could use to strengthen and back up the content on their own sites. And, when they cite your findings, they'll typically reward you with a backlink.
Performing original research isn't easy and it can take a lot of time, which is why most businesses prefer to link to someone else's research instead of doing their own. But this means, if you have the time and resources, you also have the power to create some very unique content that's bound to attract some great organic links.
Ultimate guides
Ultimate guides are in-depth pieces of content that you can create to educate your audience about different topics. They're usually long-form and used to cover a broad topic in detail. They're perfect for attracting backlinks, as many people will want to link to an ultimate guide when trying to direct their audience to comprehensive resources that can give more information.
Let's take a look at the ultimate guides that have been created by some businesses so you can get an idea of what they're like.
Cisco Umbrella is a secure internet gateway platform that helps to protect businesses against internet-based threats. On their website, they have a great example of an ultimate guide, which is their piece on DNS-Layer Security.
This guide is an in-depth article that sheds more light on the basics of domain name service (DNS), the reasons why companies need to use DNS-layer security, and some of the benefits of doing so. It's very comprehensive and it contains a lot of information that will be useful to their audience, as well as the audiences of other sites who might want to link to this resource because of the value it provides.
Let's also check out another example from AdWords Nerds, an online marketing company for real estate investors. Take a look at their ultimate guide that teaches real estate investors how to get started with PPC marketing or online advertisements.
It's a long-form piece that takes a deep dive into pay-per-click (PPC) marketing, the pros and cons, and why it can be beneficial for real estate investors. It also gives information on how to choose a platform for PPC marketing, step-by-step instructions for running your first advertisement, and so many other details that can guide their readers through the entire process. As you can see, this is a very link-worthy piece that is sure to get many mentions from sites in the same niche or in complementary industries.
Infographics
Infographics allow you to display information or data using charts, diagrams, or other visual elements. They can help you get more backlinks, as other sites may want to link to your infographic if it displays valuable information that will benefit their readers.
Also, infographics are highly engaging and visually appealing, which is another reason why, if you can create an attractive infographic with useful and interesting information, it could help you in generating quality backlinks for your site. To create an infographic, you could either hire a designer to make it, or you can use design tools like Visme and Canva that have pre-designed infographic templates.
Buying guides or comparison pieces
Buying guides are pieces of content that provide information about the factors people should consider before they make a purchase. On the other hand, comparison pieces allow you to directly compare and contrast similar products or services.
Both of these content types are designed to help people make the best buying decision. Other sites may also wish to link to a buying guide or comparison piece if they're looking to recommend a particular solution to a problem but don't necessarily want to endorse a specific item or brand. Here's an example of a great comparison piece that has already been created by a business.
Online For Love is a website that publishes information to help people navigate the world of online dating. And one of their blog posts is a comparison piece that talks about the best dating sites for couples people can use in 2021. This post is specifically targeted towards couples who want to bring an additional person into their relationship and it provides very useful information about the dating sites they can use for that.
Some of the sites they mention are Badoo, Zoosk, and OkCupid. One thing you can learn from this example is that, when creating a comparison piece, you need to provide all of the interesting details about each option. This is a very helpful piece of content and there's no doubt that it will attract backlinks from online dating sites, lifestyle magazines, news websites, or other dating resources.
Let's also take a look at a very detailed comparison piece that's been created by EmailAnalytics, a software provider that helps managers to visualize and monitor their team's email productivity. This piece provides an in-depth look into 20 of the best remote employee monitoring tools that employers can use to track the productivity of their staff.
You'll find that they've divided the guide into three sections — time tracking, activity tracking, and project management — and they've analyzed the pros and cons of different tools in each category so readers can get enough information to help them make the best decision about which tool to use for each activity.
It's a very comprehensive and actionable guide, and you can see that it would be useful in helping the company get backlinks from marketing blogs or business sites.
Expert round-ups
An expert roundup is a piece of content that features contributions or opinions from experts in your industry. These can provide a lot of value for your readers, and also garner a lot of shares, which should lead to backlinks.
Expert round-ups offer a great way for you to build more backlinks, as they tend to have a lot of authority and contain a lot of information others will want to pass on. Plus, you might even secure links from some of the experts that you choose to feature.
How-to guides
Finally, how-to guides are great for teaching your audience how to perform a particular task, and they're also great magnets for organic backlinks because they contain in-depth and actionable information that other relevant sites in your niche might want their audience to have. Now, let's take a look at an example of a high-quality how-to guide that's likely to earn a lot of links.
Here is an example of a how-to guide from Bookyourdata, a lead generation tool that makes it easy for businesses to build email lists. Their guide talks through how businesses can identify their target markets, and it gives step-by-step instructions on how to do this. And, since the piece contains really valuable information with detailed and actionable steps, it's very likely that other people will want to share it with their audiences.
On your website, you can also publish actionable how-to guides that can assist your audience in performing specific tasks. If you're able to provide a lot of value in the guides, then it will increase your chances of getting backlinks from relevant sites.
Write guest posts for sites related to your work
If you're able to write guest posts for other websites in your niche, you'll not only get a high-quality link back to your website, but it will also help improve your SEO. Search engines like Google only like to direct internet users to quality websites that have valuable and accurate information, and guest posts can help to show you're a reliable source of information.
One simple way to seek out guest posting opportunities is by searching for them on Google. Let's say you are in the real estate niche, for example. What you'll need to do is perform a search through Google using a query like this: write for us + real estate. This should provide you with a list of blogs and websites that currently accept submissions for guest posts. Here's an example of what your results should look like:
Now that you have a list of sites, carefully comb through them to determine which ones are of high quality before you start to send pitches to their editors. This is important as you don't want to do all this work and end up pitching to spammy and low-quality sites that won't provide you with SEO-friendly links.
You can typically get backlinks from this technique by including links to blog posts or other pages of your website in the body of the article you write. Most sites allow guest authors to include a byline at the end of their post, too, so you can also place a link in your byline to lead back to your website.
Simply look for online mentions of your business and ask for a link
There are many ways to build backlinks, but perhaps one of the easiest and most effective ones involves searching Google for instances where you've already been mentioned online. And, if you find any sites that have written about you, you can simply reach out to them and ask for a link back to your site.
This tends to go well because it doesn't require a lot of work from the publisher, who may just need to add a hyperlink to the existing post where they mention you. You should also note that you won't necessarily want to reach out to every site that has mentioned you to ask for a link — you'll only want to build links on quality sites that will help to boost your SEO.
One way to assess the quality of a site before reaching out is by checking the domain authority (DA). This is an SEO metric that lets you know how likely a website is to rank well and you can also use it to filter out the low-quality sites that won't provide you with a strong link. A good rule of thumb is to go for websites that have a DA score of 40 and above.
After you've selected the sites you want to reach out to, you can start contacting them. But you'll need to do this carefully and politely. Try to make sure you get the email addresses of the editors or webmasters in charge of the blogs you're targeting and then send them a polite email.
You could start your emails with a compliment about the article and the company itself, and then just ask if they would mind including a link to your site where they have mentioned you. Most of the time, the publisher won't have a problem with this, but you still need to make sure you come off as polite and not rude or demanding.
Analyze your competitors' backlink profiles to get inspiration
Another technique you can use in building more backlinks for your site is to analyze your competitors' backlink profiles. To get the best results from this, you'll want to analyze the backlink profiles of the sites that are currently ranking for your target keywords.
One of the SEO tools that can help you with this is a backlink checker. We recommend using Ahrefs backlink checker or SEMrush's backlink analytics tool and then inputting the URLs of competitor websites whose backlinks you want to view.
After entering the link to your competitor's site, you should get a list of domains that are linking to it so you can view where their backlinks are coming from. To give you an idea of what this should look like, here are the results you get when you put the Loganix website into the Ahrefs backlink checker.
Once you have access to your competitors' backlink profiles, you can look through the websites their links come from and audit them to find the ones that are authoritative and of high quality, so you can get backlinks from them as well.
If you look at the results we've gotten for this search, you'll see that the tool also gives information about relevant SEO metrics like the domain rating and traffic of the sites your competitors are getting links from. So, you can consider these metrics when auditing your target sites as they'll help you determine which sites will be helpful to your SEO efforts.
Offer free but helpful tools others will want to share
By offering free tools or services, your business can offer a lot of value to prospective customers. Free tools also give you a chance to show off what you can do and will help to build trust and loyalty among potential customers who will eventually spend money with you.
But that's not all they're good for. Free tools and resources are also great for building backlinks because they're genuinely helpful and people will want to share them. However, you'll need to make sure that your ideal customers will actually want to use the free tools you create for the best results.
One way to do this is by looking through the queries that people send to your customer service team. Doing this will give you more of an insight into the pain points of your audience, and this can help inform your idea for a free tool that will address their needs.
Also, you could join social media forums like Quora or Reddit and try to look for discussions relevant to your niche or industry. When you find these conversations, you'll be able to identify the kinds of problems that your prospective customers are dealing with, and this kind of information could help you design a free tool that will solve their issues.
To give you some inspiration, let's take a look at an example.
Over at Loganix, we provide different digital marketing services like SEO, link building, and copywriting. And, one of the free tools that we offer is our domain authority checker tool.
This is a valuable resource that was created to help our audience check a site's domain authority — this is an SEO metric that shows how likely a site is to rank on search engines. It's a very useful tool and it's one that's relevant to our audience of marketers and business owners who want to analyze their own websites, competitors' sites, or the target websites they're considering building links on.
Not only does it calculate domain authority, but it also gives details about other website metrics, like domain rating, trust flow, and citation flow. It's super useful and the fact that it's free means other sites will want to share it with their audiences who can benefit from it, which results in more backlinks for us.
You can also achieve similar results by following our advice to figure out what problems your customers are facing and then adding a free tool to your site that will address the issue.
Also, take a look at the collection of free themes that W3 Layouts offer. The themes are very useful for businesses in different fields and they could help people design pretty impressive sites, even without being technically savvy. It's a great way to provide a lot of value to their audience and it could also help the company to get quality backlinks from other websites in the web design and development niche.
Depending on the kind of business you run, you can also create free tools like checklists, templates, or any valuable resource you think will be useful to your audience as it can help you get high-quality backlinks for your website.
Summary
In this article, we've looked at several tactics that can help you build high-quality backlinks to your website. From publishing link-worthy content to writing guest posts or analyzing your competitors' backlinks, these are all very practical and effective tips that will give you great results.
If you'd like to keep learning how to improve your website and grow your business overall, follow the W3 Layouts blog for more updates. You'll be glad you did!
—
Author bio & headshot:
Aaron Haynes is the CEO of Loganix, an SEO fulfillment partner that supports marketing agencies and professionals. The company specializes in helping businesses to improve their online visibility and ultimately make more sales. The Loganix blog has a lot more information and advice, so make sure you check it out if you found this article helpful.