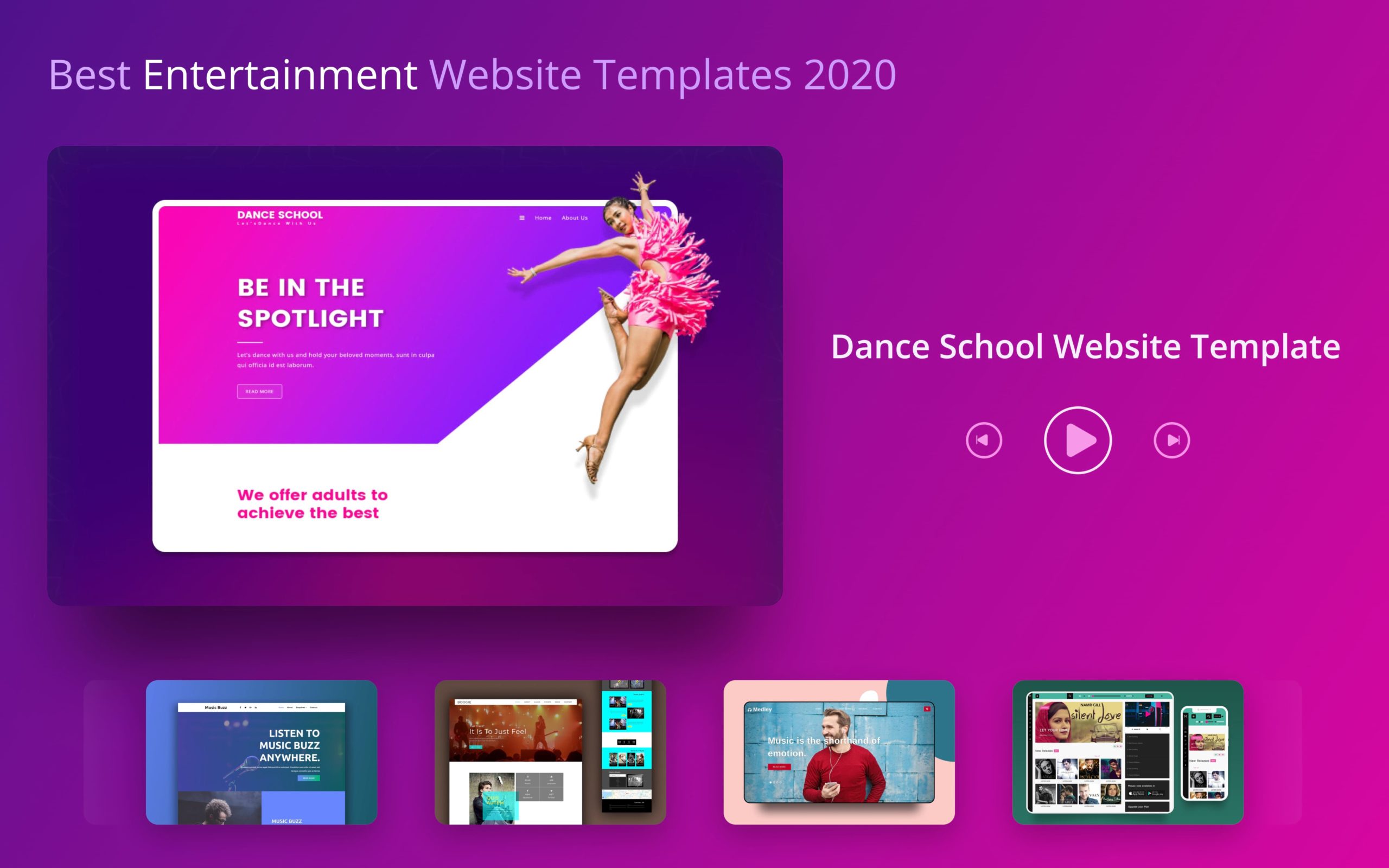 10 Free Entertainment Website Templates for online media streaming, event management companies, dance, and music classes.
Are you in need of entertainment website templates to stream your entertainment industry online? If yes, then you have landed at the right place. Our website templates are emerging as the best platform to design entertainment websites and ensure their presence on social media.
W3layouts present several trendy and stylish entertainment website templates for online media streaming, event management companies, dance, and music classes.
The templates from W3layouts have some best quality features and widgets which are suitable for music and dance promotion, party, and event organizer websites.
Our stylish design and layouts perfectly adapt and adjust themselves with any website or mobile application.
Listed below are 10 best free entertainment website templates from our excellent collection.
1.Dance School Entertainment Website Template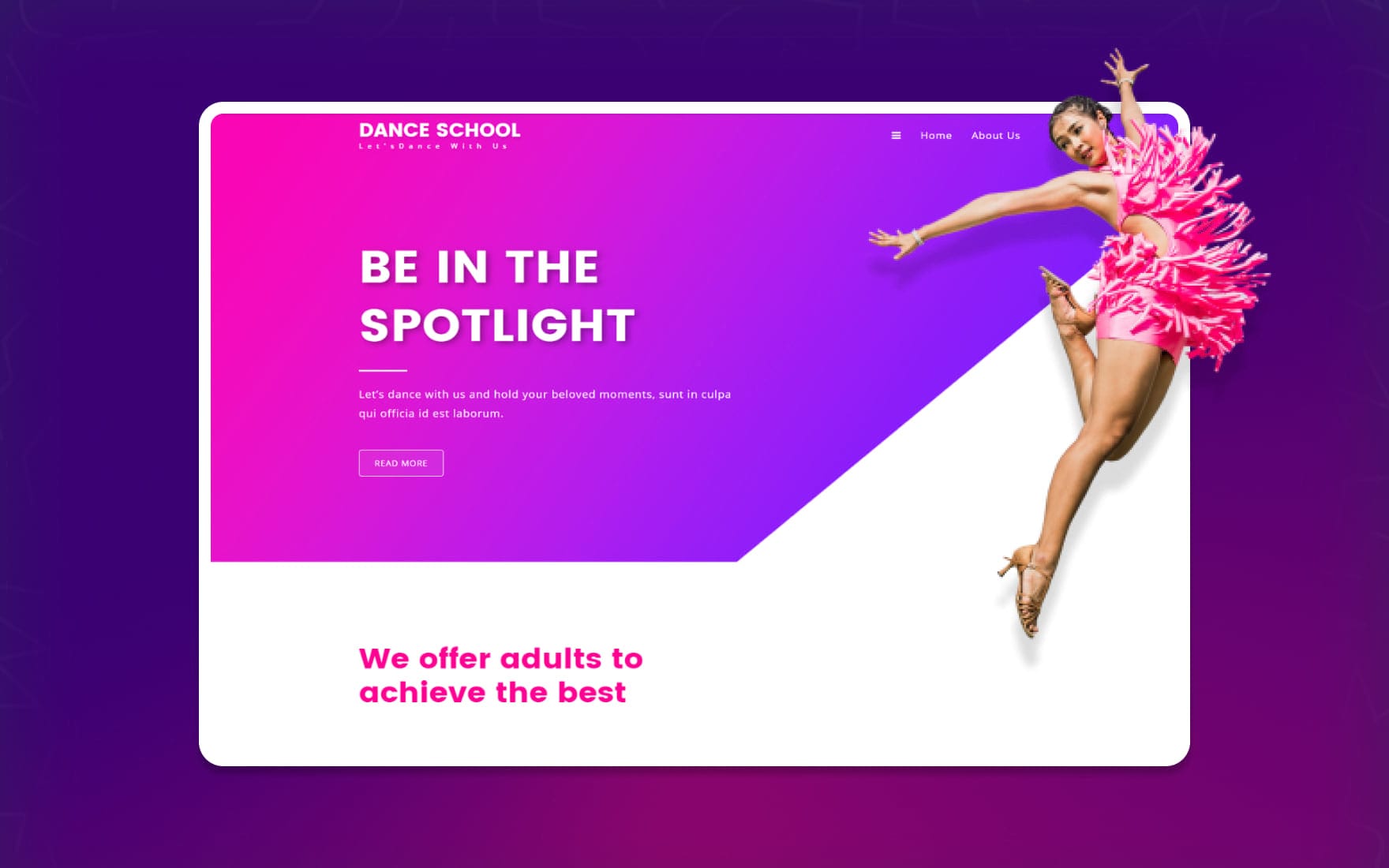 This entertainment website template suits well for dance academy or dance studio websites. The templates have the right set of widgets with amazing features.
Transition effect on hover and click
On hover and click on the images, a transition effect can be seen changing the background color of the card. The feature is to bring a novel freshness in the look of the website. Such effects result in holding the attention of the user.
Hamburger Menu
The hamburger icon when clicked unlocks the navigation bar. The three horizontal lines have quite a simple appearance yet effective in functioning. It is self-explanatory and provides direct navigational access to any page on the website on a single click.
Other highlights of the template
Breadcrumbs
Map integration
Newsletter subscription form
---
2.Party Planners Entertainment Website Template
This entertainment website template is perfect for event or party planning companies and can be turned into an attractive website with little or no effort.
The template has two navigation bars, multi-color combination for heading, sub-heading and description, and lightbox for image gallery.
News Section
The news section is an incredible option to remain in touch with the audience and inform them about your upcoming events. The news blocks are arranged in separate rows and columns in each clickable card.
Tabs
This widget ensures user-friendliness improving the look and feel of the website. It helps you to put your content in a well-organized manner. It makes the content easily readable and accessible for the user. The tabs occupy the minimum screen area which makes them a compelling UI element.
Other highlights of the template
Background Image for every section
Card Grid Layout
Video Integration
---
3.Music Buzz Entertainment Website Template
This music entertainment website template focusses on strengthening the influence of music. If you are looking to promote opportunities for music, hire talent, showcase your musical skills, or you want to start a music streaming service, then this template is for you.
Imagery Art
The imagery art is the pictorial representation of the website elements. It gives quite a unique and impressive look to the website. This feature is mobile-ready and provides a fresh touch to the website look and feel.
Social Sharing Buttons
Social media platforms ensure to promote your business across the world. Many users have access to social media which facilitates them to find your business easily.
Other highlights of the template
Fixed scroll to top button
CTA buttons
Smooth Responsiveness
---
4.Boogie Entertainment Website Template
It is a music entertainment website template that allows designing musical websites and ensures an increase in opportunities. The template has a unique interface with a separate background for each section.
It is highly versatile and adaptable with different browsers and screen resolutions.
Data Counter
It is an efficient way to organize your data statistics and inform people about the website's progress through numerical representation. Every piece of information is represented in different layouts and distinct icons.
Lightbox for Videos
Different resolution cards for videos are arranged in separate rows. On clicking on each card, a pop-up opens which separately displays the video. The lightbox is 100% responsive and provides an enhanced user experience.
Other highlights of the template
Map integration
Fixed scroll to top button
Auro-Slider
---
5.Sway Entertainment Website Template
It is a dance entertainment website template which will facilitate the establishment of a website and bring your project online. It will surely help you achieve the success you are striving for through its flawless functionality.
Progress bar
Representing your skills and expertise is always a great idea to attract clients. The progress bar in our entertainment website template encourages clients to hire talent based on ability and competence. The skill meter is a thin line represented in distinct colors with slightly tilted stripes.
Pro-footer
The pro-footer has navigational links, copyright notice, Flickr images, and social sharing buttons. You can offer more choices to the user based on your website needs. It has a dark theme and the layout is fully responsive.
Other highlights of the template
Auto-changing background image
Table for scheduled program
Search bar
---
6.Medley Entertainment Website Template
It is a music entertainment website template that ensures professionalism and allows you to display the widgets authentically. The multi-page template makes your website simple, professional, and organized.
Carousel in Lightbox
The lightbox component designed from the Javascript library designed to show your media files. Within the pop-up, it allows navigating between the images by right and left arrow. It is cross-browser compatible, responsive, and mobile-ready. The feature makes your website more advanced and productive.
Audio Player
Integrating audio players is a way to get noticed by search engines and bring traffic to your website. This audio player in our templates ensures complete security to the media files and enhances the performance of your web elements.
Other highlights of the template
CTA buttons
Hamburger menu
SEO compatible
---
7.Mosaic Entertainment Website Template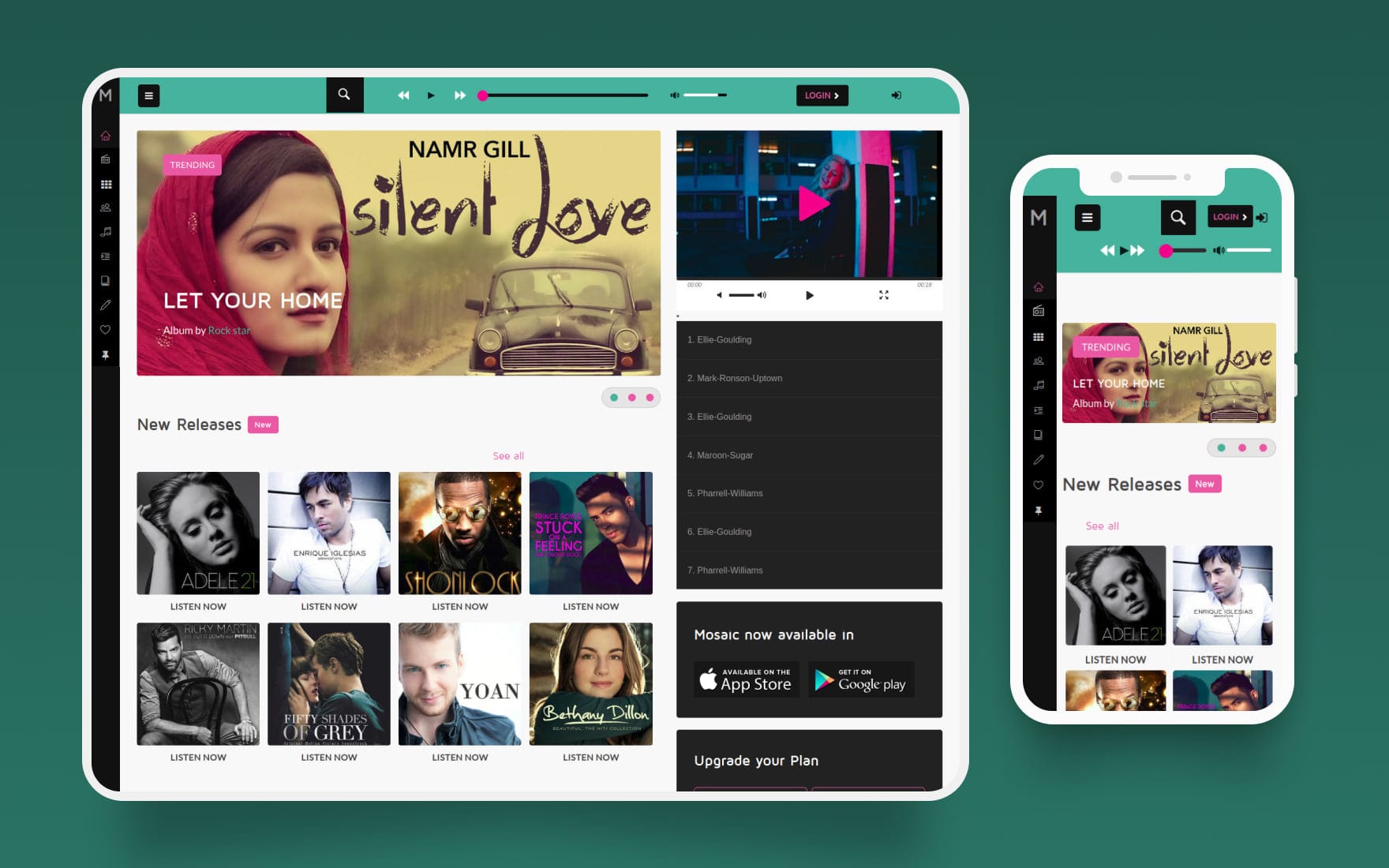 The music streaming website template can be used to design and build multi-functional websites. It allows you to bring your website online and provide several opportunities to establish an ideal website. The template is highly flexible in terms of its customizability.
Hamburger menu
The icon is located in the left corner of the page and opens a path of navigation to different pages. The navigation bar appears and disappears on the same icon click. This entertainment website template makes the website usability easy for visitors.
Create Account Form Template
The create account template has a name, mobile number, email id, password field, and 'create account' button.
It gives other options to sign with Google, Facebook, and LinkedIn. The form is purely designed through HTML5 and CSS3.
Other highlights of the template
Login Form
Animated Search Bar
Pricing Plan
---
8.Motive Mag Entertainment Website Template
It is a multi-purpose website template that fits for fashion, sports, entertainment, and news website categories. This template will showcase your project in a trendy and elegant way. It is cross-browser compatible, SEO-ready, and responsive.
Auto Sliding Gallery
The slideshow is clean, simple, and full of modern elements. This stunning feature never fails to gain the audience's attention. The pre-built carousel represents your content in a subtle manner. These sliders are pretty simple to integrate with your website.
Contact Form
The contact form in this entertainment website template is very simple and easy to customize. The contact form is a source to remain in touch with the website visitors and clients. It generates leads and increases conversion rates.
Other highlights of the template
Map Integration
Fixed Scroll to Top Button
Social Media Sharing Buttons
---
9.Melody Entertainment Website Template
It is a musical entertainment website template that fits well for musicians, artists, and musical bands. The theme comes with a lot of remarkable features.
Apart from being professional, its appealing look ensures the establishment of your business world-wide.
Team
The team section introduces the audiences to the creative people who are behind hit shows. It is an integral part of the website and also provides the user with information about the people behind your successful business. Every card has a CTA button 'more', it will redirect you to the complete profile page of the team member.
Typography
The typography gives you suggestions about the appearance and style of each element in the layout. Designing the website by keeping typography in mind will make it look more attractive. Our typography has the most followed designing trends which highlight your elements effectively.
Other Highlights of the Template
Animated Search Bar
Subscription Box
Copyright Notice
---
10.Ballet Entertainment Website Template
It is an entertainment website template designed for dance classes, competitions, with background images for almost every section. It has stunning and excellent layouts that perfectly suits your professional purpose.
Animation Effect in Cards
On hovering the cards, an animation effect occurs displaying another card of smaller dimension over it. While clicking, the image opens in a pop-up allowing switching of images within the lightbox.
Single Page Template
The substantial advantage of the single-page website is it readily provides all the information on a single page. It facilitates minimal navigations and appears as the best performing websites.
Other highlights of the template
Animated search bar
Contact Form
Map integration
---
Apart from this amazing collection of templates, we have more on our website w3layouts.com from our remarkable and proficient designers. The templates will assist in every aspect of business promotions and thereby maximizing the profit.
Our templates are available in both free and premium versions.
Click here and follow the steps to download free entertainment website templates from our amazing compilation.