10 Free Real Estate Website Templates ideal for property-related businesses
If you want to start a real estate business or you already have one, then you must be aware of how important a website is for you. Well, if you are not, you have not lost yet. You can build a real estate website on your own using this amazing real estate website template that we have shared in this article.
Having a website for your property related business helps you reach even those customers who can't find an agent. With these real estate website designs, you can build a website and impregnate into those untapped areas of your market.
All the website templates mentioned in this article are mobile-friendly. So, anyone with a smartphone looking for a home, apartment, land, space for a corporate office, etc. can access your website and you can then help him to get a great deal.
Every website template listed here is special in terms of the design, codes, functionality, and ease of access. These are super lightweight template supporting heavy images. Some are single pages while a few are multipage, some support videos as well facilitating you to insert promotional videos of your properties.
Without wasting much, lets quickly go through the 10 best real estate website templates for your property related businesses.
1.Land – Real Estate Website Template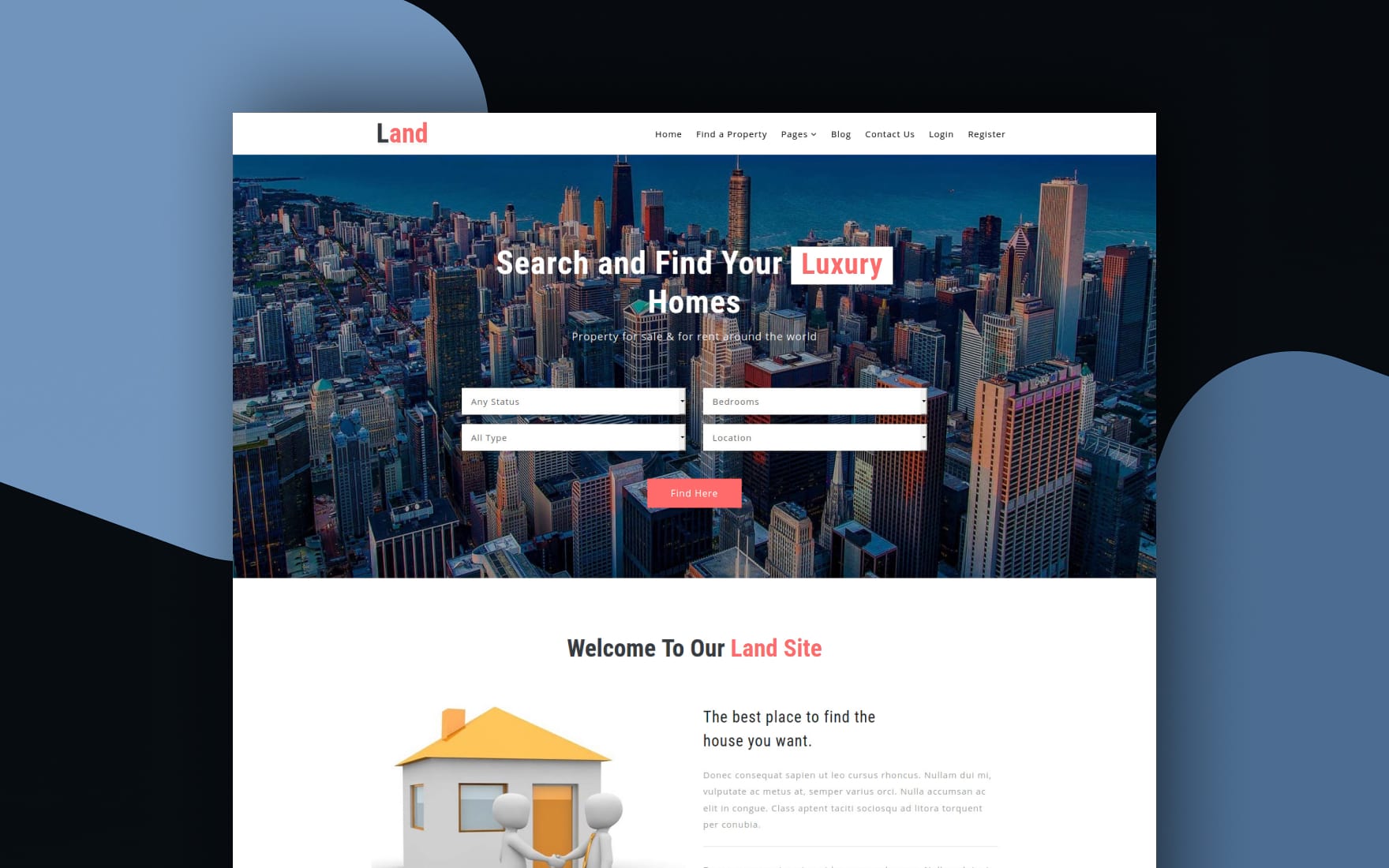 This template is specially designed for business which rent and sale apartments and villas. Visitors can log in right away and begin searching for their favorite places. The template has a simple layout making it easier for the visitors to navigate.
Single Page
The single-page design helps the visitors to glance through your company details quickly and arrive at a decision. As you give them quick solutions it increases the trust.
Search Form
At the banner, there is a detailed search form that helps the visitors to find the property of their choice in no time. If you have a global reach, it also has a country selection box.
Other features
Login and Registration Forms
Comprehensive Footer
App downloading feature
---
2.Realness – Real Estate Website Template
With its grand full-screen design decorated by large high-quality images this template will make a rich impression of your real estate business to your visitors. Its customizability feature gives your freedom to change the banner image to that of your company brand image.
Multipage Layout
Every page gets its well-deserved attention due to the template's multipage layout. It has a separate about us, blog, image gallery, and contact page.
Blog Page
A well-curated blog page has all the widgets you need to run a blog. The visitors can share their views in the comments and check out the latest blogs on the space at the right.
Other Features
Social Media Buttons
Email Subscription Form
Testimonials
---
3.Brick – Real Estate Website Template
This design is perfect for a small team of real estate agents or a start-up property business. Big businesses having enough track record may build a comprehensive website with a potful of information. But if you have a small business you need something which can make a strong impact in less space.
Timeline Widget
This innovative widget has multiple uses. You can use it as a growth chart of your company or show your projected plan. The vertical design can also be used to show your services as well.
Pricing Plan
Three separate cards are available in the pricing section giving you enough flexibility in the price range if your offerings. The price is shown in big font and each card has a buy now button.
Other Features
Single Page
Map
Images with lightbox effect
Roof House – Real Estate Website Template
This website template is for those who are into reselling and renting of office spaces, office homes, artistically designed homes for photoshoots or studios. The template has a provision to add a video banner also.
---
4.Roof House – Real Estate Website Template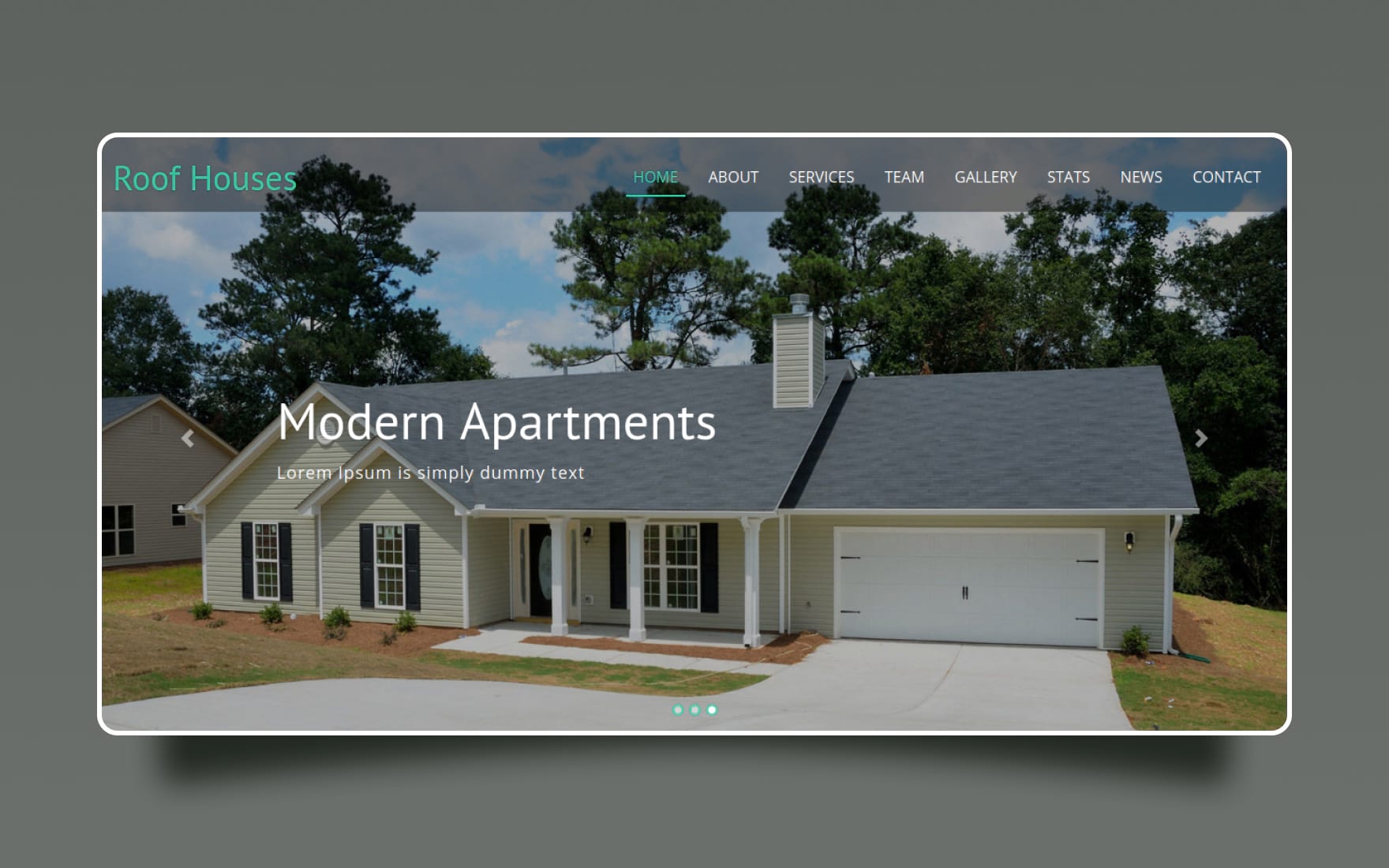 This website template is for those who are into reselling and renting of office spaces, office homes, artistically designed homes for photoshoots or studios. The template has a provision to add a video banner also.
Latest News Section
Feature all the property related news in this section by adding thumbnails images. Giving updated information about the property laws, dealings and hot lands available increases increase recurrent traffic on your website.
Sliding Carousel
The manual slider carousel at the banner can help you to list beautiful homes right at the entrance of your website. This cuts off any chance of visitor turning off and bouncing out.
Other Features
Single Page
Number Counters
Contact us section with Map
---
5.Estate Dream – Real Estate Website Template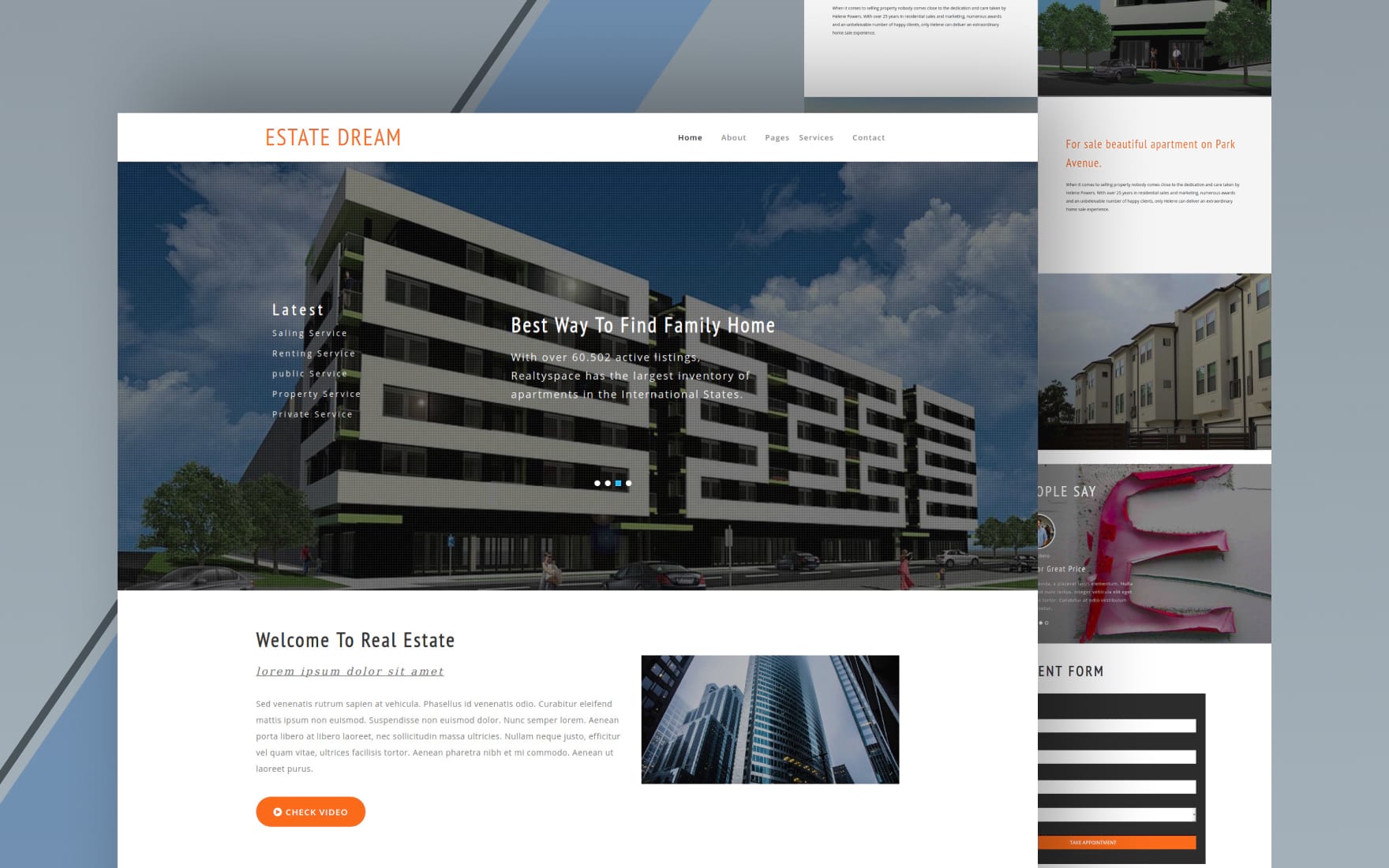 Curated for real estate companies selling properties in posh areas, the design goes hand in hand with the word royalty. Big images and small text leaves a lot of empty space to breathe. It comes with home, about, pages, property listings, services, and contact page.
Appointment Form
A detailed appointment form on the home page makes it easy for visitors to have personal meetings with you. They can select the date and the type of meeting they want to have.
Big Grids
The whole design has big grids for images, services, testimonials, giving it a larger than life feel. Using some basic coding skills, you can make good use of the space by adding more text.
Other Features
Multipage
Insert Video
Trendy Hover Animations on Icons
---
6.Vicarage – Real Estate Website Template
The template has a stylish design with multicolor strips distributed throughout the layout. The cool design makes it perfect for those businesses dealing with small modern family homes. The template comes with an exhaustive collection of typography, alignment styles, and colored texts.
Stylish Image Gallery
Display the scenic beauty of your homes using the image gallery. The images showcase themselves with a white border and a lightbox effect. They change with dynamic animation.
Event Schedule List
On the home page, you will find a list widget showing date, time, and location. If you are hosting any property fairs or conferences, this is the place for you to put the details.
Other Features
Email Subscription Form
Big Footer
Login Form
---
7.Casita – Real Estate Website Template
This website template has all the sections perfectly sorted and does not lead to any confusion in the visitor's eyes. The use of tinted colors for texts against a white background gives a calm feel to the design.
Simple JQuery Parallax
The scrolling becomes exciting with the parallax effect of the background pictures. You can find this effect on the home page. But, if you know some coding, you can add it to any page of your choice.
Categorize the properties
Using tabs given on the property page, you can categorize your homes and lands so that the visitors can find their choice easily from the ocean of options. One-click on the tab and the images slide through to adjust themselves.
Other Features
Multipage
Login Form
Social Media Buttons
---
8.Realty In – Real estate website template
Embraced in a vibrant tone, this design will treat your visitors with warmth. If you are focusing on the customer who is looking for homes by the cityside, the flavor of this template will complement your business idea.
Innovative Sidebar Menu
Unlike traditional designs where you will find menu bar at the top, here you have it as a sidebar sliding in. This saves space and adds design creativity giving an impression of your out of box approach.
Dynamic Hover Animations
Wherever possible, hover animations are used to add energy to the design. The images get brightened up, the icons rotate or light up, text flies in, buttons change their colors are the hover animations you will see.
Other Features
Single Page
Contact Form
Categorized Portfolio
---
9.Real Gage – Real estate website template
Every business related to real estate has its signature style of operating and kind of homes they rent or sell. This template has a bright tone that you can make use to build your brand image.
Properties Selling Cards
List your properties in these cards which display price, floor area, and other details through visually communicable icons. When visitors find all the details at a single place, it is likely that they have a good experience on your website.
Suitable for Startups
The single-page layout is always the best choice to go with for startups as they don't have much of portfolio or case studies to showcase. This template creates a good impression for startups.
Other Features
Single Page
Changing text at the banner
Map
---
10.Home Villas – Real estate website template
For those businesses that sell customized homes for families and office spaces, this template is the next name of being unconventional. It has a unique single-page layout decorated with different shades of blue.
Innovative Layout
The menu bar is placed below the banner and to the right of it are social media buttons. Followed by this are the property listings in cards hovering over which call to action slides in.
Blog Section with Lightbox
The blog's thumbnails are placed in a mosaic manner and clicking on them opens a lightbox showing a little snippet of text. If you have a basic knowledge of coding, you can customize this section to show your portfolio.
Other Features
Manual sliding text on the banner
Team section with sliding animation
Compact footer
---
Apart from this compilation of real estate website templates, you can find an exhaustive collection on w3layouts.com. With these templates, your website builder process fastens up.
Select a template any scrolling through the designs, download it and use it wherever you like.
If you want to know the steps to download the templates, go through the steps here.