Most Incredible Free Society Website Templates to build a website free for Charity Organizations and NGOs
The society website templates allow you to build websites that help in gathering donations, succinctly support individuals, and non-profit organizations. The website templates under this category are intended to help the charity organizations and serve people across the world.
The website templates from W3layouts exhibit the information in an engaging and interactive way and you can build a website for free. The highlights of the templates are menu pages, background header image, services, gallery, contact form, map, social sharing buttons, and footer.
The website templates from W3layouts have limitless plugins, tools, and add-ons. We present a complete package of HTML website templates which contributes to SEO optimization that ultimately leads to the ranking of your website. The templates offer you a privilege to customize the features without any prior coding experience. Use our website editor to customize the website templates. We offer you phenomenal opportunities to showcase your projects through our website templates.
Latest Society templates and WordPress Themes
In this article, we have compiled the best society website templates from our collection which comprise of most desirable features and widgets.
1.Nanny – Society Website Template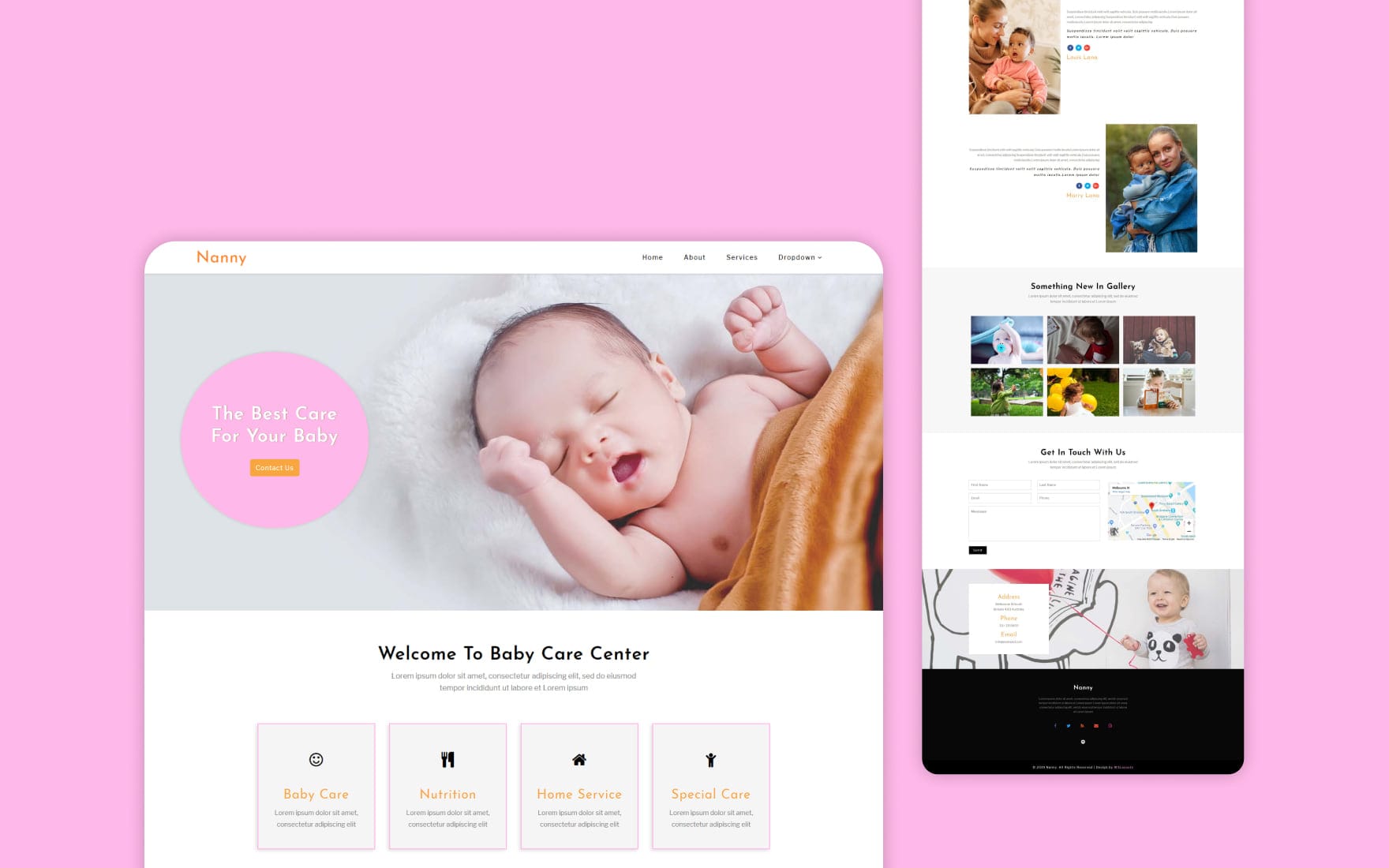 The Nanny website template facilitates you to build a website for caretaker services which enables your visitors to search for the best caretakers in their area. The template has a flexible interface and possesses a wide-range of appealing frameworks that make it easy for people to browse through the website. The professionally designed template has fully-functional widgets and determines the productivity of the website.
Pleasing Colors and Font Styles
It is furnished with varying color combinations and layouts. It has diverse font styles and colors for heading, subheading and main content. Even the CTA buttons have a distinct color and style which changes on hover or click.
Comprehensive Features
The baby care template has amazing and extremely impressive features. This template has menus, text over the background image, cards, service icons, testimonials, footer, and copyright notice.
Other Features
Pre-built layouts and styles
Responsive and browser compatible
SEO-optimized and possess fast loading ability
Lightbox in gallery
Dropdown menu
---
2.Crony – Society Website Template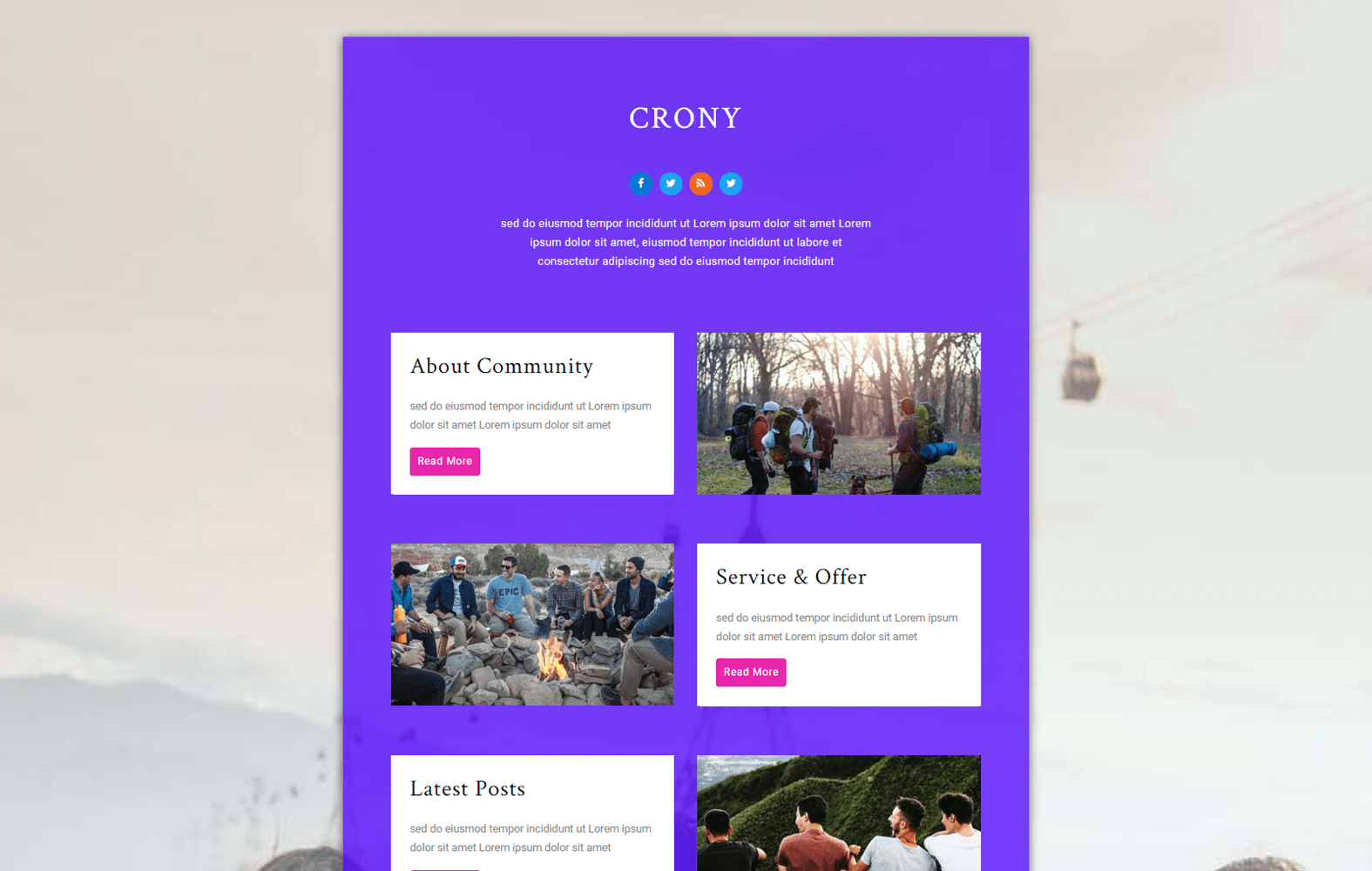 Crony website template has limited features but still, it never fails to attract the audience. This website template is designed in CSS, HTML, and Bootstrap and ensures to bring out your inner creativity by customizing the features.
Pre-Built Pages
The ready-made home and about pages are efficiently optimized for better visibility and higher rankings. The frame has a blue transparent layout which is centrally aligned over a fixed background image.
Appealing Buttons and Card Designs
The template has images and descriptions in different cards arranged alternatively. They have CTA buttons, newsletter subscription form, copyright notice, and social sharing buttons.
Other Features
Responsive and cross-browser compatible
Have quick loading ability
Improves the website speed and performance
Customizable Bootstrap framework
---
3.Oblige Charity Fund Website Template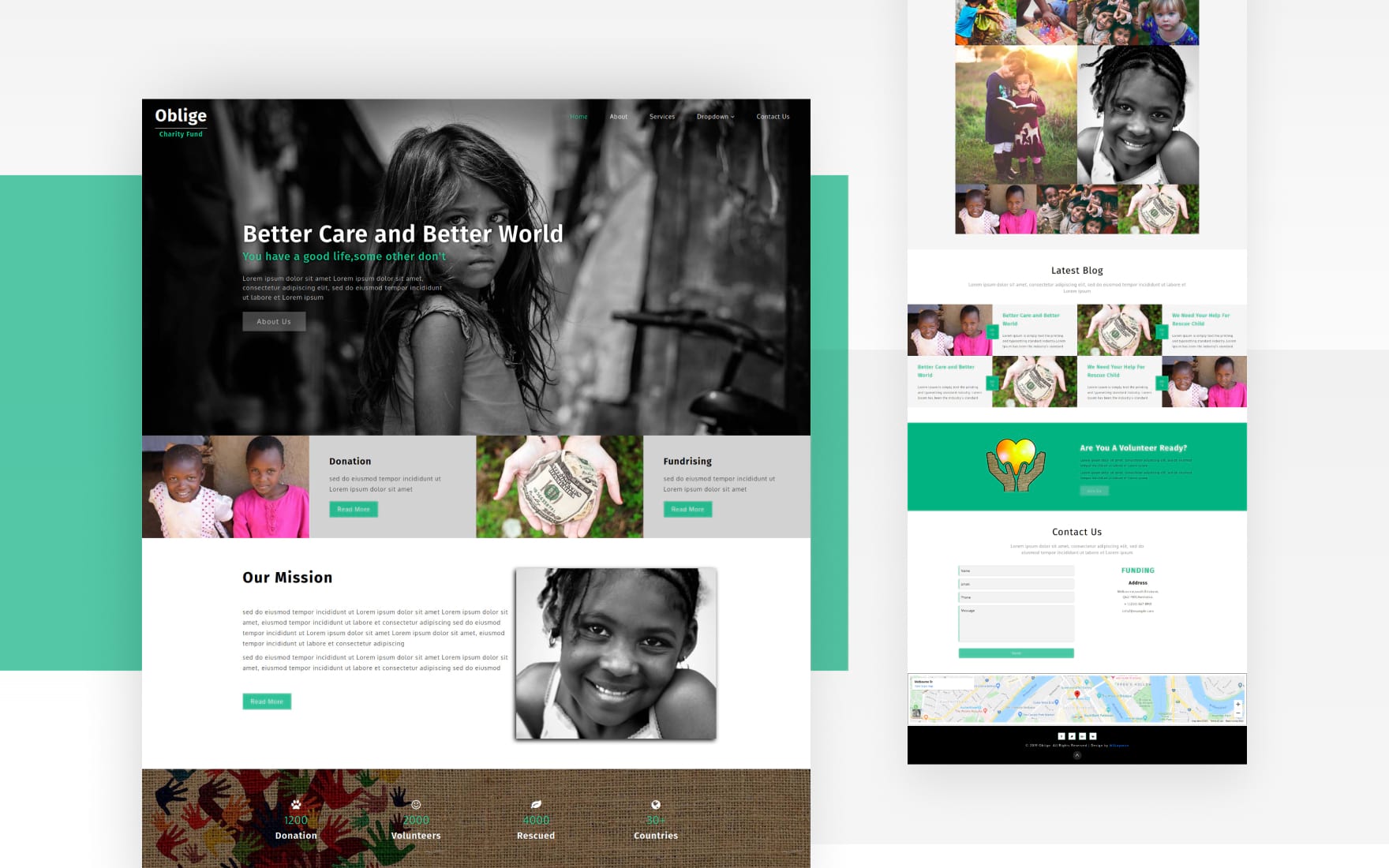 The template allows raising funds for any charity organization. Such templates are particularly designed for firms that wish to build their online network.
Stunning Colors and Fonts
The great color combination of the template is its attention-drawing feature. Each heading, subheading, description, and buttons are composed of a different color, font size, and type.
Subtly Organized Widgets
The menus are arranged in the same row as the name of the website. The website template designed using the bootstrap framework has divided the sections into separate grids and columns.
Well-Defined Categories
The black and white background header image has text written over it. The other attractive features are counters with icons, services represented in cards with a background image and brief description, team, gallery, blog, and map. On hover the background color of the card, and text changes.
Other Features
Social sharing button
Scroll to top button
Address widget
Lightbox in the image gallery
Hamburger for the small screen view
---
4.Baby Center – Society Website Template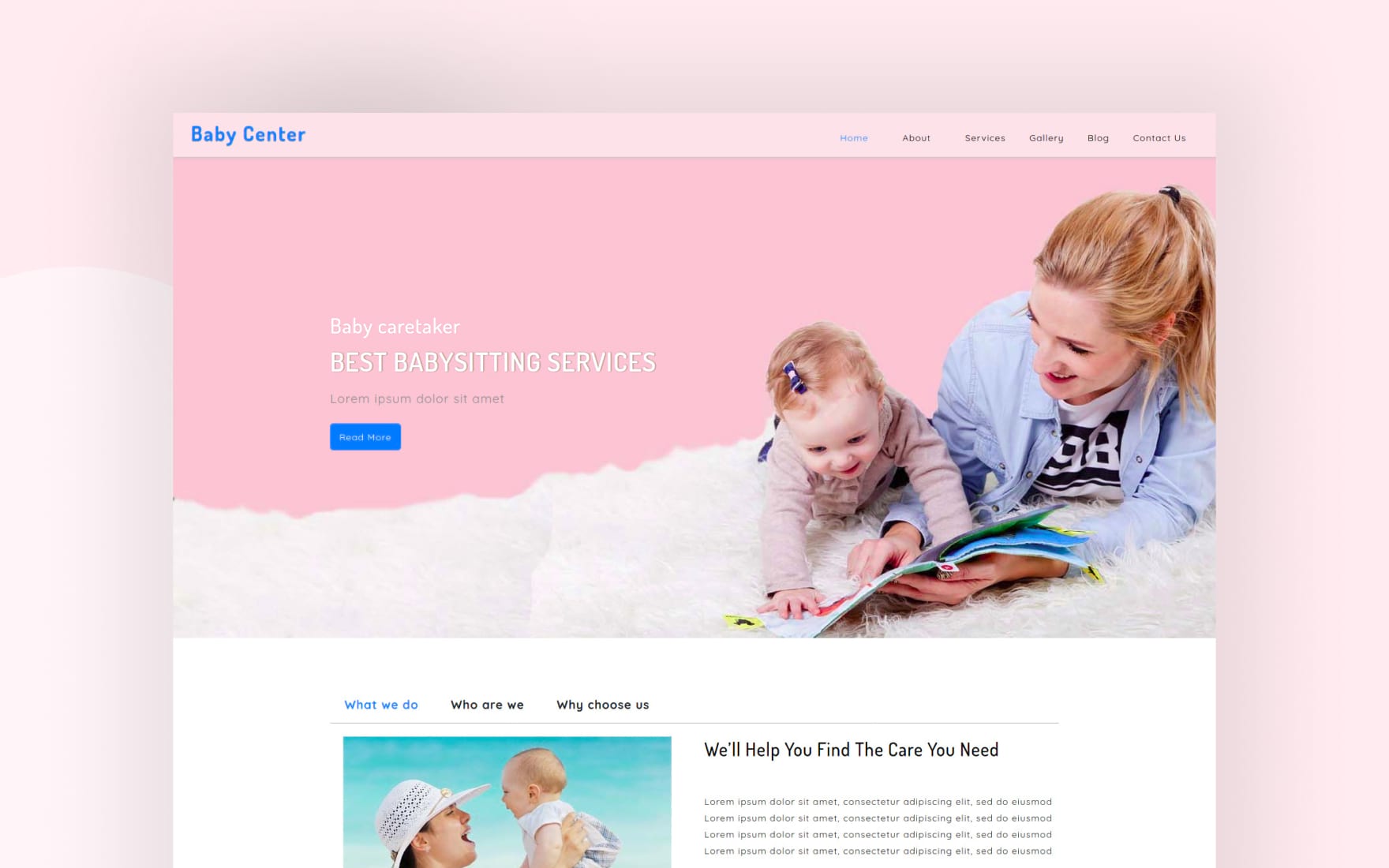 Working parents are unable to take proper care of their babies. They constantly look for trusted babysitters. This template helps you to build the website for babysitting services. W3layouts has designed these templates to support people appealingly.
Impressive Header
The baby center template has a separate container for the header. It has lots of custom widgets like tabs, CTA buttons, services with icons, and titles.
Creative Gallery, Blog, and News
The blog and news section has a separate container where they are arranged in varying grids separated by a vertical and horizontal border. In the gallery section, each image has distinct dimensions that open in a lightbox.
Other Features
Cross-Browser Compatible and SEO-Optimized
Blog Thumbnail Images and Publishing Date
Bootstrap Framework
Social Media Sharing
Flexible and Mobile-Ready Features
---
5.Teens Hub – Society Website Template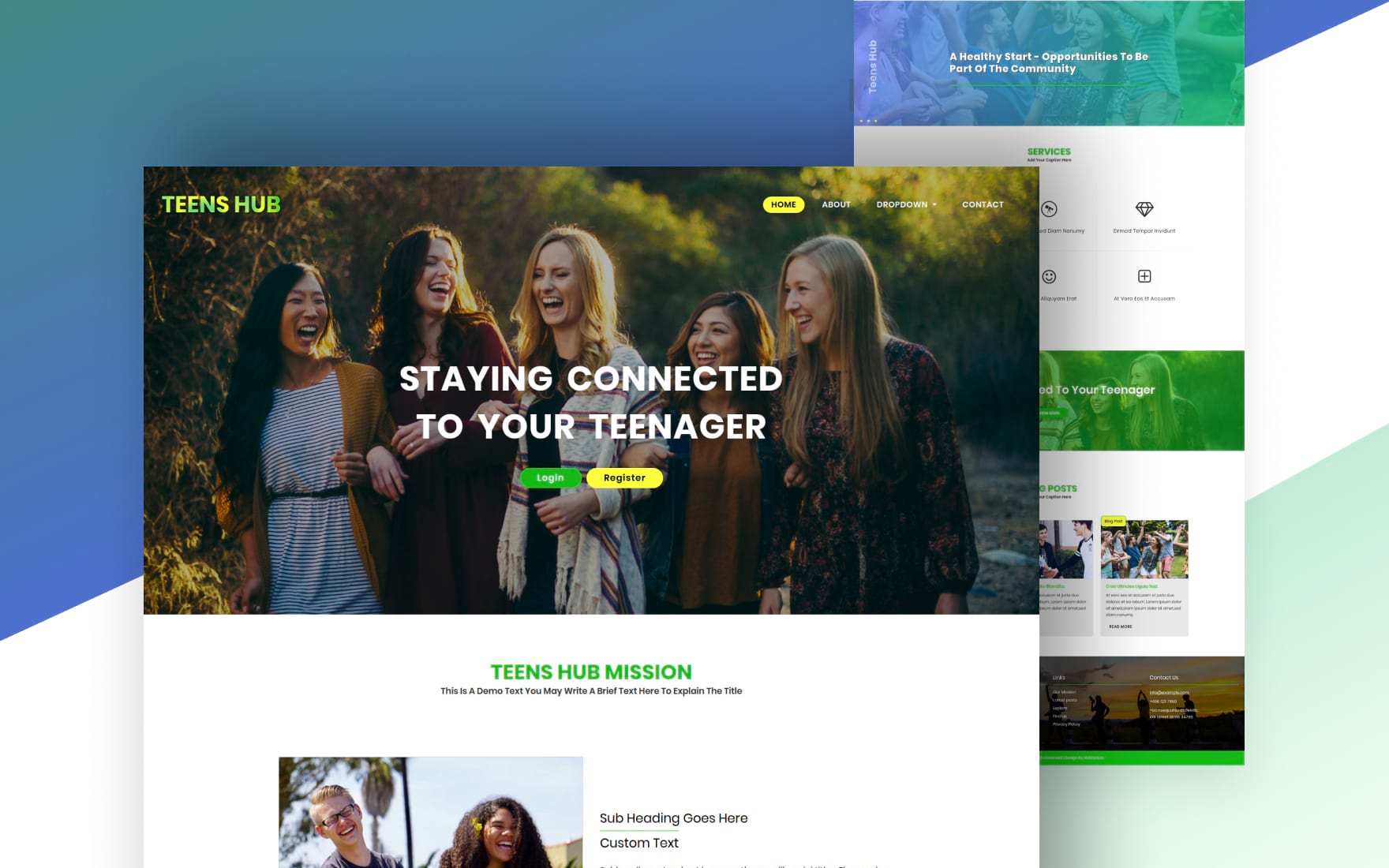 The Teens Hub website template is particularly designed for teenagers to bring them together in a single platform. The menus have quite a distinctive appearance, hovering and clicking features and sliding testimonial widget.
Attractive Login and Registration Form
The login and registration form both opens in a lightbox. This saves the space on the template screen and a pop-up gives a remarkable look to the accomplished website.
Outstanding Pro-Footer
The footer has website description, navigations, and other outbound links, contact details, a separate bar for the copyright notice, and a' move to top' button. The full-screen background image is fully customizable.
Other Features
Dropdown menus
Auto-sliding and transparent background images
Gallery with images and description in a single card
Clickable email link
Social sharing buttons
---
6.Goodwill – Society Website Template
The template helps you to build the website for providing help to poor children. It has transparent and semi-transparent layouts. The fixed 'scroll to top' button and sliding testimonials are the remarkable features.
Awe-Inspiring Services Section
The services layout is the most creative one as it has a transparent layout and each feature is divided into different grids. On hover, the background color of the grid changes, and the icons become visible. This section allows you to showcase the support you will provide through your services.
Map-Integration
The map covers the full screen and opens in a different frame on click. It possesses 'zoom-in' and 'zoom-out button' which are in-built with google map integration.
Impressive Contact Form
Designed over a completely black background layout, the form has fields such as name, email, phone, subject, and text-area for the message. Every field has a placeholder and the CTA buttons are placed in the bottom.
Other Features
Single Page Template
Slideshow and text in header background image
Transparent layouts
Lightbox for images and description
Hamburger for mobile view
---
7.Legal Adviser Website Template
The law firm is mandatory for people who are seeking solutions for their legal problems. The templates are suitable for lawyers or businesses practicing laws.
Logo
The custom logo is set up above the header image in the top-left corner below the website name. It allows people to immediately recognize your website.
Skill Meter
The progress bar gives a brief idea about your skills and completed projects to the clients. You can customize it to showcase your expertise and experience to the users.
Consultation Form
The consultation form provides the user to get the possible solutions for their problem. The form has free text entry fields, a drop-down, and a text area field.
Other Features
Auto changing testimonial
Address, mail and call widget
Different background image for each section
Clickable bullets for the background image
100% responsive
---
8.Adoption – Society Website Template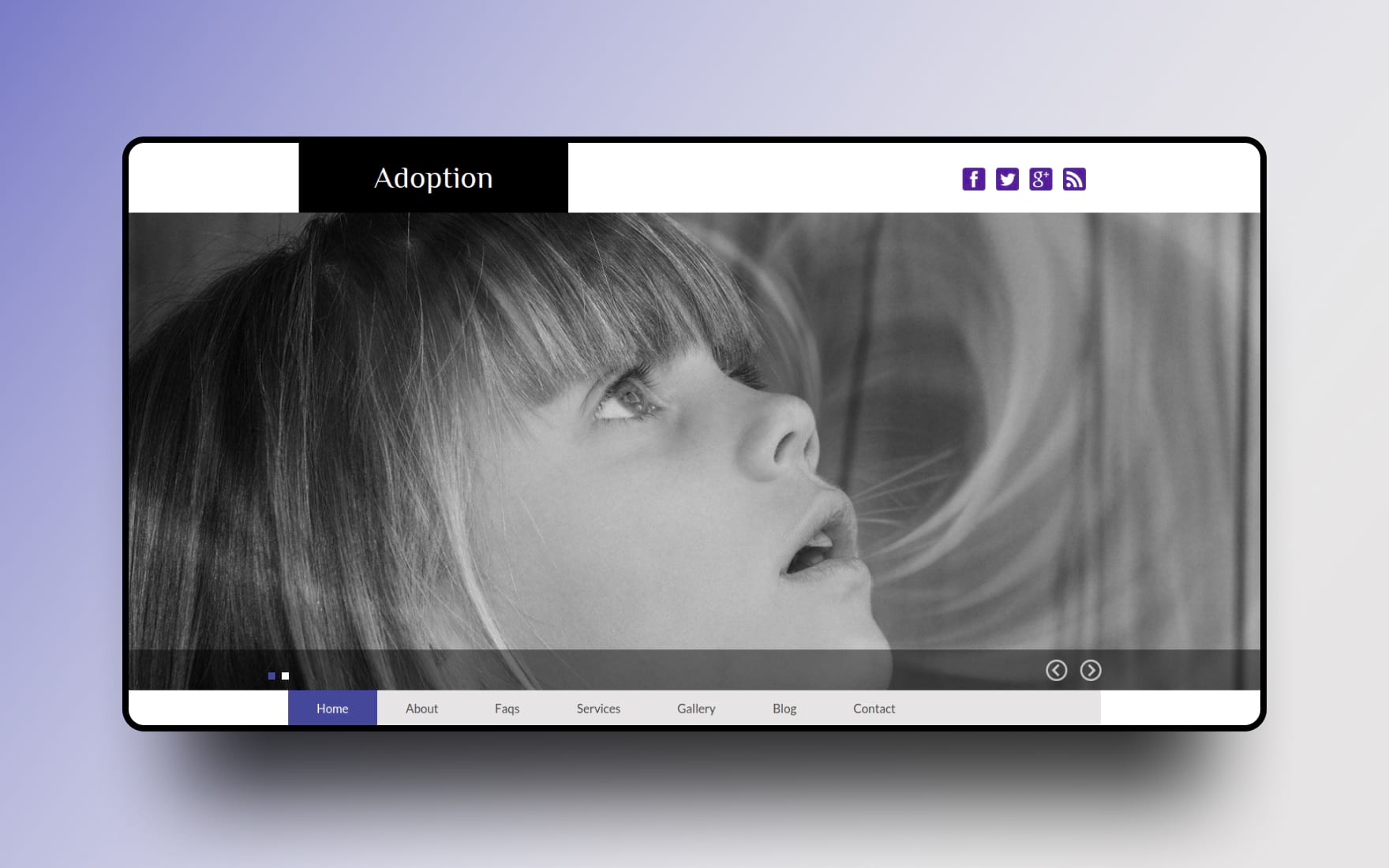 The template helps you to build the website for child adoption agencies. Such modern and professional templates are perfect to extend your reach online.
Appealing Menu-Bar
Unlike other templates, the menu here is placed in the middle of the page. On hover, the color and background color of each menu option changes. It also has a hamburger for small screen devices.
Gallery
In the gallery section, distinct dimension images are arranged in different grids. The image-gallery has a bootstrap framework and possesses a clean and smooth layout.
FAQs
Questions and answers have varying colors and font-size. The page has a simple design that is efficient enough to engage users, build trust among them, and provide solutions to their queries.
Other Features
Retina-ready and SEO-optimized
Overlapping frames
Email newsletter subscription
Multi-page template
Typography
---
9.Elders Care – Society Website Template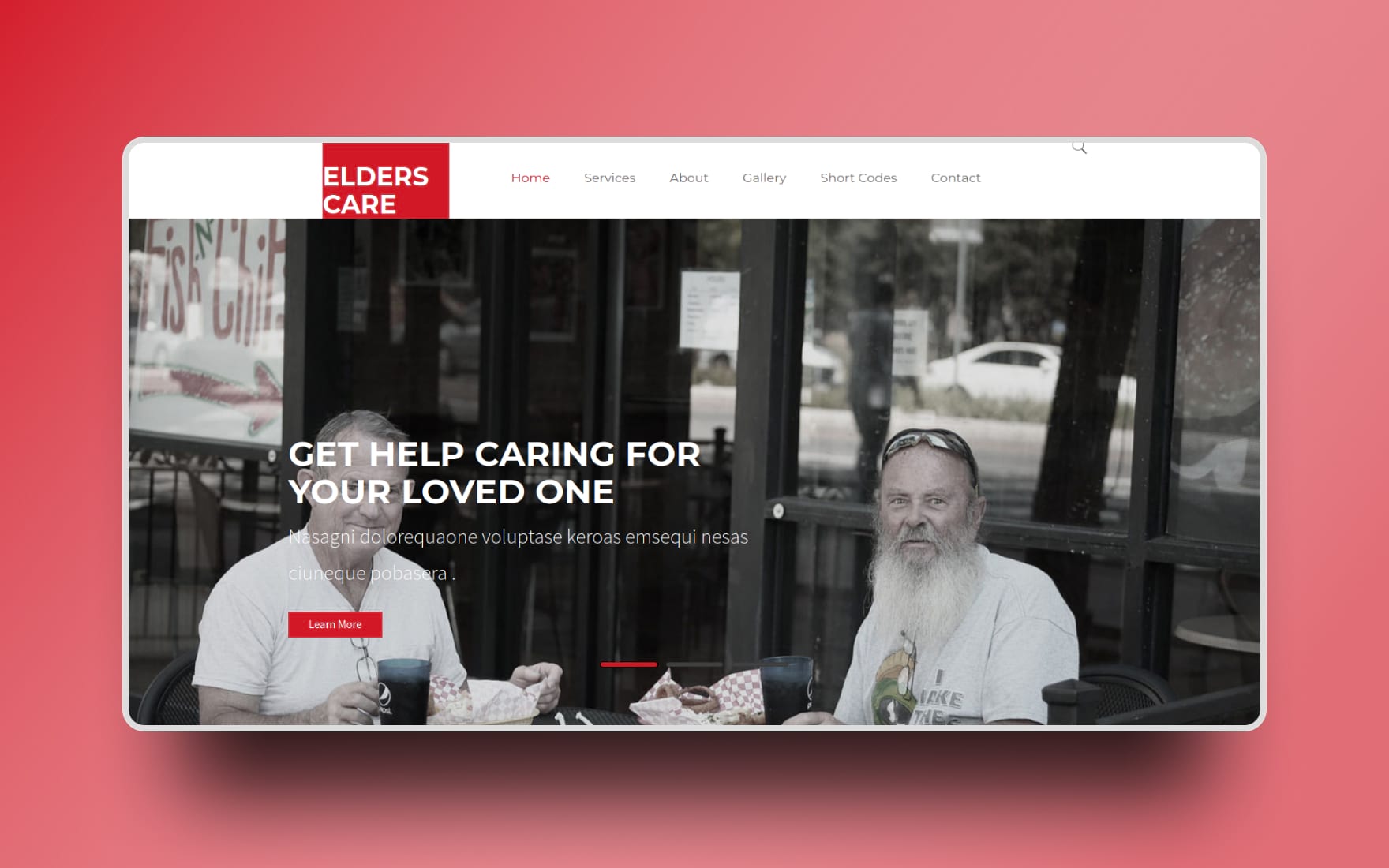 This template is to build an elder care services website for providing support to elderly needy people. On the top, left corner of the template has a template title, scroll to the top arrow, and comprehensive footer.
Impressive Gallery Page
On hover, the image animated zoom-in features become visible which vanishes on removing the hover. The gallery page has engaging visual and quality features.
Animated Search Bar
On clicking on the search button, the search field opens with animated effects and disappears on clicking outside. It has a red background color and white placeholder.
Other Features
Auto-sliding text over images
Email subscription widget
Codes and typography
CTA buttons
Quick loading capacity
---
10.Help – Society Website Template
Such templates are used for multi-purpose websites like child adoption, elder care, or other charitable organizations. The features are arranged in alternative grids and facilitate navigation to different pages.
Social Sharing buttons
The social media links are placed in the footer section. The widget ensures social media friendliness and is easy to integrate and customize.
Contact Form
The field in this society website template has dashed borders which form a unique representation for the template.
Other highlights of the template
The below features are trendy and allow the website to stand out from competitors in the market.
Other Features
Single page template
Animated Search bar
Team section
News and Events
Pro-footer
We have a set of web and mobile-friendly elements that are designed with HTML5, CSS3, and JQuery. The templates have clean code and are suitable for any kind of society website templates.
Our templates are available in both free and premium versions.
Click here and follow the steps to download free website templates from our amazing compilation.