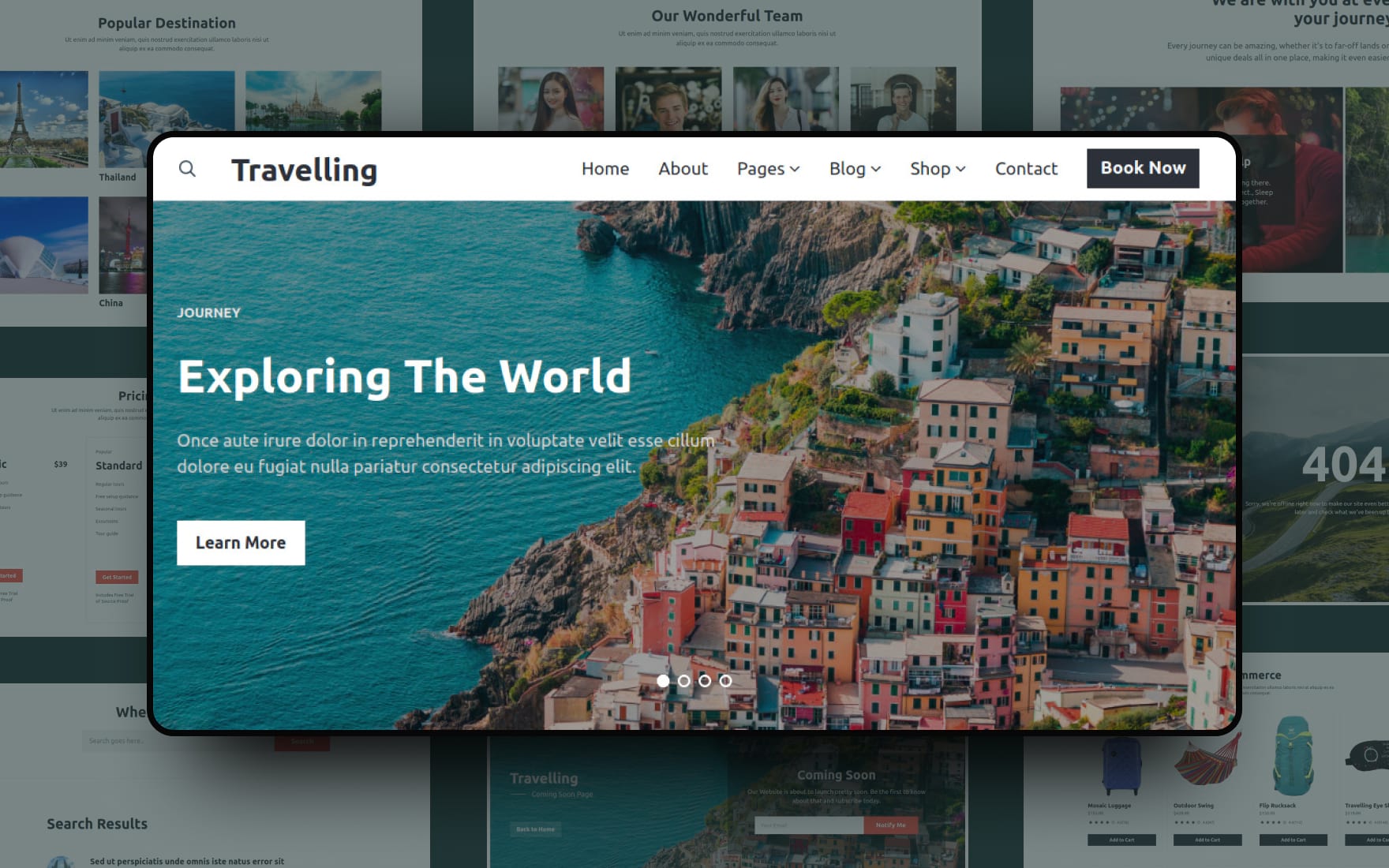 A travel website template should be lightweight enough even after supporting high-resolution pictures. Our developers have kept this at the top of their priority while designing the 'Travelling' HTML website template.
This is a premium website template for travel agencies, adventure parks, tourism companies, holiday planners, and tour operators. With some adjustments, you can also use it for cruise companies, outdoor trip organizers, mountaineering groups, and traveling event organizers.
Can you recollect the best trips you have had in your life? Haven't you felt fulfilled after taking them?
That how your visitors should feel after coming to your website. With 'Travelling', every page of your website is full of life.
Travel Website Template with an Attractive Portfolio
The only way you can make your website engaging is by displaying exceptional pictures of your previous tours. Beautiful mountains, serene lakes, and smiling faces put a fleeting impression on your visitors. Your travel portfolio is like a magazine that will entice your visitors to be a part of your adventure.
Carousel Slideshow with Punchy Spring Animation
Subtle dynamism always makes your website attractive. Punchy spring animations add life to the otherwise an old-fashioned slideshow. This gives an energetic beginning to your site and a great welcome to your visitors making them excited about their trip. Try it yourself by clicking on the demo.
Call Me Back Form
Just after the slideshow, there is a form for your visitors to enter their details about their future trip plans. This is the 'call me back' form because you can directly call them and discuss their plans. This strategy takes your approach one level up.
Customize as per your needs
The best part of this premium website template is its customizability. And you need not be an expert web designer to do that. Just a few drag and drop operations in our website editor will help you achieve your desired look.
The advantage of this HTML website template over other traditional ones is that you will not have to struggle to maintain uniformity throughout your site. This template consists of all the pages you need.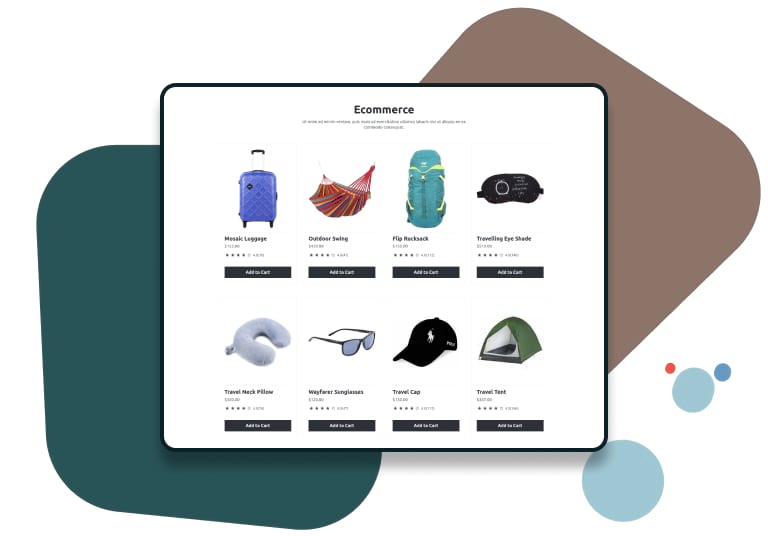 eCommerce
Online business is all about branding. Once you build your brand, you can sell cool merchandise through an eCommerce store. The template includes an eCommerce store page to display every product with the ratings. There is also a single product page with a feature to add different pictures along with a cart. That is all you need to build a complete eCommerce store, isn't it?
Email Template
The email template looks like a prototype version of the website. And, that's why it helps you to convey the highlights of your business in a concise email without sleeping out the readers. The action buttons are rightly placed prompting the reader to click on them. An email newsletter like this, announcing your latest packages can boost conversion rates.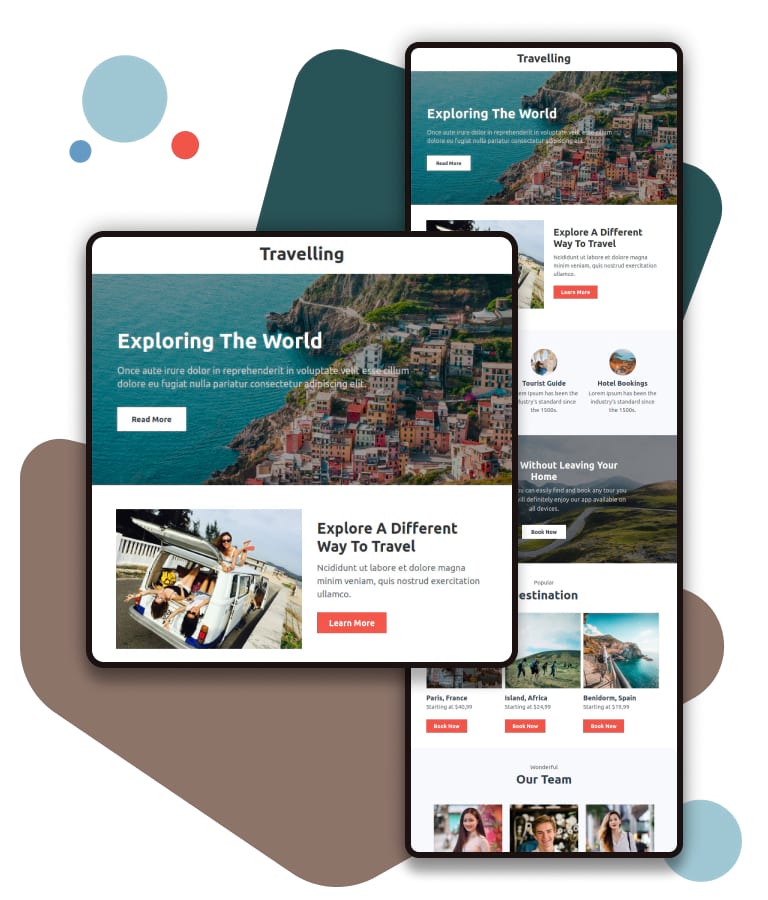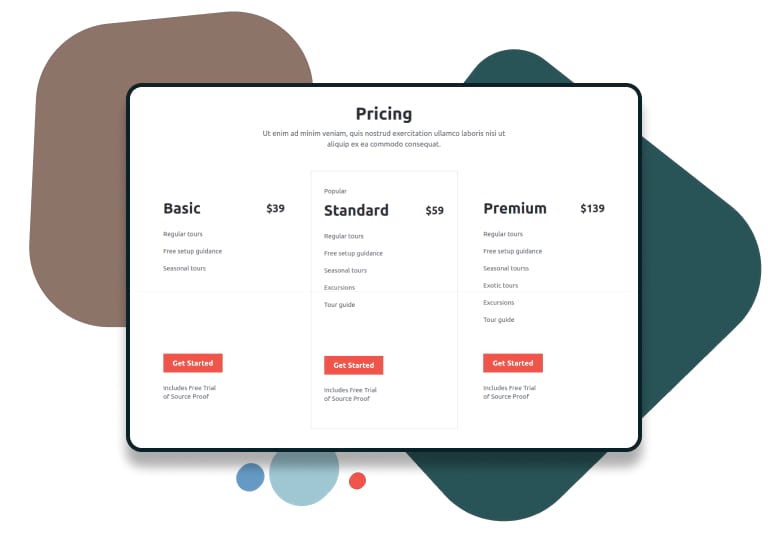 Pricing Packages
Creating a pricing package page is a laborious task as it includes tables with rows and columns. The text needs to be in alignment and the details should not be confusing to read. But, with this structured page, you save a lot of time. You only need to edit the text, and your pricing plan is ready.
Timeline
Show your story instead of telling. The timeline widget is completely unflashy and lets you put a compelling story about your journey on starting your business. Highlight your crucial stepping stones through the marking points. And at the end of the timeline, you can also add one or two points about your future goals as well.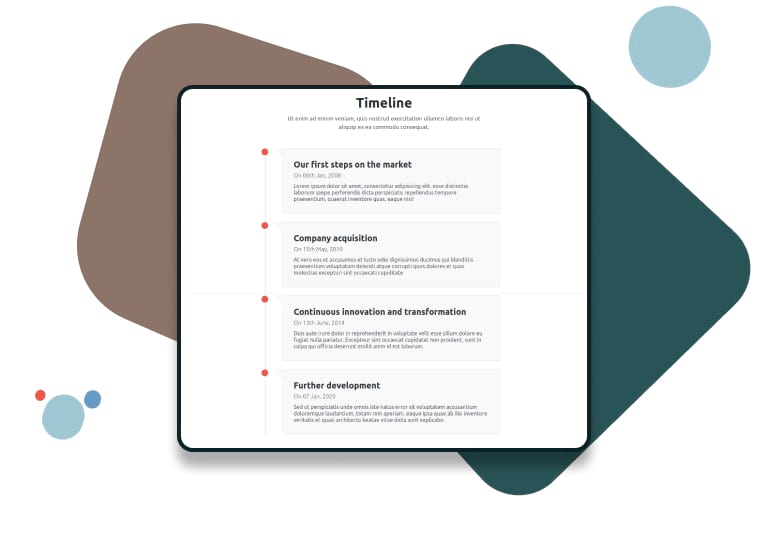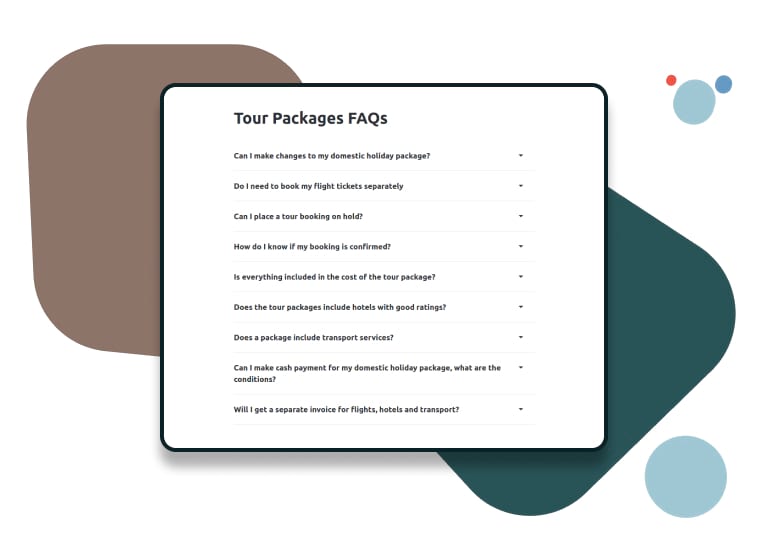 FAQs
Any questions your users have, take them to the FAQ page. Unlike a conventional FAQ page with long answers forcing the visitors to scroll down until they find their answers, this one here is user-friendly. It has a dropdown arrow beside every question. Users who are looking for relevant answers can click on those arrows and read them. This certainly saves a lot of time.
Search Results
One way of making your website interactive is the search page. When your site is packed with content and navigating to specific information is almost impossible, the search page comes to the rescue. Remember one thing. When you value the time of your visitors, they will value you.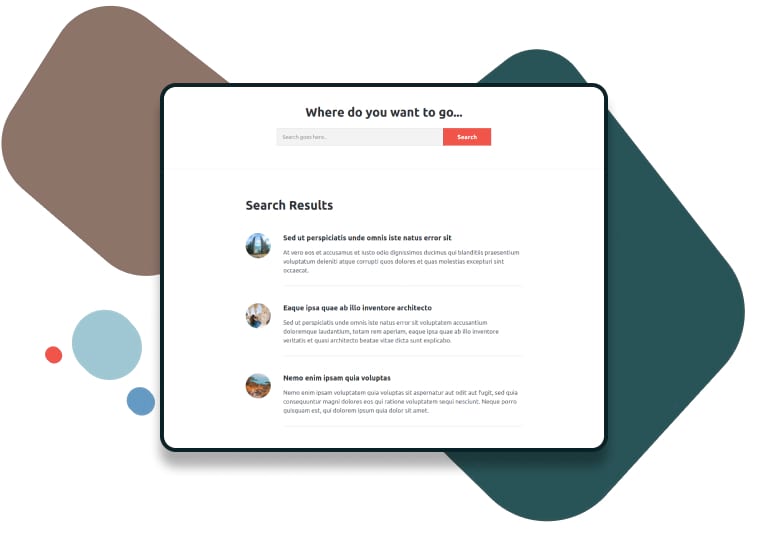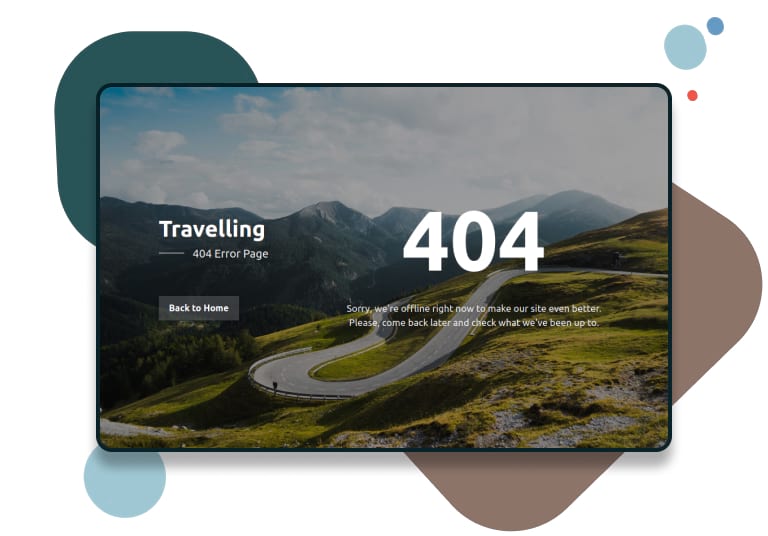 404 Error
Broken links can harm your organic traffic. And, a default 404 page instantly turns off your visitors. But, this 404-page template is as exotic as any fantastic travel destination. There is no chance that your audience will shy away from it. In fact, with a call to action button directing to the home page, you can drive visitors back to your site.
Coming Soon
Launching a new holiday package? Use this coming soon page template. Don't let users go away just like that after they have landed on this page. Ask their email id. Once your launch date approaches, send them a reminder about it. This way they will not only feel cared for, but there are also more chances that they would take interest in your package.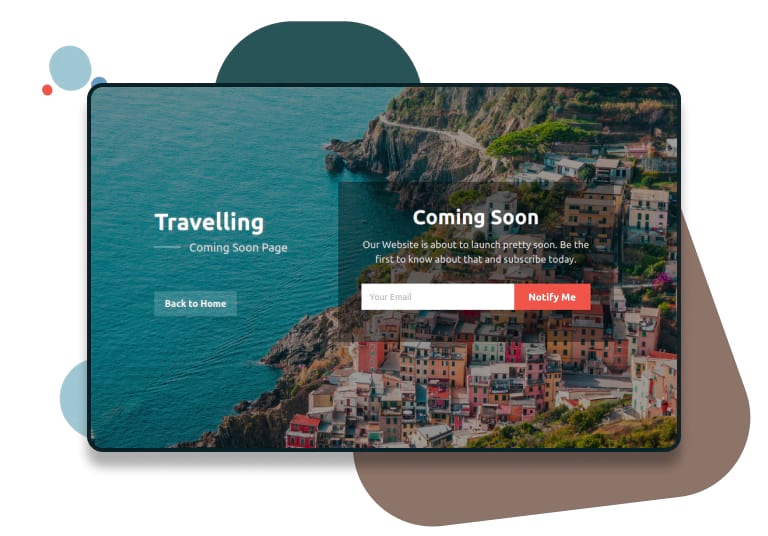 The complete package comes with a total of 21 pages. You can download them in two different plans. Freedom and Extended. Each plan comes with a specific set of pages.
Compare them, discuss with your teammates and make a smart choice.
Download our templates and have fun building your website.
Pages Available :
Home
About
Services
Contact
Blog
Blog Single
Gallery
Team Single
FAQ
Portfolio
Portfolio Single
Timeline
Search Results
Email Template
404
Coming Soon
Sign in
Sign up
eCommerce
eCommerce Single
Pricing Form
Features:
Clean and Modern Design
Fully Responsive Design
Very Easy to Customize
Beautiful Images
Fixed Header
Awesome Gallery Style
Advance Contact form
20+ HTML Files
Used Font Awesome Icons
Search Results – Customer can search for the tour by keyword
Excellent Blog Layouts
Supports Multiple Browsers and Much More…
Template Name: Travelling a Travel Category Responsive Web Template.
License: Freedom Licence.
Compatible Browsers: Google Chrome, Firefox, Safari, IE 10, Opera, etc.
Source Files included: HTML files (.html), Style Sheets (.css), Images (.jpg/png/gif), JQuery plugins (.js), Fonts (.ttf).
High Resolution: Yes.