Top 10 Best Travel Website Templates of 2020 to Boost your Travel and Tourism Business Worldwide
The travel industry is expanding in the world market and emerging as one of the largest industries across the world. Apart from creating jobs, they also contribute to developing the world economy.
Our website templates in this category are perfectly suited for travel news, travel blogger, travel services agency, and other travel-related businesses. The free travel website templates from W3layouts provide complete flexibility to develop modern and well-organized websites. These templates comprise a combination of multi colors, animated & sliding effects, and bright designs.
The website templates from W3layouts possess all the features which make your websites professional and responsive.
Let us check some of the best free travel website templates from our awesome collection.
1.Trip Spot – Travel Agency Website Template
This website template has eye-catching features such as a hamburger menu, a search button, and a contact form. To customize some of these features, you may require zero or minimal coding knowledge.
Logo
The company logo allows identifying the business and informs clients about your business prospects. The widget is customizable and allows you to replace the placeholder logo with your business trademark.
Pricing plans
Tourists always prepare their budget before planning for any trip. The widget facilitates the website to showcase their different plans according to any location. It has price ratings and a 'book now' button for each travel trip.
Data Statistics
The statistics are represented in a visually engaging way. The statistics widgets are used to make the website impactful and allow engaging the visitors in large numbers. Here you can show your number of clients and accomplished projects.
Other highlights of the template
Responsive and cross-browser compatible
Search bar
Team section
Bootstrap framework
Lightbox in Gallery
2.Adventure – Travel Agency Website Template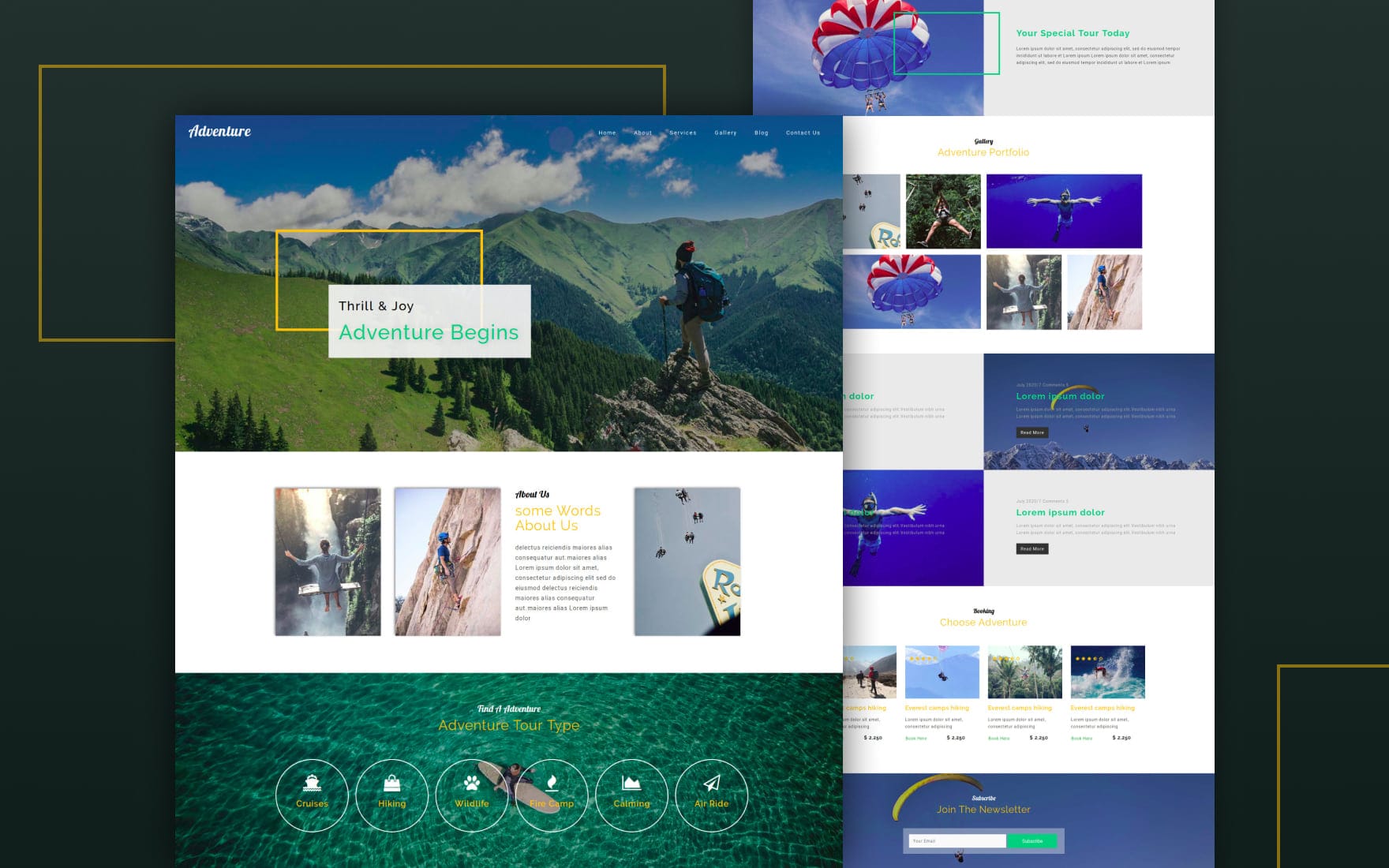 This adventure travel website template is perfect for designing websites for adventurous trips and to endorse travel service among the clients.
Gallery
Boost your website functionality with the gallery section. The layout is particularly useful for bloggers and photographers. The images open in a pop-up box making the complete background dark and entirely focusing on the image.
Services
Informing about the services will spike your business. The services section is always an impressive feature and it is customizable without any hassle.
Blog
Share your traveling experience with the blogs and encourage people to plan their trip. The blog section has CTA buttons, blog publishing dates, and adding user's comments.
Other Features
CTA buttons
Trip booking plans
Newsletter subscription
Map integration
Copyright notice
3.Let's Go – Bootstrap Travel Website Template
This bootstrap travel website template is designed with the bootstrap framework and can be used to design multipurpose websites such as for family vacations, honeymoon trips, or solo trips.
Hamburger in Website view
The hamburger menu on the website contributes a lot to its design and vision. It saves the space for the menu bar and gives a neat appearance.
Auto sliding header image
The sliders are trending for any website and provide a lot of information in a featured area. This slideshow creatively presents the images.
Social Sharing icons
Social media buttons bridge the gap between users and social networking sites. These icons allow you to set-up your business worldwide.
Other Features
Multi-page template
Contact form
Search box
Blog page
4.Grand Tour – HTML Travel Website Template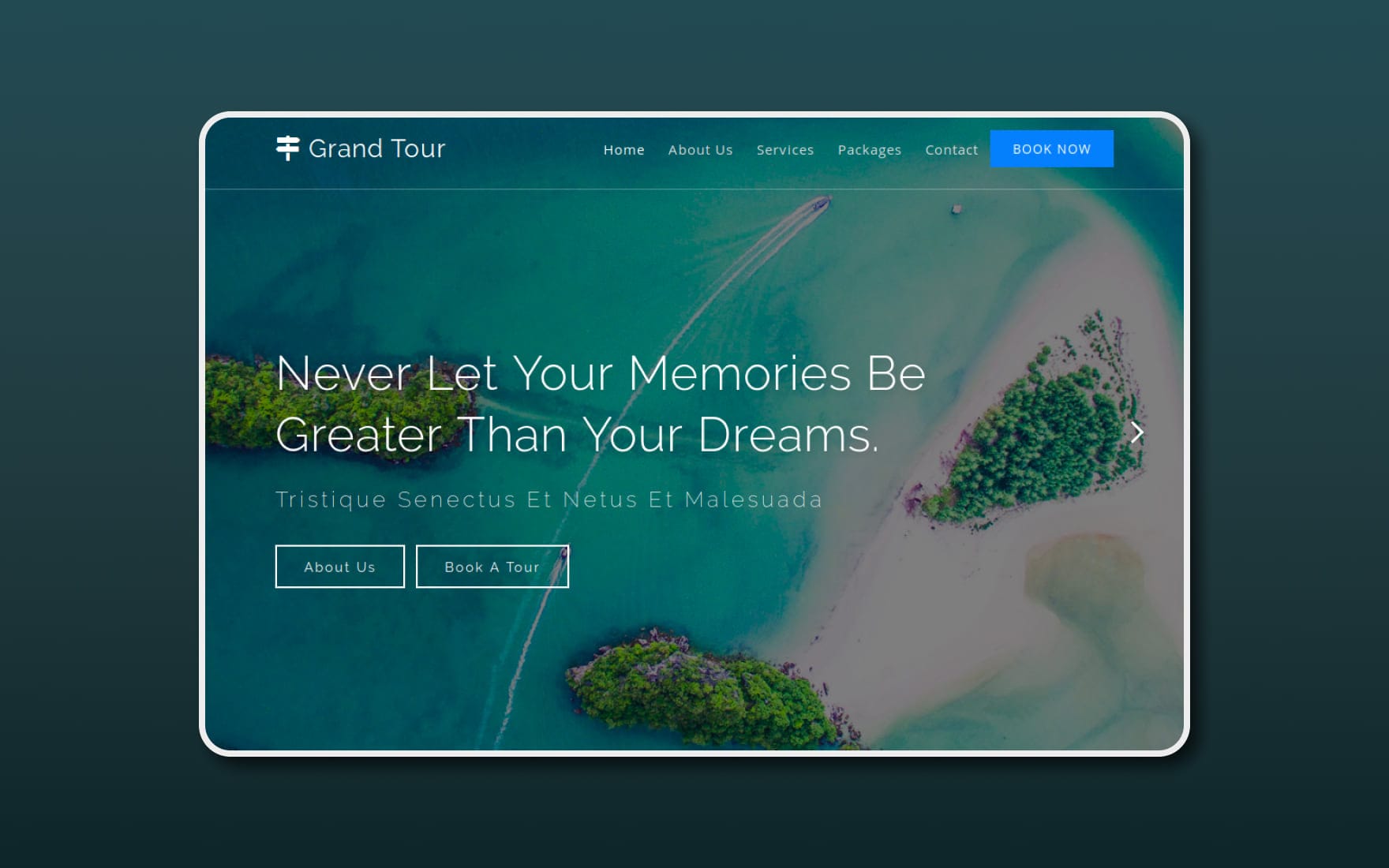 This HTML Travel Website Template is designed with HTML5, CSS3, and Bootstrap. You can add your own set of elements or customize the existing ones by making little enhancements.
Logo
Brand representation is the first thing that gets noticed by the user. You are free to replace the temporary logo and add your professional brand representation.
Booking Form
The booking tour form has free text entry fields, drop-down fields, text areas, and CTA buttons. The elegantly designed forms allow travel bookings across the world.
Footer
Footer is one of those components which contribute to the development of your website. The footer contains the address widget, about us, copyright notice, and quick navigational links.
Other Features
A header image in every page
Responsible and cross-browser compatible
Social sharing icons
Newsletter subscription
Hamburger for mobile view
5.Voyaging – Travel Agency Website Template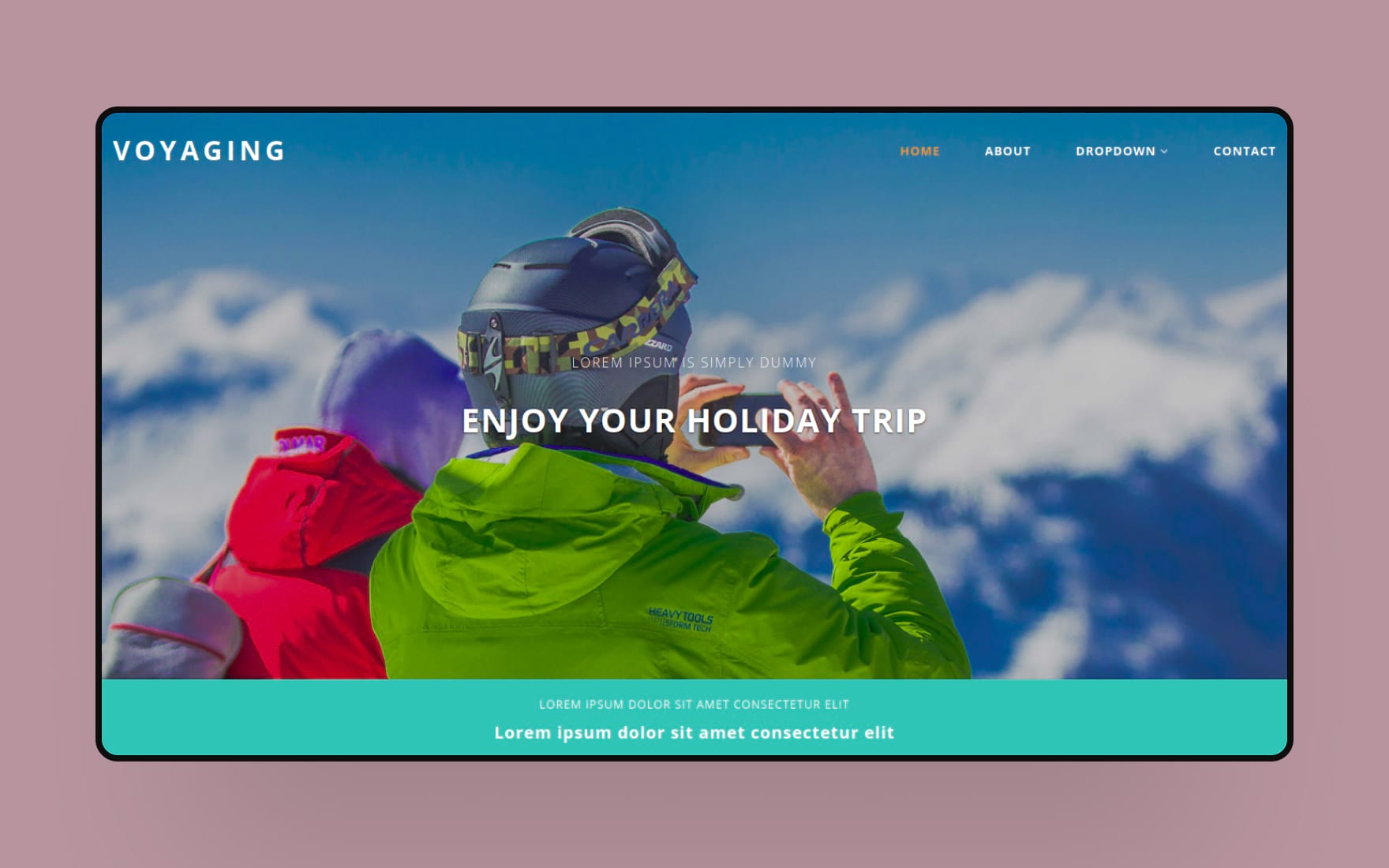 This travel agency website template has attractive and compelling layouts. The professionalism of the website immediately grabs the user's attention.
Dropdown Menu
The drop-down navigation menus comprise of more than one element and form a content hierarchy. On hovering over the parent item, the sub-menus can be seen.
Testimonials
The testimonial section is a platform to share your client reviews and the benefits they receive by utilizing your services. It builds trust between potential customers and website owners.
Gallery
The gallery section has images of the identical dimensions arranged in distinct rows and columns. On hover, it opens in a pop-up along with a little description below the image.
Other Features
Multi-page template
Map integration
Animated and sliding effects
Cross-browser compatible
6.Sail Trip – Travel Agency Website Template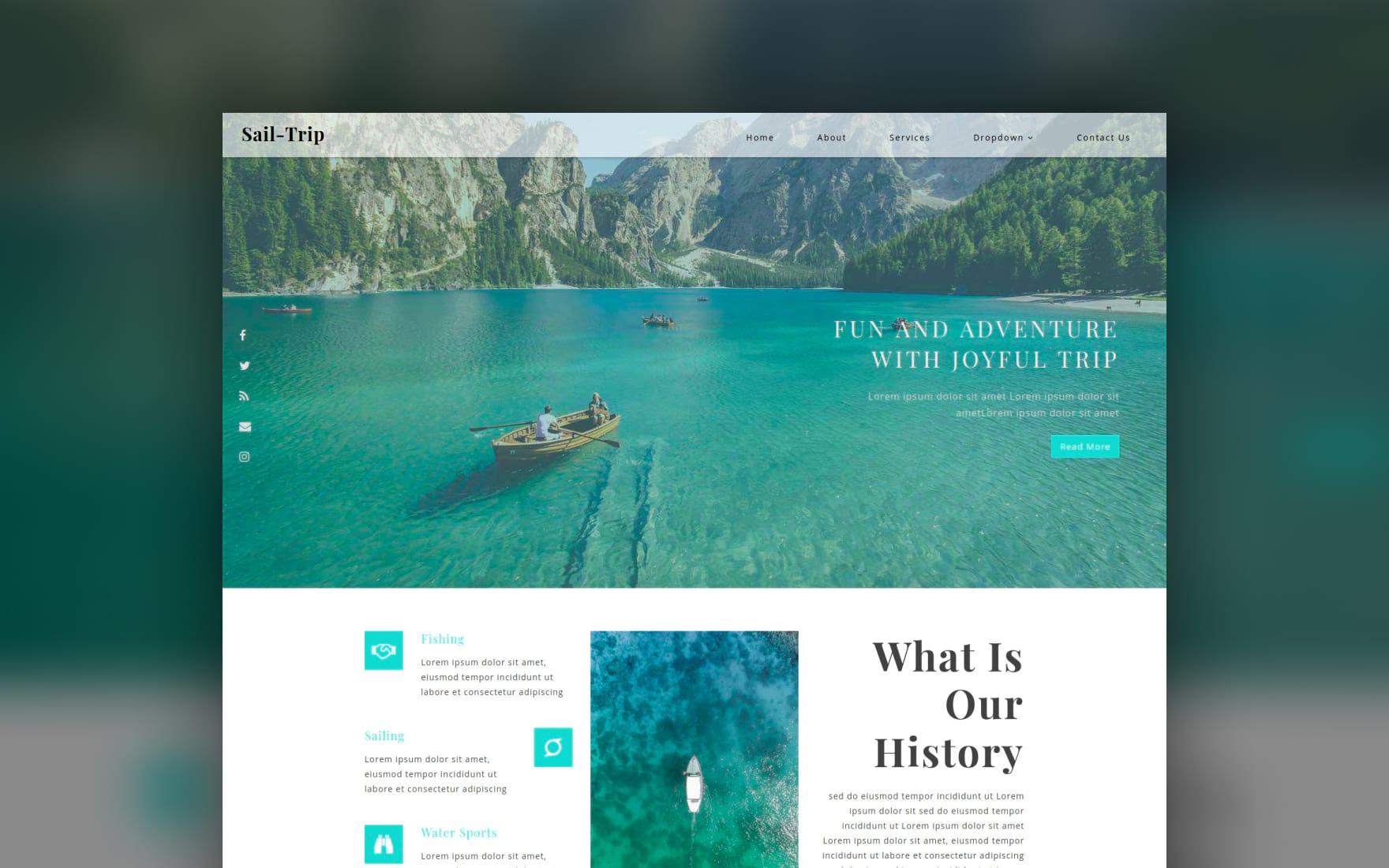 This travel agency website template has well-crafted features and contributes to building an excellent traveling website. The features are built with HTML5, CSS3, Bootstrap and JQuery plugins.
News & Blog
The news & blog has a separate page to showcase travel blogs, news, and travel tips. People get often attracted to your site when you share your traveling experience. It ultimately prompts them to plan and visit the trip.
Data Statistics
The data statistics works best from the marketing point of view. Here the user can represent the number of completed projects, and visitors count on the site.
Responsive
The website responsiveness is mandatory from an SEO perspective. The widgets in our templates adjust themselves according to the different screen sizes and resolutions.
Other highlights of the template
Scroll to top button
Header image
Contact form
Breadcrumbs
CTA Buttons
7.Typically – Single Page Travel Website Template
This single-page travel website template has a professional and clean design with a graceful layout. The widgets will encourage you to showcase your creative designs and outstanding projects.
Services
This section will represent a wide variety of services to your clients and how your services differ from the competitors.
Contact Form
The form has fields such as name, email, subject, message, and CTA. The user accesses this form to find solutions to their queries. It is also used for lead generation and to stay in touch with prospective clients.
Social Media Buttons
Link your social media profiles to these icons/buttons in the template and help your visitors to stay in touch with you. Keep posting regular updates on your social media profiles and garner more views.
Other Features
The below features make your website robust and are suitable for multi-purpose travel businesses.
Social sharing icons
CTA buttons
SEO optimized and cross-browser compatible
Background header image
Transparent banner
8.Vancouver – Single Page Website Template
If you are looking for a single-page travel website template, this template fits well for all your purposes. The template represents the things in a simple and creative way. It has incredible web features and most of the features can be customized without any hassle. The template is designed with bootstrap plugins, JQuery, HTML5, and CSS3.
Single Page Layout
Everyone wants to get rid of multiple clicks on their website. This template provides all the information easily on a single page.
News
The news page has separate blocks arranged in distinct rows. Itinerants always look for articles and newscasts related to their travel plans. Integrating this feature will attract clients with different tastes and deliver a unique experience to the end-users.
Other Features
Outline shadows in cards
Newsletter Subscription
CTA buttons
Social sharing icons
Background header image
9.Vagabond – Travel Agency Website Template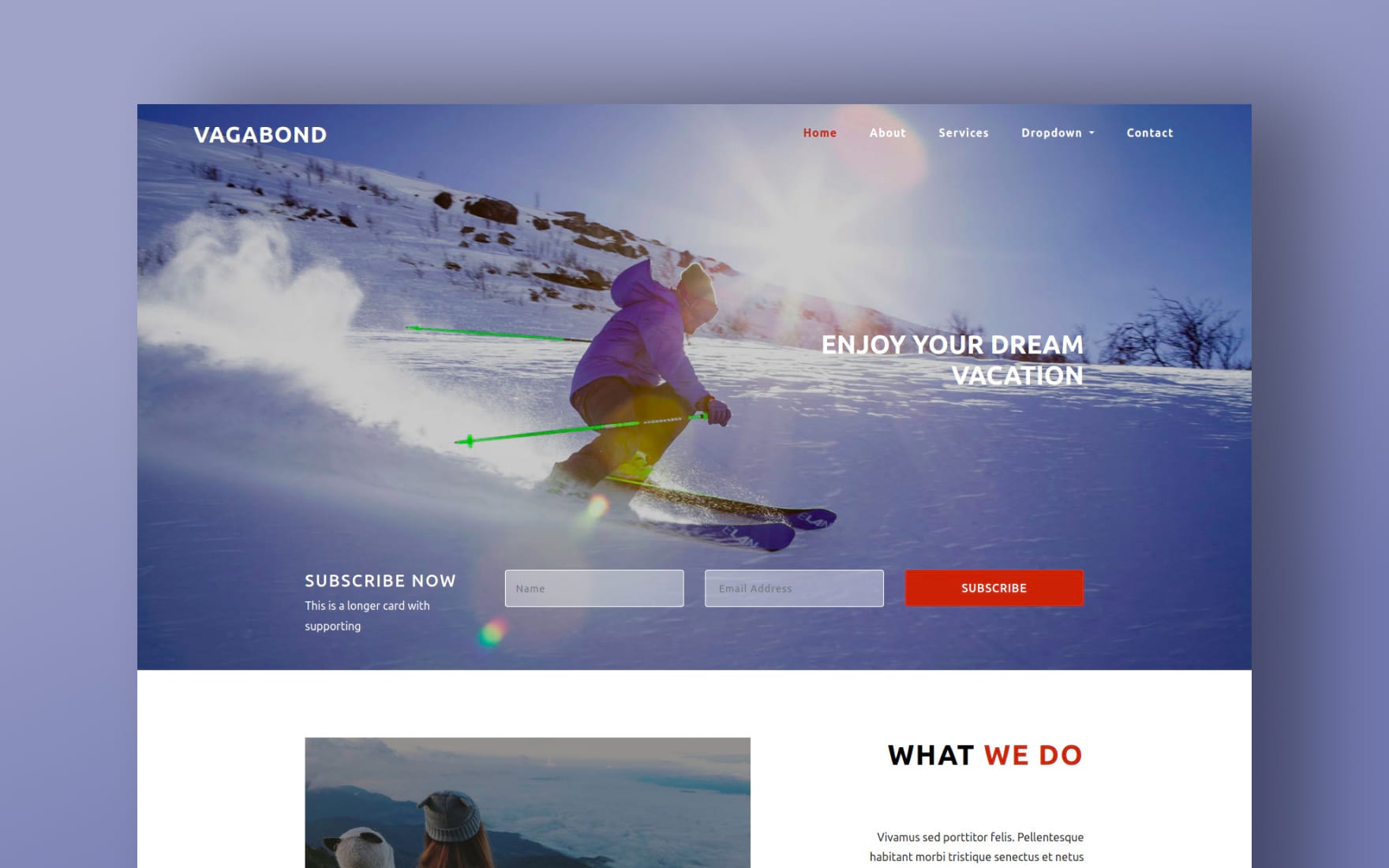 Any tourism and travel industry can establish their business with our templates. This travel agency website template allows developing the tourism business and taking the projects online. It is a multi-purpose designed theme which eliminates the need to implement from scratch.
Data Counters
The template represents on-load data statistics with data counts and icons. These widgets are the perfect medium to show facts and data analysis to the audience. Here you can show the number of happy clients, the number of visitors, and website traffic.
Pro Footer
The pro footer has images, contact widget, social sharing buttons, and copyright notice. The purpose of the footer is to add navigational links, display recent posts, and map directions.
Other Features
Offers and discount widget
Animation effects
Auto-scroll in testimonials
Fixed scroll to top button
Social sharing icons
10.Trips – Blog Travel Website Template
This blog travel website template has a color palette that facilitates changing the theme of the website on a single click. The other significant features are hovering and clicking effects, pop-ups, and a clickable email link.
Packages
The widget allows the user to represent the packages along with their features and cost. It is a ready-to-use layout and the user just needs to replace the placeholders with the real-time information.
Its design is rounded at the bottom and shows transition effects on hover.
Lightbox sliding Gallery
The gallery has images of varying resolutions. While clicking on the image, it opens in a pop-up and the switching of the images can be done within it. It has left and right sliding arrows and a cross button to exit the pop-up.
Other Features
Auto sliding team section
Fixed scroll to top button
Dropdown menus
Header sliding image
Single page template
Here we have come across the best website templates along with their awesome features and widgets. Our free travel website templates are becoming an ideal solution that meets all your website requirements. These templates will take your traveling business to an entirely different level and ensure an outstanding user experience.
Our templates are available in both free and premium versions. Click here and follow the steps to download free travel website templates from our great compilation.