Description
Puppy Care is a animals and pets category WordPress Theme
Puppy care a beautifully crafted by our fully trained WordPress theme designers that can be used for pet care, pet adoption centers, animal rescuers, animal stock photography, etc. website building. So grab this fantastic website template for building your animals and pets website where you can promote your business or reach more people online.
Pet adoption WordPress Theme
Nowadays pet adoption is widely promoted in many countries to reach this special social event we can take online help so the puppy care WordPress theme will help you to create your website for the pet adoption center. Pets will fit as a pet adoption WordPress theme where it has all the needs that can be displayed to make you aware of pet care.
Animal rescue WordPress Theme
The puppy care WordPress Theme will suit animal rescue operation-related information display with its wonderful website build view. The animal rescue operations must need a website to provide detailed information about all the events, so grab this pet care WordPress Theme for your animal rescue website building.
Dark Theme WordPress Theme
Dark mode has gained a lot of traction recently like dark mode Facebook, dark mode google chrome, dark mode extension chrome, dark mode windows 10, etc. so, we have implemented almost all the templates to have complete flexibility of dark mode. The first visit of the user is made with a light theme environment and then if they wish to change their theme to dark mode with just one click, we have made it simple, our themes are predesigned with dark mode which make the eyes relax from brighter screens.
Responsive Web Design
The pages are fully designed with responsive buttons, text, images, etc. which looks pretty cool with almost all windows and devices. Not only the elements present in the website template but also responsive display ads which you were placed on your site. All our templates are responsive for mobile with responsive email templates with a responsive HTML table. So, you won't need to worry about the look of your website on different sizes of screens and build a website for free.
Pages and their uses of "Puppy Care WordPress Theme"
The pages available in the Pets Care a animals and pets category website template are mentioned below. Have a look at the unique features of some pages present in this template.
Puppy Care Home Page
---
Puppy Care Banner: Puppy care has a unique styled banner that has the wave motion hovered on the banner image. This fancy look of the banner will attract pet buyers as the banner look great with a pet's images.
---
About the puppy care center: Here the information about the puppy care center or an animal rescue center will be provided in the categorized format like award quality service, animal diagnosis with treatment, dog training, breeding, etc.
---
Video play zone: here the video is represented how they treat animals in their animal care center along with some important points sharing
---
Testimonials: Here client feedback is displayed with their best compliments and experience with your service. The happy customers, awards received, no of clients, etc. are displayed here.
---
Contact form: The puppy Care footer come contact form is purely designed as same as the banner style that makes it perfect with its looks and the best thing is they have the newsletters where you can allow users to subscribe to your newsletter.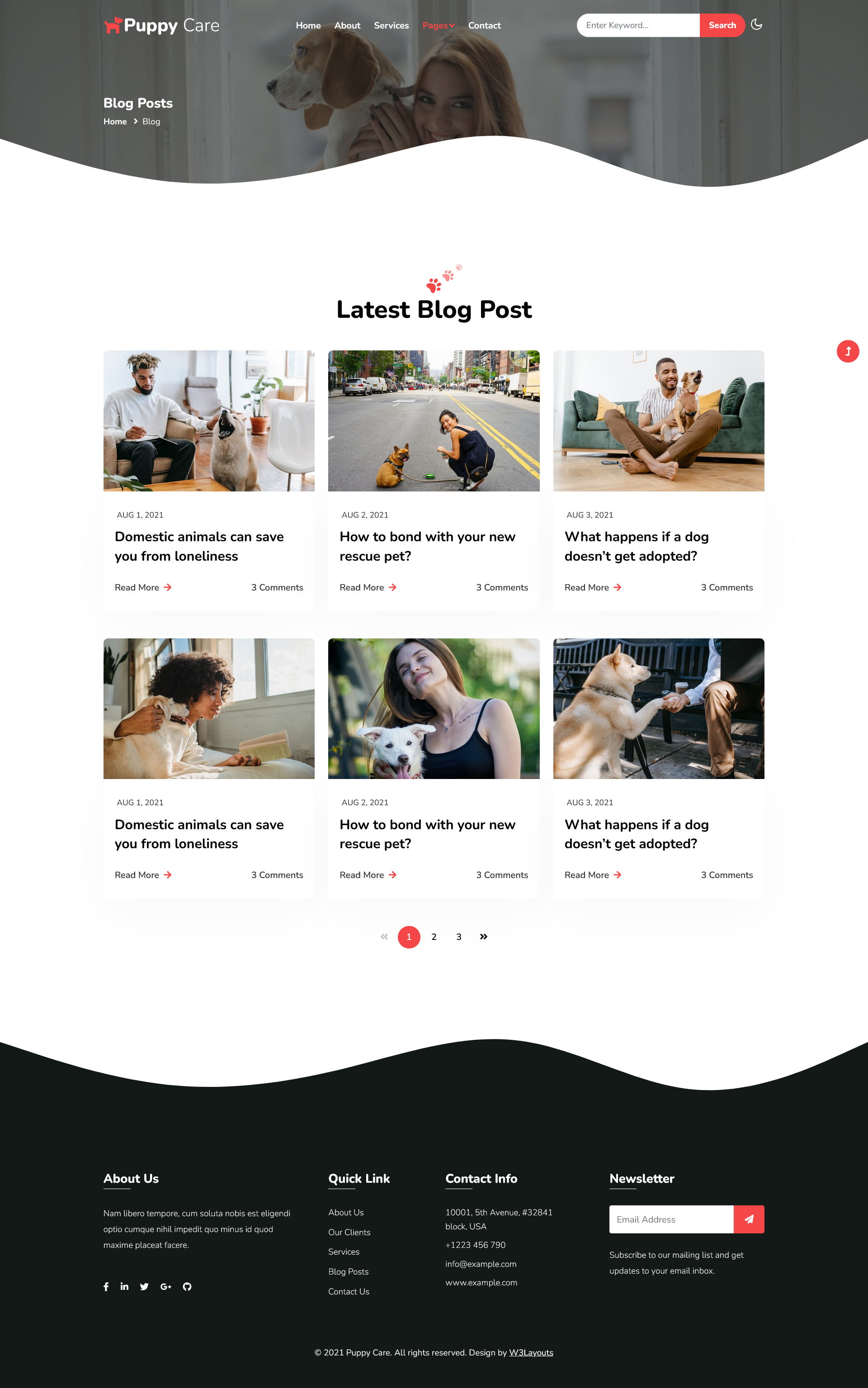 Blogs Page of Puppy Care a pet care-related WordPress Theme
Blogs: Here is the best deal for you as you'll get this amazing blog page with the Puppy Care WordPress theme package where you can post daily updates and details about the newly happened works or tie-ups. The blog cards are designed elegantly with an image and date of posting.
---
Key Features:
10 pages
Light and Dark mode switch
On scroll fixed navigation
Awesome Design
100% Responsive design
Bootstrap 4 Framework
Working Contact Form
Clean and modern layout
Easy to Customize
Google web fonts used
And many more…
Theme Details:
Theme Name: Puppy care an animals and pets Category WordPress Theme.
Compatible Browsers: Google Chrome, Firefox, Safari, IE 10, Opera, etc.
Source Files included: Style Sheets (.css), Images (.jpg/png/gif), JQuery plugins (.js), Fonts (.ttf).
High Resolution: Yes.
Relevant Templates:
Relevant Pages: